Comics
Published March 9, 2017
Women's History Month: Louise Simonson
The legendary writer went from editor to creator at the House of Ideas!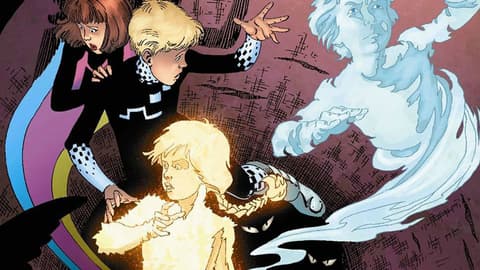 This March, we celebrate Women's History Month by spotlighting some of the most iconic characters and creators from the Marvel Universe.
Louise Simonson quite literally started her time at Marvel as a boss. When she began at the House of Ideas in 1980, she came in as an editor working on titles like UNCANNY X-MEN and NEW MUTANTS as well as licensed titles based on the Star Wars and Indiana Jones films. After a few years, Simonson decided to make a change and transitioned over to becoming a writer. In 1984, she created POWER PACK, launching the series with artist June Brigman. The adventures of the youthful Power family of mutants proved so popular that the kids continue to appear in books to this day.
Simonson worked on other books as a writer like MARVEL TEAM-UP, RED SONJA and the toy-based STARRIORS before taking over X-FACTOR with the sixth issue in 1986. At the time that series starred the original five X-Men—Cyclops, Jean Grey, Beast, Iceman and Angel—as they broke out on their own. In her first X-FACTOR installment, Louise introduced a character who would go on to become one of the most well-known villains in X-Men history: Apocalypse. Not bad for a debut! She also handled the series as it transformed Warren Worthington III from his once-angelic appearance to the far more severe Archangel.
While steering the good ship X-FACTOR, Simonson also took control of NEW MUTANTS in 1987 with issue #55. She continued the younger mutants' adventures for years, eventually joined by artist Rob Liefeld with #85. In the next issue they introduced a guy named Cable in a cameo and then more fully in #87.
In 1991 Simonson left Marvel for a time to write for the Distinguished Competition, but returned not long after to work in limited series like WARLOCK and GALACTUS THE DEVOURER. Most recently she contributed to 2013's X-MEN: GOLD #1, wrote CHAOS WAR: X-MEN with Chris Claremont, and returned to her longtime subjects with X-FACTOR FOREVER!
The Women of Marvel
As you may know, Louise Simonson is married to a fellow comic book legend by the name of Walt Simonson. Since their union in 1980, the couple has collaborated on a variety of comics ranging from about 30 issues of X-FACTOR to limited series like HAVOK & WOLVERINE: MELTDOWN and the aforementioned X-MEN: GOLD issue. Louise even helped color MARVEL GRAPHIC NOVEL #6, which Walt wrote and drew. That issue introduced the world to the Star Slammers.
The Hype Box
Can't-miss news and updates from across the Marvel Universe!