Comics
Published March 6, 2017
Women's History Month: Monica Rambeau
From Captain Marvel to Spectrum, this hero always shines!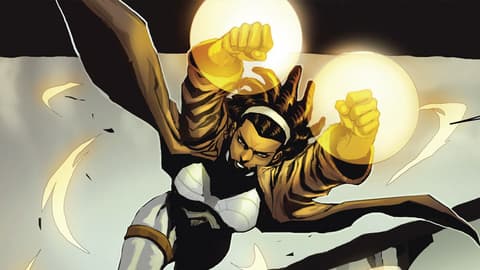 This March, we celebrate Women's History Month by spotlighting some of the most iconic characters and creators from the Marvel Universe.
No matter what name she goes by, Monica Rambeau stands ready to defend humanity with her awesome energy powers. Created by Roger Stern and the father-son art team of John Romita Sr. and Jr., this hero debuted in 1982's AMAZING SPIDER-MAN ANNUAL #16. We first met the character thanks to Peter Parker. Monica set off his Spider-Sense just by passing him at the Port Authority Bus Terminal!
Curious, the off-duty Spider-Man followed the mystery woman, worried that the assumed out-of-towner might not fare well on the mean streets of the Big Apple. Almost immediately, a man grabbed her purse, but she gave chase and made short work of him and his fellow assailant with some keen martial arts moves. When Spidey tried to congratulate her on how she handled herself, she used her powers to throw him across an alley, knocking him out in the process. She then put on her original white costume—complete with huge pocket for keys and cash—and flew off to recount her origin.
Hailing from New Orleans, Lt. Monica Rambeau served as an officer in the New Orleans Harbor Patrol. In a flashback, she stood in her boss' office and demanded to know why she didn't get promoted to Captain. He said he didn't like that she refused to stick to the book, but she guessed that it had more to do with her being a woman.
Upon returning to her office Monica met a friend of her grandfather's named Professor Andre LeClare whose research on methods of importing energy from other dimensions were being used to create a weapon. The next day the duo attempted to infiltrate the oil rig-stationed compound, but got caught. In the fray, Monica smashed part of the device and wound up turning to energy.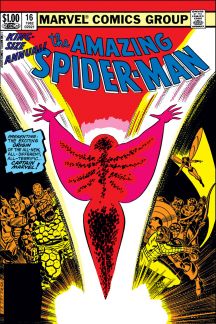 Coming to find she had other energy based powers, Monica put a costume together and returned to the rig to save the professor. He ran some tests on her and came to find that she could turn herself into any kind of electromagnetic energy including X-rays, radio waves and light. The professor also provided a version of her costume made out of unstable molecules and informed her that the newspapers had started calling her Captain Marvel.
Back in the present, after a series of unfortunate misunderstandings, Monica finally introduced herself to the Avengers which segued into her next appearance in AVENGERS #227 thus beginning a longstanding relationship with Earth's Mightiest Heroes and its many offshoots. In fact, Monica Rambeau holds a distinct place in history as the first African-American woman to not only fully join the team but also become the leader.
Though she now goes by the name Spectrum, Monica continues to use her amazing energy abilities to keep the world safe. Before Secret Wars she led the Mighty Avengers and now serves as an important part of the Ultimates.
The Women of Marvel
Monica came to the attention of a brand new batch of fans in 2006 thanks to a series called NEXTWAVE: AGENTS OF H.A.T.E. by Warren Ellis and Stuart Immonen. In that book, she decided not to use a code name and instead went by her given one and also wore an update costume that carried through into other books for a time.
During her time with the group, Monica helped take on Fin Fang Foom, the Mindless Ones and the Broccoli Men! Not long after that, she got in on the Civil War action by joining Captain America's side!
The Hype Box
Can't-miss news and updates from across the Marvel Universe!