Comics
Published March 13, 2017
Women's History Month: Ms. Marvel
In just a few short years, Kamala Khan has gone from unknown teen to a popular Marvel hero!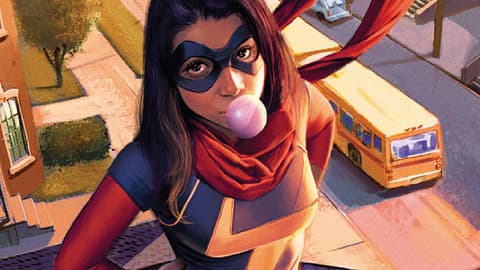 This March, we celebrate Women's History Month by spotlighting some of the most iconic characters and creators from the Marvel Universe.
In 2013, Kamala Khan burst onto the scene, making history in the process. She holds the distinction of being the first Muslim character to headline her own series at Marvel. Equally important, the new Ms. Marvel has become a touchstone for readers of all kinds since her debut.
Before getting her powers, Kamala appeared briefly in CAPTAIN MARVEL #14 where she personally saw Carol fighting for the safety of everyone on the planet. Though not fully seen, Kamala also show up on the last page of issue #17 as she hung a picture of Carol on her wall just before her newly muscle-bound arms busted through her shirt! Ms. Marvel showed up in ALL-NEW MARVEL NOW! POINT ONE #1 complete with powers and finished costume. She fought a sentient pile of garbage, which made her late for her cousin's pre-wedding party.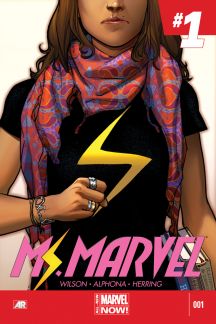 After that MS. MARVEL #1 launched under writer G. Willow Wilson and artist Adrian Alphona as well as editor Sana Amanat who initially came up with the general concept. Jumping back to before the events of the POINT ONE appearance, the first issue finds 16-year-old Kamala Khan struggling to find a balance between pleasing her parents and trying to explore her own life. In other words, they don't want her to go to a party, but she wants to, so she sneaks out. Once there she realizes that it might not have been everything she hoped, so she runs off. In a strange part of town, the Terrigen Mist passes over her and grants her the ability to change every aspect of her body.
Having just thought about Captain Marvel, Kamala takes on Carol Danvers' old Ms. Marvel form before rushing over to help one of her classmates from drowning. Feeling good about playing hero, Kamala used her powers a few more times and eventually developed a first draft of her now-iconic costume.
Since then, Ms. Marvel's grown to not only become a better hero, but also a part of the larger super community. She's joined teams like the Avengers and the Champions—which she helped found—and will star alongside her fellow Inhumans in SECRET WARRIORS soon.
The Women of Marvel
Ms. Marvel has become one of the coolest new characters on the "Marvel's Avengers Assemble" animated series on Disney XD. Voiced by Kathreen Khavari, she first cameoed in "The Inhuman Condition" as part of the third season and then more fully debuted in "The Kids Are Alright." As in the comics, her excitement and fandom about becoming a super hero prove infectious. She's especially delightful in the third season, four-part Civil War finale. If you're a Kamala fan and haven't seen these episodes yet, do yourself a favor and give them a watch. It'll be a great way of setting up her more prominent role moving forward in the next season!
The Hype Box
Can't-miss news and updates from across the Marvel Universe!