Comics
Published December 12, 2018
Writer Tini Howard Shares the Real-Life Inspirations for 'Age of Conan: Bêlit'
Plus: A variant cover by Afu Chan!
This March, writer Tini Howard will undertake an epic storytelling journey on the high seas when she brings the story of Bêlit to the pages in AGE OF CONAN: BÊLIT #1. In this five-issue limited series, Howard teams up with artist Kate Niemczyk (MOCKINGBIRD, INVINCIBLE IRON MAN) to tell the origin story of the fearsome pirate queen. The series will take place during Bêlit's teenage years, before she was revered and a force in her own right. This will be her journey as she surpasses her pirate father's legendary status to achieve her own.
Bêlit appeared in the 1934 story "Queen of the Black Coast" by Robert E. Howard, which appeared in the fantasy pulp magazine "Weird Tales." The variant cover by Afu Chan took inspiration from that story.
Marvel.com spoke to Howard to find out how she crafted Bêlit's story:
Marvel.com: AGE OF CONAN: BÊLIT #1 is an origin story about the fearsome pirate queen Bêlit. How did you approach the beginning of this character's story?
Tini Howard: I definitely took a lot of my initial inspiration from the real world women of pirate history. While I know that okay, obviously being a pirate is a crime, it's definitely one of my top five daydreams. Especially when you look at real-world times and places where being a woman wasn't always awesome, you hear stories of women like Anne Bonny and Ching Shih and the Lioness of Brittany who were kind of over it all, and I get that. I wanted to give that daydream some sea legs. After all, anyone who knows anything about Bêlit knows that she isn't exactly a hero. She's more of a cautionary tale. So I approached it like, say my pirate daydream is a video game, and I select all of the dialogue options that will make me the most powerful. And see what happens. 
However, with the Hyborian Age, we don't have real-world historic context, so I get to build a little more of the world she comes from, and also add in elements of that world that make it a lot more fun than the real world. Like, say, for example, monsters. Enormous ones.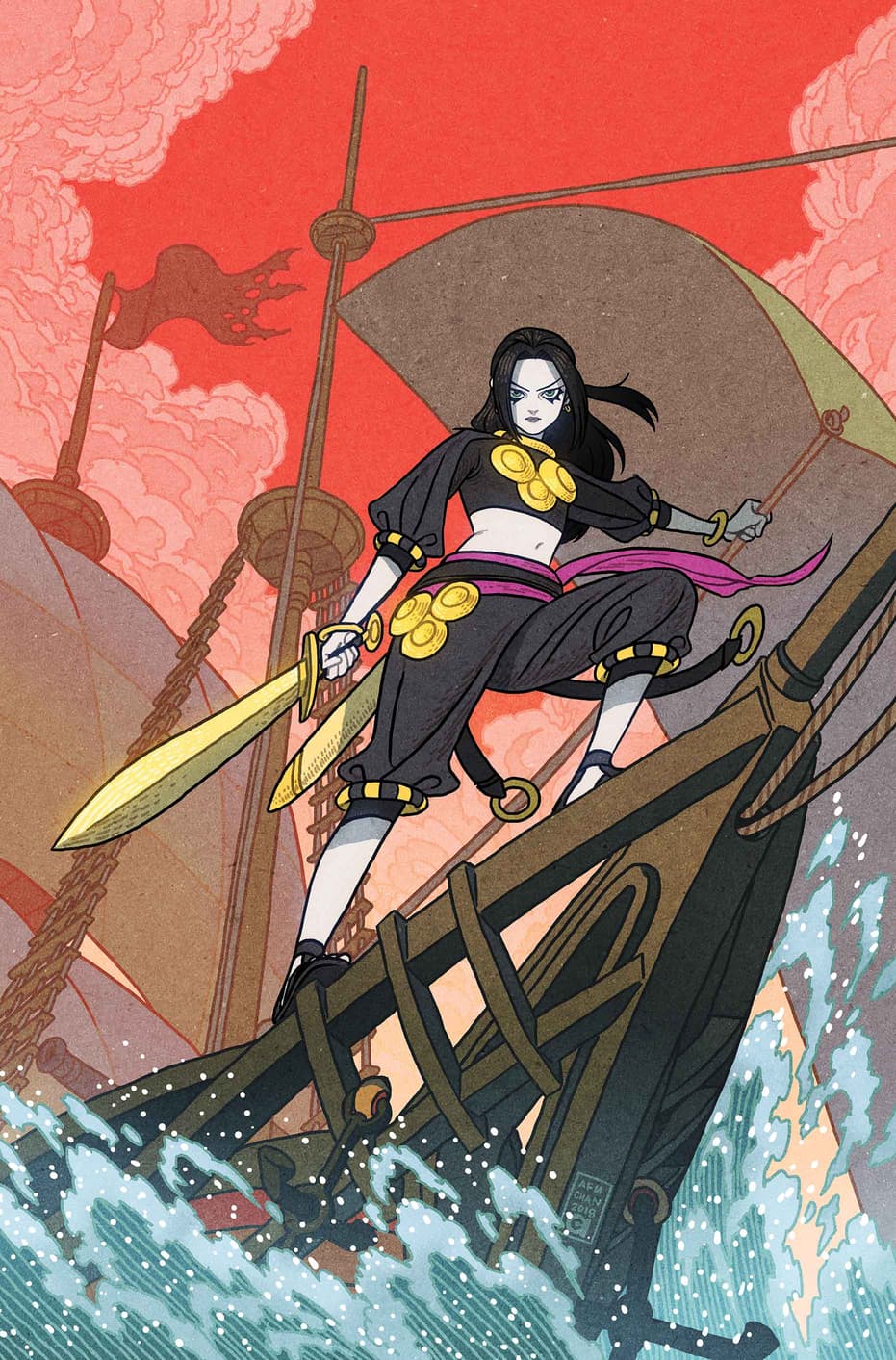 Marvel.com: Your story will take place just as Bêlit is figuring out her path. Knowing the character she became, which parts of her youth and her choices were you the most eager to explore?
Tini Howard: So, I'd had a pirate character I'd played in a game run by my husband, years ago, and I always liked that that character had come from a sort of aristocracy, rather than the typical "ragamuffin with no parents goes bad" story you often get. If Bêlit didn't grow up having to hunger for food and shelter, and she had those things provided, what would she hunger for instead? That's where we find her: a child on the cusp of adulthood who already knows exactly what she wants, and it makes her feel weird and different.
Marvel.com: You've written stories for a number of genres as well as Marvel characters, including Captain America and Marvel Knights. What was it like to explore the epic fantasy world of Conan?
Tini Howard: I'm a big fan of a certain brutal kind of fantasy, the kind we find in everything from Conan to "Game of Thrones." I like my fantasy mean, I like the magic scary, I like the dark woods full of monsters that aren't cute or friendly. But this is a chance to tell Bêlit's story, and I don't just want to beat her up for five issues. We have to show how she succeeds, how she wins, and show you why we cheer for her. In a fantasy world, we have the luxury of cheering for the bad guys wholeheartedly, knowing they can't really hurt us. And knowing that if this story was real, that my book would be like a lost text. That we know a great deal about the legends of Conan, and thus far have only known her through his legends. And we fill in gaps and make a history out of her life. And did I mention monsters? Gosh, I love monsters. 
Marvel.com: How closely did you with Kate Niemczyk on the artwork?
Tini Howard: I was just saying this over on my Twitter, but I open emails from Kate and I gasp. I see everything she turns in as she turns it in, and it's all beautiful. Early on I realized I was making a lot of video game references, and I was so happy that Kate is fan of video games as well, and we share those references. We're working closely with our editor, Mark Basso, to nail our initial locations and vehicles and designs, and they're all lovely. And my god, the ships! Kate's going to be drawing ships for months. Pirate ships, ahoy! 
I've been a huge fan of Kate's since MOCKINGBIRD, so working with her is a dream come true. 
Marvel.com: The variant cover by Afu Chan depicts Bêlit as the pirate queen from Robert E. Howard's 1934 novella "Queen of the Black Coast." Did you take any inspiration from this?
Tini Howard: I did! One element of that story that I love is the "Song of Bêlit," bits of a poem about her love for Conan that's written as a memory of her. And I thought, well, I bet there are lost verses of that song. A lot of songs have like, a dozen verses and we only ever sing the one. So I sort of view my book as the "lost verses of Bêlit," and I even write some of those verses. I've written a few naughty sea shanties for the book, too.  
Marvel.com: After a quick visit to your social media accounts, it seems like you have a penchant for the gothic and the darkness. Will there be any elements of this in AGE OF CONAN: BÊLIT?
Tini Howard: Pirates are goth. Pirates are really goth! We love stripes and eyeliner and black stuff with skulls on it. There are things lurking in the deep and lots of long, unkempt hair and an absolute fearlessness of death. Pirates are very goth and my book about pirates is pretty goth. 
AGE OF CONAN: BÊLIT #1, written by Tini Howard with art by Kate Niemczyk, a cover by Sana Takeda and a variant cover by Afu Chan, goes on sale Wednesday, March 13!
The Hype Box
Can't-miss news and updates from across the Marvel Universe!