Comics
Published September 18, 2017
X-Men: Blue – Blue and Gold Combined
Analyzing a mutant Marvel Legacy with writer Cullen Bunn!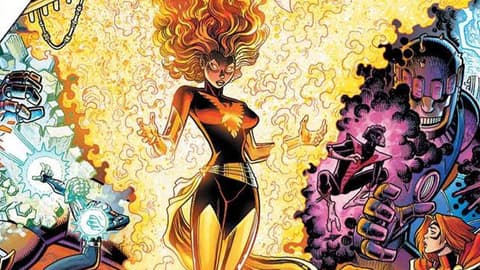 Mojo may seem like a goof, but writer Cullen Bunn needs you to know that the villain has you—and the X-Men—fooled.
The mutant crossover continues between X-MEN: GOLD and X-MEN: BLUE as the two squads unite to wage war with Mojo, Sentinels, the Brood…and the past. On October 11, Bunn joins artist Jorge Molina to keep the fight alive as Marvel Legacy begins with X-MEN: BLUE #13!
Cullen took a moment to warn us about the danger of Mojo, the devious delight of unveiling Team Blue's connection to Magneto, and the joy of collaborating with Marc Guggenheim.
Marvel.com: What made this the perfect time for a crossover between Blue and Gold?
Cullen Bunn: What's more thrilling than two X-Men teams coming together and facing a threat that they simply cannot face alone? There's a long-standing tradition of two different X-teams joining forces, mixing up the rosters, and facing some dire threat. With the Marvel Legacy initiative, it seemed like the perfect time to revisit that tradition in a big, action-packed, fun way.
Marvel.com: How did you decide on Mojo as the villain to bring these teams together?
Cullen Bunn: First of all, Mojo is awesome. I've been planning a Mojo adventure for a while now—there are hints of it in my UNCANNY X-MEN run. When we started talking about the Marvel Legacy arc, though, we knew we wanted to have the Gold and Blue teams come together, and my Editor [Mark Paniccia] suggested that this could be where the Mojo story takes place. I couldn't agree more. Mojo gives us a great opportunity to revisit some of the greatest moments in mutant history—the Asgard War, the Mutant Massacre, the Death of Phoenix, Days of Future Past—because he has such vast abilities to warp reality in a deadly way.
Deadly.
Marvel.com: How would you describe your take on Mojo?
People forget this about Mojo—yes, he's kind of a goofball and he cracks weird jokes. But he's also extremely powerful and can be scary as Hell. Mojo can be terrifying and menacing. He's still a character with a lot of humor, but he's not to be trifled with. In this story, his back gets pushed up against the wall, so to speak, and that makes him extremely dangerous. I just looked at some lettering notes from one of the issues, and the Editor had written "So creepy!" on a Mojo scene. That's exactly what we're going for. Sometimes you hear that Mojo operates in an alternate reality, so his threats aren't all that real. Well, in this story he's coming to our world—and we absolutely do not want his plans to succeed.
Marvel.com: How does the Blue team react to their Gold counterparts? How about Mojo?
Cullen Bunn: The teams get along fairly well. There are some very interesting dynamics here. Cyclops and Rachel, for instance. Old Man Logan and Jimmy. Storm and Bloodstorm. Of course, the 800-pound Master of Magnetism in the room is that the Gold team does not yet know that the Original Five are working with Magneto. That's going to change in this story, and it will put some tension on the relations between the groups.
Marvel.com: Describe the collaborative process between you and X-MEN: GOLD writer Marc Guggenheim. How's it been?
Cullen Bunn: Marc and I both have X-Men lore wired into our brains. I know for certain that Marc's notes for X-MEN: GOLD included "softball game!"—just like my notes for X-MEN: BLUE. I'm not one hundred percent certain, but I'm pretty sure he also had plans for Mojo. Working together has been an absolute blast. We had some phone calls early on to discuss the story, then we started trading planning documents back and forth, adding to the story, making it crazier and more epic.
Marvel.com: How have your respective artists, Jorge Molina and Mike Mayhew, contributed to that process?
Jorge and Mike helped so much in defining the look and feel of Mojo's world—we're seeing a lot of it here—and of Mojo's technology and the "weapons" with which he attacks Earth. Also, seeing these two talents casting the current X-teams into classic situations—and classic clothing—is something special.
Marvel.com: Given that Mojo lends himself to both humor and horror, how would you describe the tone of the crossover?
Cullen Bunn: This crossover is all about action and classic X-Men adventure. In some Mojo stories, the X-Men are thrown into silly or goofy situations, but not here. These adventures are serious business with real stakes. This feels like a fun story, make no mistake, and there will be plenty of moments of humor—some of it fun humor, some of it dark—but I don't think what we've got here could qualify as silly. The X-Men are trying to save themselves, but they are also trying to save the world, and time has started running out.
Marvel.com: Tell X-Men fans why they need to get onboard with this crossover.
Cullen Bunn: I think you could start this arc without reading either book beforehand, really. We give you everything you really need in those first couple of issues. Of course, you should read both GOLD and BLUE, because you're missing out on some really awesome fun in those titles, but you can let this be your introduction to either or both teams and still have a blast.
X-MEN: BLUE #13, by Cullen Bunn and artist Jorge Molina, launches on October 11!
The Hype Box
Can't-miss news and updates from across the Marvel Universe!