Comics
Published July 3, 2017
X-Men Blue: Early Frost
Cullen Bunn brings back a familiar face as part of Secret Empire!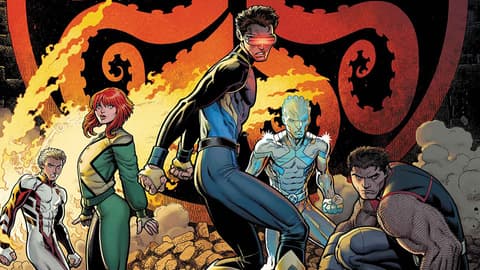 Secret Empire gets the cold shoulder in the upcoming X-MEN: BLUE #7, out July 12, as writer Cullen Bunn and artist Cory Smith bring Emma Frost back into the mutants' midst. Hiding since the war against the Inhumans, the former White Queen finds herself in a dark place despite being a ruler of the mutant homeland of New Tian.
Oh, and did we mention that she's also receiving push back from both the X-Men and Magneto?
We spoke to Bunn about Emma's return and some of the threats she'll be facing, both physical and psychological.
Marvel.com: Just to catch everyone up, where has Emma Frost been hanging out before this issue?
Cullen Bunn: Emma has been in hiding since the events of [Inhumans Vs. X-Men]. But don't think that means she's been doing nothing. She has been very busy. She's been building alliances and positioning herself to make some big moves. You'll see some of that play out in the Secret Empire story. But we're really going to be setting something really, really big up for Emma in the future. Ever since we revealed her return, I've been receiving messages asking me to immediately return Emma to her status as a hero. I understand the sentiment, but that's not something I can do right away. Emma can't just come back from where she was with the flip of a switch. She's in a dark place right now, and if she comes back from it—that's a big "if"—it will take time.
Marvel.com: Going off that, what's compelling her to join the fray now?
Cullen Bunn: Emma is part of the "ruling council" of the new mutant homeland of New Tian, and she sincerely wants to see this new society succeed. But she's still very angry—so angry—about everything that has happened of late. Sometimes when you're full of rage, you lash out at everyone, including those closest to you.
Marvel.com: What will Ms. Frost bring to both X-MEN: BLUE and SECRET EMPIRE?
Cullen Bunn: In SECRET EMPIRE, Emma gives us a look at a world leader who has been deeply wounded. She wants what is right for her people, but she's so hurt and angry that she is ruthless in her pursuit of her ideals. She's an antagonist for the X-Men, without a doubt, because the X-Men simply cannot accept what she's doing. She's also—in my mind—a very tragic figure, because she has lost so much and she's fallen so far.
Marvel.com: Do you have personal favorite aspects of her character that you enjoyed writing/exploring?
Cullen Bunn: Emma is proud and confident, and that's always fun to write, but underneath is a great deal of pain that she is trying—unsuccessfully—to hide. That makes her a rewarding character to write. I am looking forward to exploring how she grows and changes for some time to come.
Marvel.com: What kinds of threats will she be facing and how are her powers well equipped to handle them?
Cullen Bunn: Emma can handle just about anything you throw at her. Initially, the threats she faces come from the X-Men as they make moves against her regime. But her biggest challenges in the future will be dealing with her own sense of loss without letting it drag her into madness. And she's making some alliances that could be very, very dangerous for her in the future.
Marvel.com: Are there any more epic mutant returns in the cards?

Cullen Bunn: Oh, yes! We know about Emma and we know about Polaris. But even in the Secret Empire arc, there will be several other mutant returns. Some of the mutants that will be popping up will be changed in mysterious ways. These changes play into something big that we've already been building in X-MEN: BLUE and we'll be exploring in future issues of the series.
Face the return of Emma Frost with writer Cullen Bunn and artist Cory Smith next week in July 12's X-MEN: BLUE #7!
The Hype Box
Can't-miss news and updates from across the Marvel Universe!