Comics
Published March 10, 2017
X-Men: Going for Gold
Artist Ardian Syaf opens up about channeling the classics and designing evil mutants!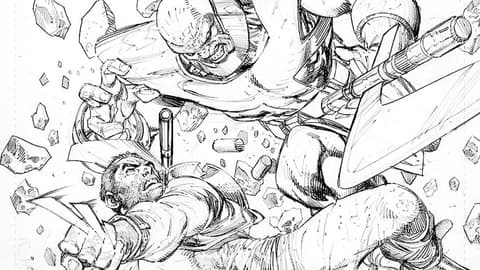 With INHUMANS VS. X-MEN coming to a stunning conclusion this week, it's time to look to the future of mutantkind as ResurrXion stands ready to begin. Kicking off with X-MEN PRIME #1 on March 29, a slate of new books will launch including X-MEN GOLD by writer Marc Guggenheim and Ardian Syaf.
Along with a new vision for the franchise comes a fresh take on many of the costumes, which Syaf handled while working on GOLD. The creative went classic-but-updated when it comes to the team consisting of Kitty Pryde, Storm, Colossus, Nightcrawler, Old Man Logan, and Prestige, the newly-renamed Rachel Grey.
We talked with Syaf about taking these characters back to the old school, coming up with Prestige's gear and mixing old and new Brotherhood of Evil Mutants members.
Marvel.com: How excited were you when you heard that Marvel not only wanted you to draw X-MEN GOLD, but also re-imagine so many classic costumes?
Ardian Syaf: It's like a dream come true. It's X-Men; every artist dreams of drawing it, I am sure. Actually I didn't have much challenge about the costumes. Marc has a clear vision about them. He prefers we bring back classic costumes, which I love. Not much need to change.
Marvel.com: Of the bunch, Rachel Grey looks like she's gone through the most visual changes. What can you say about her new look?
Ardian Syaf: Yes, Rachel Grey has a brand new costume. Marc asked that her new look shouldn't relate with her previous one. The editors gave me very much help in the process.
Marvel.com: This first arc pits the X-Men Gold team against a new Brotherhood of Evil Mutants. How was it dreaming up that group and their overall design?
Ardian Syaf: I searched and found many designs before. I just took their unique elements and applied to the new version.
Marvel.com: How has it been working with Marc so far?
Ardian Syaf: Working with Marc is so nice, and makes me proud, because he's [a] big name. The writing is very easy to understand for the artist. Marc gave emotions and mood in the scripts.
X-MEN GOLD #1, by Marc Guggenheim and Ardian Syaf, arrives on April 5!
The Hype Box
Can't-miss news and updates from across the Marvel Universe!