Comics
Published December 12, 2017
X-Men: Gold Annual – Reunion Jack
Marc Guggenheim previews a 20th anniversary Excalibur reunion!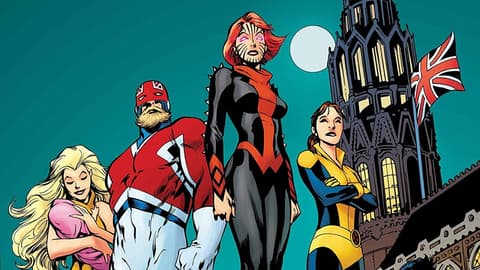 Some call Excalibur "the X-Men of Great Britain," while others just call them "awesome." Either way, this super hero team will get a special reunion in the X-MEN: GOLD ANNUAL #1!
Writers Marc Guggenheim and Leah Williams join artist Alitha Martinez to re-team Kitty Pryde, Nightcrawler, Prestige, Captain Britain, and Meggan for a face off against a rather unconventional villain. Co-created in 1987 by Chris Claremont and Alan Davis (who provides the cover for this issue), Excalibur makes its triumphant return on January 10!
In anticipation of their coming back together, we spoke with Guggenheim about what makes this super group so memorable.
Marvel.com: What do you think makes Excalibur so unique?
Marc Guggenheim: I'd always seen Excalibur as this really interesting hybrid team born out of, I imagine, Claremont and Davis' collaborations on UNCANNY X-MEN and CAPTAIN BRITAIN. It seemed almost as if Chris and Alan said to each other, "Hey we've worked together on X-MEN and we've worked together on CAPTAIN BRITAIN…what about doing a book about both?" In other words, EXCALIBUR exists because of the history of the creators, not out of a need to spin off certain characters or put some characters together with others. To my thinking, this was an extremely unique approach, particularly when you consider that EXCALIBUR premiered back when there weren't as many X-Men titles as have become the norm. Being one of a very few number of X-titles, EXCALIBUR had a unique position.
Marvel.com: Did you want to explore a certain aspect of the team's dynamic in this story?
Marc Guggenheim: The "found family" aspect of Excalibur—how these people got thrown together and decided to create their own family dynamic—really spoke to me. And, obviously, it spoke to Leah as well because that element really shines through in her script.
Marvel.com: Knowing how many family reunions go, will there be any bitterness or bickering among the heroes?
Marc Guggenheim: Not really. While I think bitterness or bickering often acts as a component of reunions, it wouldn't work for Excalibur. It wouldn't be consistent with the fun, madcap tone that Chris and Alan created.
Marvel.com: Should we expect to run into any classic Excalibur villains?
Marc Guggenheim: Not in this story, no. I really wanted to revisit the character of Starhammer—the D'Bari out for revenge against Rachel Summers who was last seen in UNCANNY X-MEN #135. It's a super deep cut, but the character has always struck me as more tonally consistent with EXCALIBUR than X-MEN, so he seemed like a natural fit for this.
Marvel.com: In your wildest imagination, where would you want to see the team go after the Annual? 
Marc Guggenheim: Nothing would make me happier than to see Leah Williams relaunch Excalibur into a new series. She totally gets the tone of Excalibur and understands what makes the original series so beloved. And Maggie, the character Leah introduces in the Annual, would make for a pitch-perfect member of the team, in my opinion.
Reunite with Excalibur in Marc Guggenheim, Leah Williams, and Alitha Martinez's X-MEN: GOLD ANNUAL #1 on January 10!
The Hype Box
Can't-miss news and updates from across the Marvel Universe!