Comics
Published September 8, 2017
X-Men: Gold – Bad Mojo
Blue and Gold mutants join forces in Mojo World for their first crossover!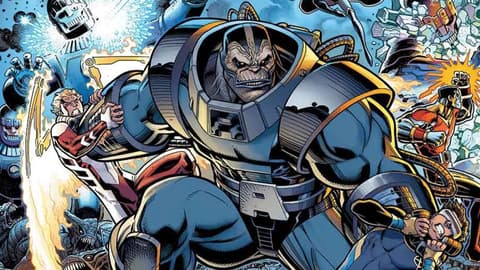 Mojo loves entertainment—and, frankly, he does not care who gets hurt when he decides to have some fun. As the era of Marvel Legacy begins, the madman has his sights set on delighting the denizens of Mojo World with the first team-up between X-MEN: GOLD and X-MEN: BLUE!
Beginning with X-MEN: GOLD #13 on October 4, writer Marc Guggenheim and artist Mike Mayhew tag team with their X-MEN: BLUE counterparts Cullen Bunn and Jorge Molina to return these mutant groups to their full-powered might. And when Sentinels, the Brood, and dark histories cloud the horizon, they'll need all the help they can get.
We asked Marc Guggenheim how it felt to write the two teams' opening interactions.
Marvel.com: What made Mojo the best villain for the first crossover between X-MEN GOLD and X-MEN BLUE?
Marc Guggenheim: A couple of things…we haven't seen Mojo in the pages of an X-MEN book for a while, so he has a Legacy appeal. At this point, he feels like he's been around long enough to be a literal legacy character, right?
And, thanks to the Mojoverse, he acts as the perfect guy to bring in all these "greatest hits" that we're building the story around.
So, he's not only a legacy character, but he also has the means at his disposal to let us walk down memory lane a bit.
Marvel.com: How would you describe your concept of Mojo as a character? What makes him tick?
Marc Guggenheim: You know, it's funny—I work in television so I kind of have a fun appreciation for Mojo. For me, Mojo feels like the universe's most egregious, most shameless television producer or executive. I, as a writer, treat him as over-the-top as possible.
He's very much a character of a lot of indulgence. He's pure id. He's got no limitations. I guess he's my worst nightmare.
Marvel.com: How does the Gold team view Mojo? What are their individual perceptions of him?
Marc Guggenheim: I love combining teams and combining characters—some of which have met our villain, some of which haven't.
For the ones who haven't, this feels like a slap upside the head because when you deal with Mojo, you don't just deal with the character, you deal with Mojo World. It's a scary, crazy, completely off the chain kind of place.
That's a lot of fun to show and a lot of fun to have the new characters react to.
Marvel.com: How do the Gold and Blue squads interact?
Marc Guggenheim: Right from the beginning of this story, we basically combine the teams.
There are a lot of different ways to do a crossover—my favorite as a reader has to be when, instead of intercutting between two groups, we actually merge them. They are both teams of X-Men, so it seemed like a pretty natural thing to do.
We are getting a chance to see characters interact with different characters who are not their teammates. We have a big mix of Blue and Gold. And you'll discover that they'll actually end up dividing into three teams—with mixed members of both groups.
Marvel.com: So that gives you a chance to write for the Blue mutants as well.
Marc Guggenheim: Absolutely, absolutely.
That's a real blast for me because, obviously, I'm such a huge X-Men fan and I love what Cullen Bunn does with X-MEN: BLUE.
It also makes for a very seamless crossover—I feel like, if you are doing a crossover, do a proper crossover and tell one big epic story. Cullen and I are writing off a single outline. I am writing the GOLD issues, he's writing the BLUE issues, but we are telling one single story.
Marvel.com: Did any Blue members stand out as a surprise favorite to write?
Marc Guggenheim: I love what Cullen has done by making Jean Grey the leader of the Blue team. It's interesting for me as a writer that she's not the Jean I grew up with as a reader; she's much younger. But the responsibility of being the team leader forced her to grow up quickly. She's younger but, in a certain way, older. That's very interesting.
I'm also enjoying the dynamic between Scott Summers and Rachel Grey. Rachel is obviously Scott's daughter—but now this Rachel is older than this Scott. That's a fun bit of business.
It isn't just that two X-Men teams are meeting, it's that these specific characters are interacting. For example, in X-MEN: GOLD #13, we have a moment between Jimmy Hudson and Old Man Logan, which serves a very unique situation and relationship. This guy—who replaced Wolverine—meets a person who replaced a different iteration of himself…and they're also related. I tried to lean into their natures as Howletts—and, as a result, they are not prone to talking about feelings or giving warm familial hugs.
Marvel.com: You're also working with artist Mike Mayhew, who has quite a history and an excellent reputation. As someone who first encountered his art as a fan, what has that been like?
Marc Guggenheim: Really great. I am a real fan of his work. I've always been a huge fan of Mike's work. It's very exciting to get a chance to work with him.
Mike interfaces with you a lot more than a lot of artists and he gives all this unbelievable thought to his pages. He sends you his pages in different stages—sometimes he sends you rough layouts with a very long email explaining everything he did already and everything he's going to do. You just have to admire how deliberate and considerate he is. I think Mike keeps us all honest because he looks at things so carefully. He has a really great head for this.
Marvel.com: Does working with Mike drive you to write different story elements or action sequences?
Marc Guggenheim: I always try very hard to write to the artist.
In X-MEN: GOLD, I also write in a very specific style. I've been really challenging myself to write with as few panels on the page as possible; to keep that panel-to-page ratio as low as I can.
And if I've done my job correctly, Mike has some big panels that he can fill in with wide shots—which will be particularly important as we start to experience what we call the "greatest hits" moments of X-Men history. And I know that Mike can pull off the character moments as well as the action moments.
I'm a very spoiled person.
Marvel.com: Let readers know why they shouldn't miss the first ever X-MEN GOLD/X-MEN BLUE crossover of this era.
Marc Guggenheim: A combination of several big things.
On the one hand, there are a lot of firsts—it's their first meeting, after all.
On the other hand, it has a lot of fun callbacks to what we refer to as the "greatest hits."
While X-MEN: GOLD has been big on nostalgia, that nostalgia exists for longtime readers, but knowing these hits will not be required, by any means, to appreciate the events on Mojo World. The X-Men are going to have a lot of difficulty dealing with Mojo and Mojo World, but the readers will have a lot of fun watching it all go down.
Worlds collide in X-MEN: GOLD #13, by Marc Guggenheim and artist Mike Mayhew, on October 4!
The Hype Box
Can't-miss news and updates from across the Marvel Universe!