Comics
Published August 22, 2017
X-Men: Grand Design – An Epic Undertaking
Acclaimed creator Ed Piskor takes on mutant history in a unique way!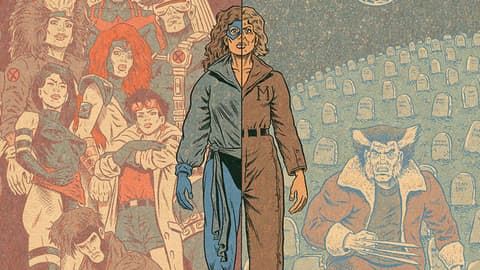 For the last year and a half, writer and artist Ed Piskor has worked in secret on a project for Marvel, and recently, the House of Ideas revealed said secret—X-MEN: GRAND DESIGN, a trilogy of two-issue limited series that will retell the first 280 issues of the X-Men in Piskor's unique style.
Best known for his work on Hip Hop Family Tree for Fantagraphics, another ambitious project that recounted the early history of hip hop, Piskor shared more details on his love for the X-Men and its creators, and his plans for remixing the material into something new.
Marvel.com: Ed, before getting into the project itself, obviously, you have a lot of love for the X-Men to embark on a project like this. Do you remember the first X-Men comic you read?
Ed Piskor: I do. [UNCANNY X-MEN #157], which has a cover date two months before my D.O.B. I think my dad was excited for me to be born because, even though we weren't well off by any means, he still did what he could to spoil me, and there were always toys and comics around during my very first memories. That issue of X-Men is also responsible in a major part for me becoming a cartoonist because the credits box on the first page let me know that there are actual human beings behind these comic books. That became my goal from age four, probably. I never flip-flopped. Never wanted to be a fireman or an astronaut. Always a cartoonist, and if I got to make X-Men comics, well then, that's just icing on the cake.
Marvel.com: What are some of your favorite moments from the X-Men's history, and your favorite characters? Which X-Men creators really stood out to you over the years?
Ed Piskor: Some of my favorite X-Men comics are from when Chris Claremont, Marc Silvestri, and Dan Green were churning them out on a bi-weekly basis. There's a kinetic energy to them that is really fun and inspiring to me. I, un-controversially, think that the best era was during the [John] Byrne run. It's one of the very few cases where there is complete synergy among the talent all the way through, from [writer] Claremont, to [artist] Byrne, to [inker Terry] Austin, to Tom [Orzechowski] on lettering, and Glynis [Oliver] on color. I can count the great collaborative teams in the history of comics on one hand, and this would be on that extremely short list. Most comics feel like the creative players are competing for shine rather than working together to try and make the best comic possible.
I'm not really a character guy. I more like the idea and spirit of X-Men than I'm into it because Wolverine's a badass or something. I guess I was a Longshot fan as a kid, but I think I just couldn't articulate that I was a massive Art Adams fan at the moment.
My favorite Jack Kirby inker is still Chic Stone from those first bunch of issues. You can tell that's the stuff that guys like Bruce Timm go nuts for. Those big, chunky lines. From [Jim] Steranko forward, the art of X-Men was to die for. It seemed clear at a certain point that the mandate must have been to put Marvel's top [artists] on the book, and it shows. Steranko, [Neal] Adams, [Dave] Cockrum, Byrne, Paul Smith, Art Adams, [John Romita Jr.] C'mon, man. You can't step to this crew. And Chris Claremont was the glue that gave X-Men its heart.
Marvel.com: This sounds like such a cool project, but at the same time it is pretty different from what people might expect from a major comics company, bringing in someone to "remix" the history of one of their biggest franchises. How did you go about pitching it, and what was the reaction?
Ed Piskor: I'm hip hop oriented with lots of bravado, and I simply tweeted one day that Marvel should just let me make whatever X-Men comic I wanted to. [Marvel Editor-in-Chief] Axel [Alonso] hit me up within an hour or two, and the ball began rolling from there. I told him that I can make the first 8,000 or so pages of X-Men work as a 300-page story. He told me to do it in 240. I accepted.
Marvel.com: What's the format of X-MEN: GRAND DESIGN, and how will it be released?
Ed Piskor: X-MEN: GRAND DESIGN is basically a trilogy of two-issue [limited series] or arcs—your choice of nomenclature. Each issue will be 40 pages. Six issues total. Every two issues will be collected into a giant format book similar to my Hip Hop Family Tree comics. Same paper quality and design sense. Each big book will also come packaged with a classic reprint. This first book will reprint Kirby and [Stan] Lee's [UNCANNY X-MEN #1], and I'll be recoloring it to keep the entire volume congruent. It's a pleasure to examine that classic work at its molecular level.
A two-issue series/arc and a book collection will come out each year for several years.
I'm basically good for 80-90 pages a year if I promise to work seven days a week. [Laughs]
Marvel.com: And are you doing everything yourself—writing, art, lettering, etc.—like you did on Hip Hop Family Tree?
Ed Piskor: Yep. Could this be the first Marvel comic done completely by one person? I think it is. I just don't know how to not do all the jobs. I'm a cartoonist. Not a writer. Not an illustrator. Not a letterer. I have to do it all so that I can be totally accountable for the quality of the piece. I don't want to be in the position to blame someone else for the end result after I grind as relentlessly as I do. If it works, I can look in the mirror with satisfaction. If it doesn't, then I'm totally accountable. I live for this kind of pressure. I take it very seriously and with great respect that I'm being trusted to do right by the property.
Marvel.com: So 280 issues of X-Men—minus the 20+ reprint issues that preceded the launch of the new team in issue #94, of course—condensed down to about 240 pages…how exactly are you doing that? What do you plan to cut from that material, and will you make any additions?
Ed Piskor: Well the short answer would be that you need to read it and see how it's done rather than me explaining how the sausage is made, but I can explain a few things. There was a legendary editorial dictum from former [Marvel] editor-in-chief Jim Shooter that every comic is somebody's first comic. This is something I can sort of get behind, though it created lots and lots of redundancy issue after issue. That's the first stuff I stripped away. We only need Cyclops crying about his vision once. We only need Rogue lamenting that she can't touch people once. Wolverine doesn't need to say, "I'm the best there is at what I do…" a hundred times. From there it's about figuring out the bigger theme of each arc and then curating events to meet those ends.
There will be some creative re-edits to get everything to work together, but I wouldn't call them additions, per se. The raw materials are generally so good that the actual job is to just prune and reduce things down to the most crucial elements.
I've literally gotten well over 10,000 hours practice at this exercise on my Hip Hop Family Tree comics for four years, and it all built to prepare me for the task at hand with X-MEN: GRAND DESIGN.
Marvel.com: Issue #280 of the original series takes you right up to before the team split into the blue team and gold team, and into two X-Men books. Why did that make an ideal place to stop? 
Ed Piskor: It's about where I left off personally. I won't go into much detail, but you can imagine I was one of those millions of kids who followed the artists away when they decided to do their own thing. I did pick it up a little here and there. I liked [John Romita Jr.'s] second run when his style was more codified. I'm also a fan of Joe [Madureira's] contribution.
Marvel.com: Finally, I have to ask: what's more difficult, capturing 15 years worth of hip-hop history in roughly 400 pages, or condensing 280 X-Men comics into 240 pages?
Ed Piskor: They each come with [their] own sets of challenges, but I would never in a million years choose a project that is easy where I can coast just to collect a payday. I only work on dream projects, so the challenges are met with open arms and I don't feel right if I don't go to sleep completely exhausted and mentally drained each day. Both projects have rabid, passionate fans who need authenticity, and it's no question I can meet and exceed those demands. One benefit of the X-Men comic over Hip Hop Family Tree is that Charles Xavier can't call me at 3 AM to ask why I didn't mention him on this or that page, and Ororo Monroe can't yell at me because I drew her with the wrong kinds of jeans on.
Experience history in the making with Ed Piskor's X-MEN: GRAND DESIGN, kicking off December 6!
The Hype Box
Can't-miss news and updates from across the Marvel Universe!