Comics
Published July 12, 2019
Young Guns Cover Gallery: Russell Dauterman
Fresh off the War of the Realms, take a look back at Dauterman's cover work for 'Thor' and 'The Mighty Thor'!

Comics may do all of their storytelling on the pages, but the first thing we see on the stands is the art on the cover. Cover artists perform multiple roles in their work -- not only are they previewing the story inside, they're setting the tone for the story as well as selling it to audiences both new and old, the lifelong fans and the comics curious. So when a Young Gun artist like Russell Dauterman is working on a cover, there's a good chance that the story inside is going to be epic, regal, and worthy of your time.
Fresh off his interior work on WAR OF THE REALMS, Russell Dauterman provided some insight on his cover work on THOR and MIGHTY THOR, the story that turned Jane Foster into the Goddess of Thunder who battled mythical enemies while her human form battled cancer. After the events of WAR OF THE REALMS, Jane is in remission and back to the battle field in a new role: Valkyrie.
"I thought of doing a close-cropped headshot for the THOR #1 cover as a way to differentiate it from the Jane Thor art that had already been done: a full-body shot by Esad Ribic. The headshot ended up being a motif that I'd use throughout the run. The final issue cover has a headshot of human Jane as a bookend for our series, and now with Jane becoming Valkyrie, I used the framing one more time to come full circle."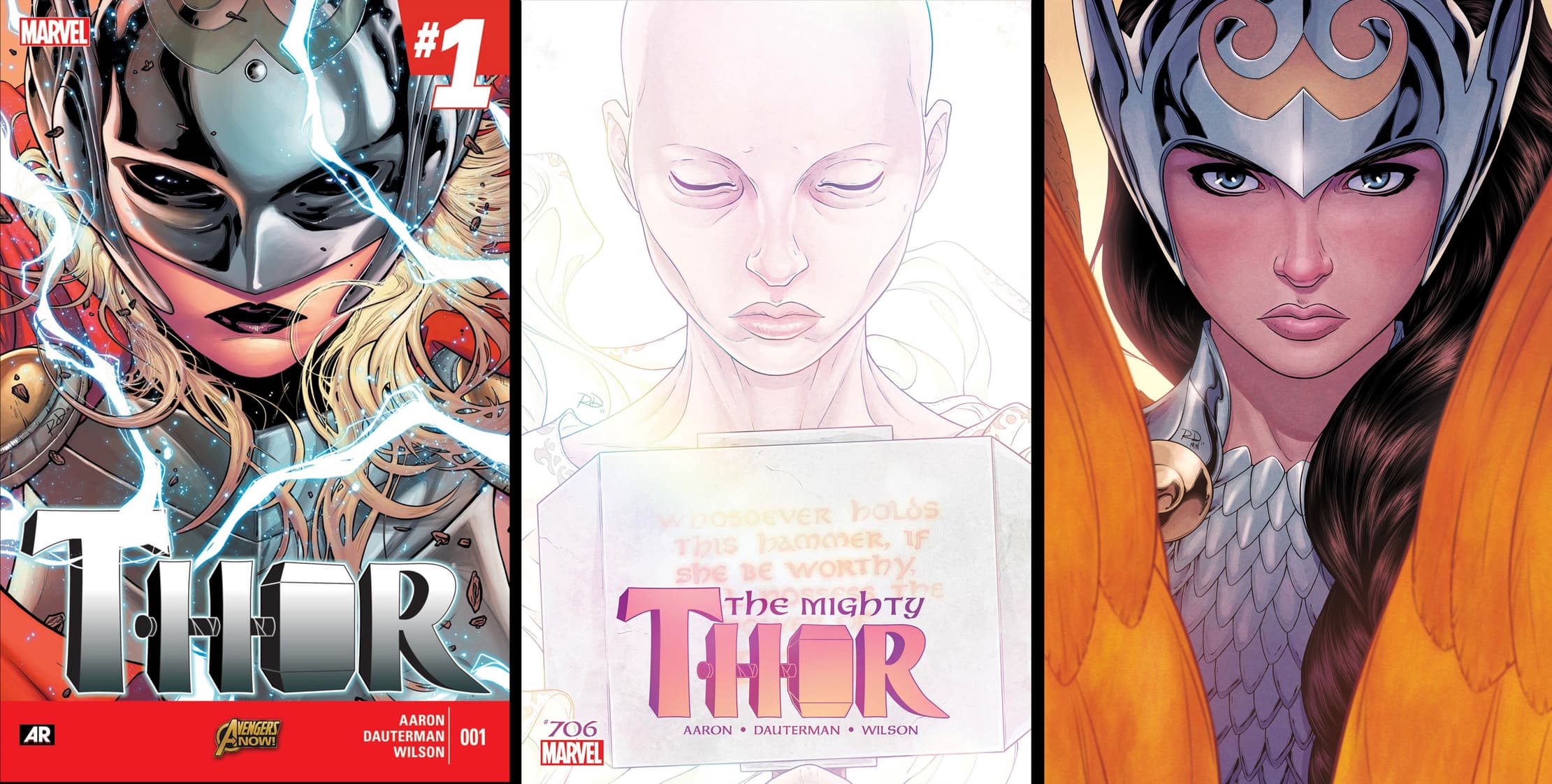 Marvel Editor Wil Moss also detailed what sets Dauterman's style apart: "Russell's art is of course terrific all on its own, so he could draw the most straightforward cover image you can think of and it'd still look amazing. But what really sets Russell's work apart is the thought that he always puts into it. During his time on THOR, he would try to always do something new every cover, figure out a new challenge he could set for himself. The result was a run of covers that I think are among the best to have ever graced the title -- and, given the past luminaries who've drawn THOR covers, that's really saying something."
Below, see a gallery of just some of Dauterman's best cover art (his favorites are marked with an asterisk: *).
To learn more about Marvel's class of Young Guns, visit Marvel.com/young-guns.
The Hype Box
Can't-miss news and updates from across the Marvel Universe!