Comics
Published August 1, 2019
Young Guns Issue Commentary: Russell Dauterman on 'War of the Realms' #6
"I tried to make his face look as punchable as possible."

In the comic book medium, fans aren't always privy to the inner thoughts of the artists and writers. The work on the page begins with the script and comes to life with the artists' renditions. Essentially, their collaboration speaks for itself. Marvel.com recently had a chance to speak with Russell Dauterman, one of the latest Young Guns, for a behind-the-scenes commentary on his art from WAR OF THE REALMS #6.
Dauterman and his frequent collaborator Jason Aaron first joined forces on THOR before reuniting for WAR OF THE REALMS. In his own words, Dauterman shares his thoughts and motivations as he brought this epic event to life and to a close in WAR OF THE REALMS #6: 
"This issue had so much payoff for anyone who'd been reading Jason's run -- the reborn Mjolnir, the four Thors, Odin bowing to All-Father Thor. This was the big climax to a lot of what Jason had been writing for so long. I loved being a part of that. And, as gross as it is, I loved drawing the gnarled Loki reveal!"
PAGES 5-6
"I asked Jason for this one! We were out to dinner and I think he asked if there was anything I wanted to draw in WAR OF THE REALMS -- I jumped at the chance and said I wanted to do this spread. The series was going to be so full of characters and craziness that I thought a double-page splash with minimal characters and a simple background would be really striking in contrast. I love these sorts of moments when comics take the space to breathe for a minute.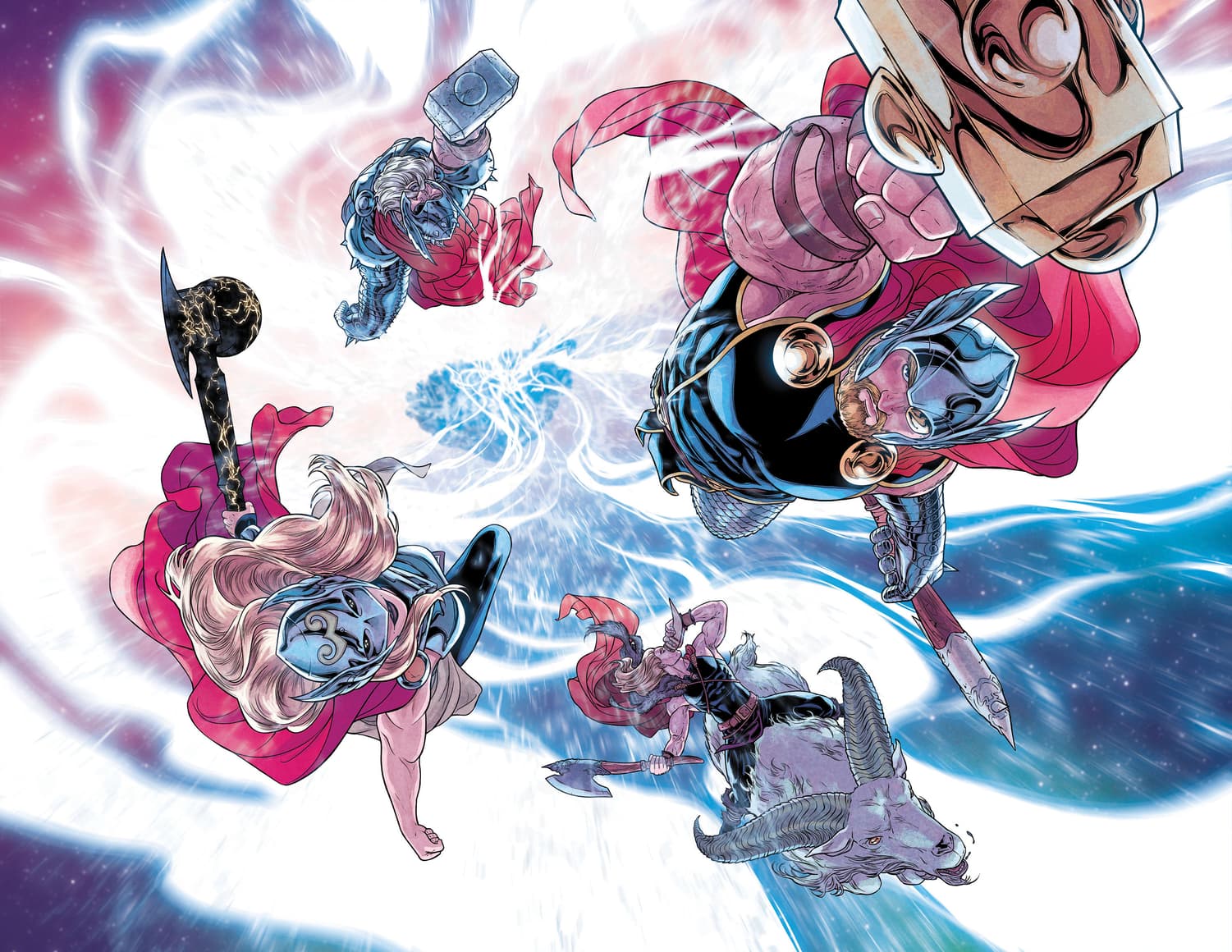 "I wanted a big, bold, dramatic visual that was hopefully a fist-pumping moment for readers. I love drawing stuff like this, and love how it turned out -- Jason's narration is incredible and Matt [Wilson]'s colors are fantastic."
PAGES 11 & 12
"Throughout WAR OF THE REALMS, I played with page layouts and started to do more with the panel borders themselves. Once Malekith took control of Venom, I drew the panel borders for those scenes as drippy and symbiote-like as a way to show that Malekith had the upper hand -- he was even taking over the shape of the panels! Once the Thors show up, the panel borders straighten out and the panels take on stronger shapes. Throughout the rest of the fight, the borders have a push and pull between the two styles.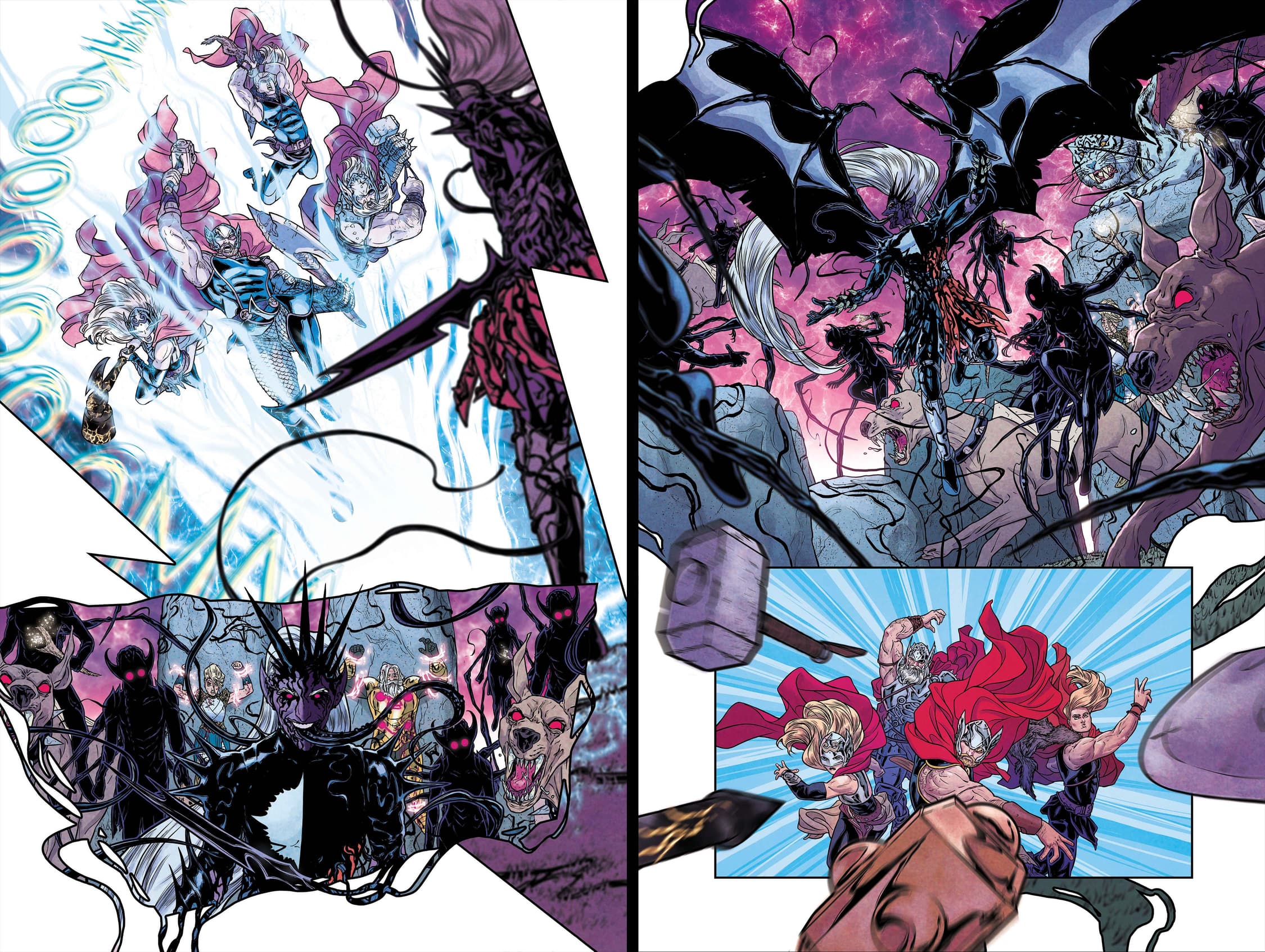 "These two pages show that contrast. I intended for these pages to be the inverse of each other, with the same basic layout but with the teams swapped. The panel shapes change depending on the focus of each panel."
PAGE 22
This page was so satisfying to draw! Whenever I drew Malekith, I tried to make his face look as punchable as possible. This was the big payoff to that."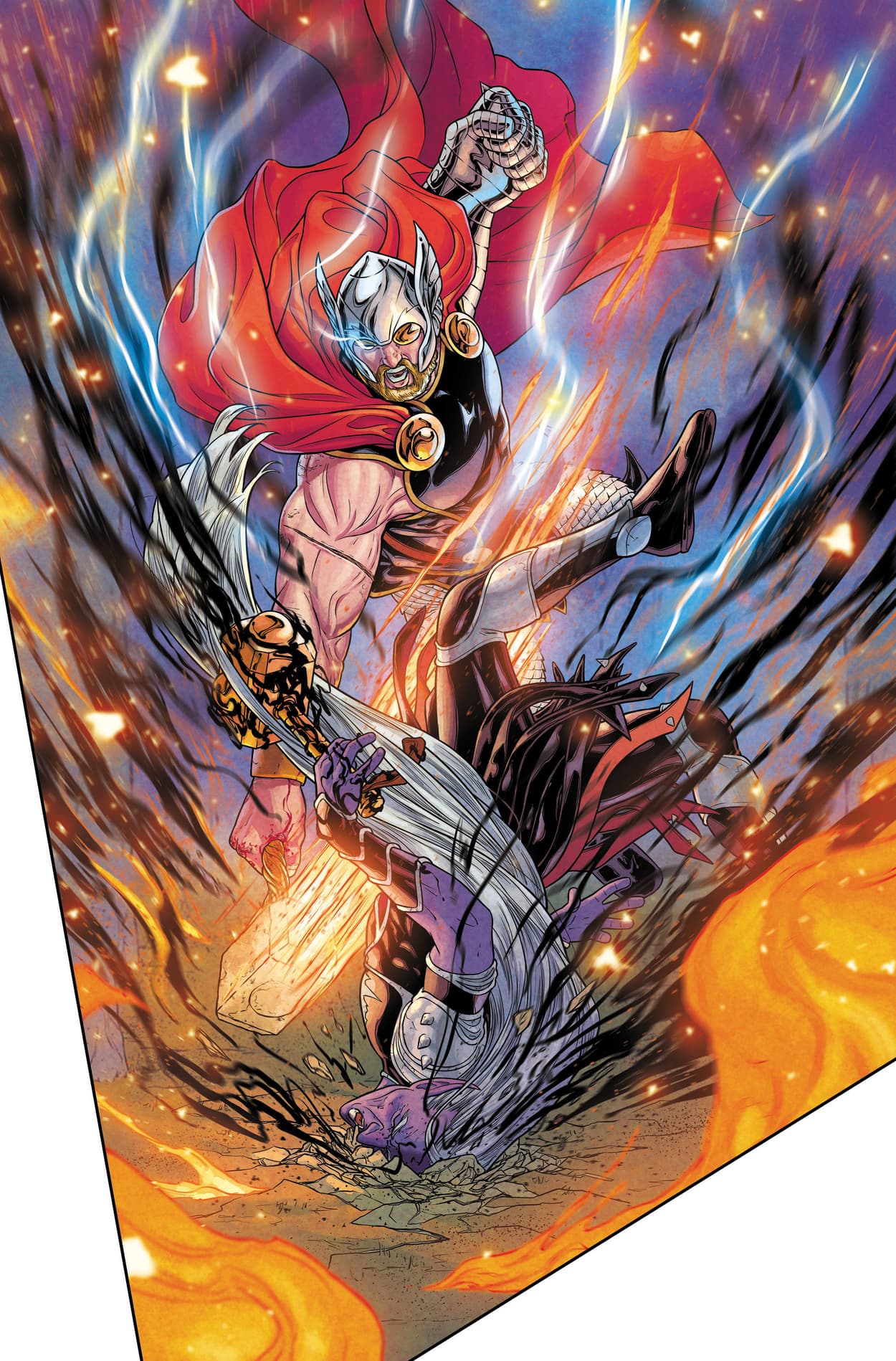 The Hype Box
Can't-miss news and updates from across the Marvel Universe!