Comics
Published October 16, 2017
Zombies Assemble 2: Avenging the Undead
Hear how Jim Zub adapted the Japanese manga!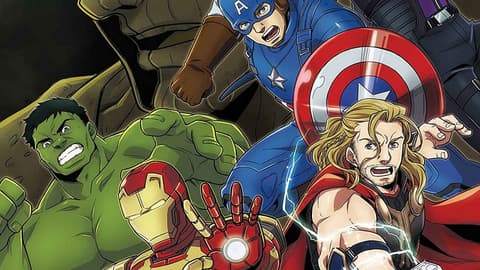 Transferring a universe of Marvel zombies overseas doesn't seem like an easy job, but Jim Zub can do it—no problem.
ZOMBIES ASSEMBLE 2, the Japanese book that Zub got tasked with adapting for North American audiences, has been a skin-crawling success. And as the limited series—written and illustrated by Yusaku Komiyama—nears its final issue on November 8, we caught up with Zub to hear more about how the project came to life.
Marvel.com: How would you sum up the experience of translating a Japanese manga for American readers?
Jim Zub: I don't know that I'd call it "translation" in the traditional sense. The raw translation from Japanese to English was already complete when I came on board the project. I had to take that raw translation and adjust the dialogue and other text so it sounded natural; so that each character had the distinctive voice readers expect from the Marvel Universe.
Marvel.com: What proved to be the most challenging part of such a task?
Jim Zub: Adapting the dialogue so that it kept the original intent from Yusaku Komiyama's story while also making it read as seamlessly as possible in English. There's a surprising amount of humor and pathos in the story—I tried to keep those intact, though it didn't come easy in some spots. We have a lot of callbacks to the Marvel Cinematic Universe in ZOMBIES ASSEMBLE, so I also tried to make sure those came through properly as well.
Marvel.com: What did you enjoy most about this crazy zombie epic?
Jim Zub: There's a scene in the first half where Zombie-Thor tears out his own eyeball and gives it to Black Widow as a gift. That whole sequence felt so out there and I knew readers would be shocked and amused, wondering where things would go from there. It just propels things to another level of zombie craziness.
Marvel.com: Would you be up for doing something like this again? Which Marvel manga have you been eyeing lately?
Jim Zub: There's apparently a new GUARDIANS OF THE GALAXY manga serializing right now in Japan called GUARDIANS OF THE GALAXY: GALAXY RUSH. I hope Marvel decides to bring it out here in English and that I get the chance to adapt it for them like I did here with ZOMBIES ASSEMBLE. That would be a ton of fun.
Check out ZOMBIES ASSEMBLE 2 #4, by Yusaku Komiyama with Jim Zub, on November 8!
The Hype Box
Can't-miss news and updates from across the Marvel Universe!