Culture & Lifestyle
Published May 3, 2021
Marvel's Arena of Heroes: Behind-the-Scenes with Announcer Ryan Ruocco
Tune into the game on Monday, May 3 at 7:30 p.m. ET on ESPN2, ESPN+ and ESPN Deportes.
The exclusive alternate presentation, NBA Special Edition Presented by State Farm: Marvel's Arena of Heroes, will start at 7:30 p.m. ET on ESPN2, ESPN+ and ESPN Deportes with the traditional game telecast on ESPN.
Additionally, during halftime, catch a Special Look at Marvel Studios' new series, Loki, streaming exclusively on Disney+ this June. Plus, the broadcast will include a special interview with Anthony Mackie as he talks about being a New Orleans Pelicans fan, the groundbreaking Marvel Studios' The Falcon and the Winter Soldier series, and his recent journey to becoming Captain America!
The first-ever Marvel-inspired alternate presentation, NBA Special Edition Presented by State Farm: Marvel's Arena of Heroes, is set to take place on Monday May 3 where a new Champion will be crowned! That's right, the Golden State Warriors vs. New Orleans Pelicans game isn't just about scoring regular points this time around, but also Hero Points.
The Avengers are here and they're looking to grow their forces, after narrowly defeating an invading alien army. Black Panther and Iron Man quickly realize they will need more help and form a plan to expand their ranks to fight this impending threat —  via these Hero Points where a Champion will be determined.
Recognizing the superior physical abilities, agility, and tenacity of Earth's greatest athletes, the Avengers will hold a series of contests where the winners earn the right to train and fight alongside them as Marvel's Champions! The Avengers will begin their recruitment with the NBA elite and observe the battle between the Warriors and the Pelicans. Who will rack up the most points and join the Avengers in defeating their next threat?
Ahead of Monday's game, Marvel.com talked to announcer Ryan Ruocco who will be calling the game on ESPN2, ESPN+ and ESPN Deportes, alongside commentator Richard Jefferson and Marvel expert Angélique Roché. A long-time Marvel fan, read on to find out how this game will differ from anything else ever seen, what surprises might be in store for the Arena of Heroes, and why Hulk is probably your best draft pick.
Marvel.com: So let's start with some Marvel basics. How did you first get into Marvel? Were you a big comics fan growing up, or did you fall in love with the MCU? Was it some combination of the two?
Ryan Ruocco: It was a combination of the two in some ways. I think the first thing I really was familiar with Marvel was when Iron Man came out and my sister and brother-in-law were like, oh, you've got to see Iron Man. I saw Iron Man and I loved it. [A couple years later] I started working with Robin Lundberg, my co-host at ESPN Radio in New York. And he was the biggest Marvel fan— he is the biggest Marvel fan on the planet. And my co-hosting with him sort of coincided with this boom in the Marvel movies being out and the MCU. It really helped to fan the flames of my interest. I just became a total ravenous consumer of all the movies and then I also started reading some of the comics because Robin had them all.
Marvel.com: What kind of Marvel fan are you? Like are you someone who sees all the movies opening night? Did you wake up at 3:00 AM every morning to watch every episode of Falcon and the Winter Soldier this past season?
Ryan Ruocco: I'm a dude who always has to see the movies opening weekend. And then it just is schedule-dependent. Ideally, I'll see it on Thursday night when it comes out, but if my schedule doesn't allow it, then I might wait till Friday or Saturday. And then I'll just stay off social media until then!
When I fly, I often will watch Marvel movies. I usually like to watch what I call 'comfort food movies' on flights. Like movies I know I love, but I can also do prep work during them, and they just put me in a happy place. And all the Marvel movies do that.
Marvel.com: So great follow up question: what is your favorite Marvel movie?
Ryan Ruocco: I love the first Captain America because I love the love story. I probably-- I know it's such a cliché answer at this point, but I'd probably say Endgame.
Just because it is so hard to pull that off and get everything right and wrapped up in a way that still feels fulfilling and surprising, but gives you those fan payoff moments you want, too. And I just felt like they did it. I felt like they pulled it off. I can watch it, literally, over and over again, and just have such incredible joy.
Marvel.com: Do you have one favorite specific moment from Endgame that just stands out above the rest?
Ryan Ruocco: Probably that triumphant moment where all the backup comes through. And it just feel-- and you could see everybody, and like the music playing, and just like-- I got crazy chills during that scene. And just seeing the triumphant factor of that moment I think probably would be it.
I also love the realization with Doctor Strange, where it's like, oh, this is that one. You know, this is that one opportunity that — in however many, whatever the number is, in however many million or billion — to actually win. And I liked that realization between Doctor Strange and Tony Stark.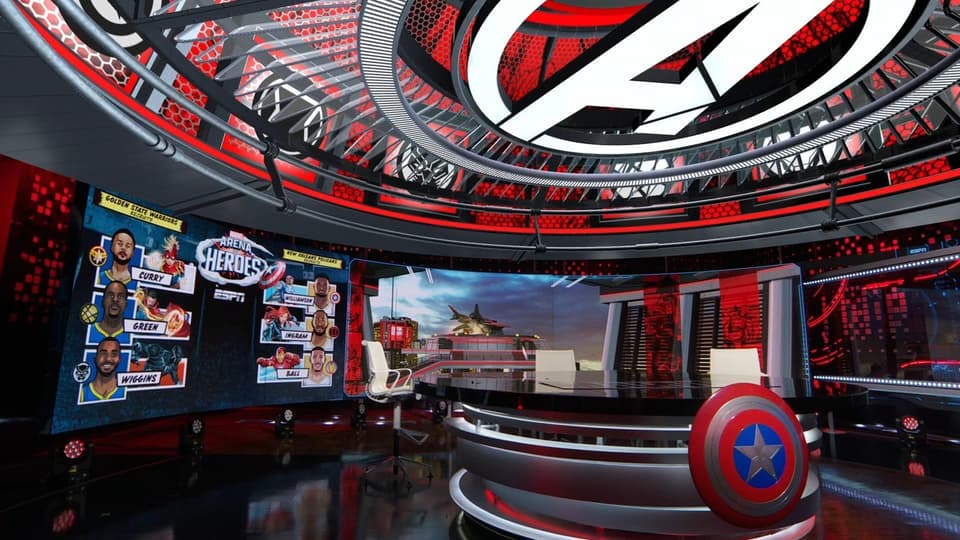 Marvel.com: Switching gears, let's talk about this basketball game. Can you walk me through Marvel's Arena of Heroes?
Ryan Ruocco: The concept is that the Avengers, they need another superhero. Not to be an Avenger, but to work alongside them. They're recruiting and there are different Avengers who have set out to kind of endorse, or track, certain players in the game to see who will emerge as the superhero who's capable of joining. And the way that's going to be determined is through Hero Points.
So it's almost like there'll be two games going on. One will be Pelicans-Warriors — and the actual score will play a role — but then the other will be these Hero Points. Hero Points are accumulated from points, rebounds, assists, steals, blocks, and then also from the winning team. If you're on the winning team, you get 10 points automatically.
It's going to be an interesting experience. In addition to everything that will be done graphically to make this feel special, and pop on the screen differently, and make it a completely unique experience, there's going to be this game within the game, where we are not only tracking who wins the game, but we're tracking who has the most Hero Points and who emerges as our next superhero to join, or to work alongside, the Avengers.
[At the end] a Champion is crowned. It could be dramatic because you might have a player who's- like say if it's a close game. Maybe Steph Curry has eight more Hero Points than Zion Williamson, but then New Orleans wins the game at the buzzer. That gives Zion 10 extra Hero Points and now he is our winner. There's sort of like added levels of drama that could come into play and I think it's going to make it really fun.
I'm curious to see what kind of energy it gives them. [They're] playing to be a Marvel hero and people are going to be enjoying this experience with that in mind, I think it would give you a little extra juice on the floor. I'm really curious to talk with the players ahead of time and just try and see what their reaction is and how excited they are.
Marvel.com: How did you get involved in this? What was your first reaction when the idea was pitched to you?
Ryan Ruocco: I was called by our producer for the game, Phil Dean, and he was just like, hey, are you a Marvel fan? Let me tell you about something we're doing. And he kind of described to me, without me knowing all the details yet, but just sort of, it was going to be this different sort of broadcast, tying in with Marvel, immersive experience. And I was like, hell yeah, I'm in! I could not be more excited.
And you know, I obviously — I broadcast NBA games regularly and I love doing that. But I have great passion for Marvel, as well. So the idea of getting to combine them. Even before I knew the details, or what exactly my responsibilities would be, or how we would pull this off, I was just pumped because I was like, how cool is this? I get to combine the NBA and Marvel — two things I love.
Marvel.com: Can you tease any surprises we might see watching? Or just any big moments that could happen?
Ryan Ruocco: I think that people will see some really interesting and new comic art that will involve the players. Graphically and visually, this is going to be a completely different experience than when you normally watch an NBA game. And there are going to be — without me giving away total specifics — there are going to be different things that happen that make it feel like you are sort of watching a Marvel comic book come to life.
Marvel.com: I know you're going to be doing all of this from a Marvel-themed studio. Have you seen any of that? Do you know what it's going to look like and what will be in there?
Ryan Ruocco: It looks really cool. It looks like you're [immersed] into that world. Almost like you're manning a ship that's traveling through the Marvel universe. It's really — it feels completely different. One of the cool things about the set, too, is we're all going to be sort of dressed like Agents of S.H.I.E.L.D. So I think between being on set and kind of feeling like, maybe we're in a ship, and then being in our Agents of S.H.I.E.L.D. suits, I think will be a fun combination to just play into the roles that we're going to be playing that night.
Marvel.com: This kind of sounds like you're living the Marvel dream in an immersive experience.
Ryan Ruocco: Yeah, exactly. One of the cool aspects of Disney with Marvel is being able to not only watch, but experience these properties through the theme parks, and all the stuff that's being done in that regard. And this, to me, almost feels like our own personal NBA theme park experience with Marvel. And the fact that I get to test drive it, so to speak, is, it's just really cool.
Marvel.com: Out of all of the Marvel characters, who would you want on your basketball team? Who would be the best to choose?
Ryan Ruocco: I would have to say Hulk. I think you'd have to take Hulk. Because if I think about Shaq during his run with the Lakers' three-peat, it was just like, you could not stop them. He was just so much bigger, so much stronger than anybody else, you could not stop him. So you might be a little worried about Hulk getting a three-second violation if he was planted down in the lane too long, but I just feel like he'd be an unstoppable force. He's just too big, too strong. The only worry you would have is that every time he dunked, he would destroy the backboard and you'd have to start over again. But I feel like Doctor Strange could conjure up a new backboard and hoop for us pretty quickly. So I'd have to go with Hulk, and I'm pretty sure my team would be undefeated.
Marvel: So you don't think there's anyone who could beat Hulk in a basketball game?
Ryan Ruocco: I don't think so. Not in a basketball game. I'm trying to think of who-- you know, maybe Wanda could, potentially. But I am not-- otherwise, I don't really think so. Captain Marvel, maybe? But I think that ultimately, at the end of the day, Hulk's going to be able to protect the rim better than anybody, and Hulk's going to be able to gobble up every rebound, and Hulk's going to be able to-- Hulk probably could reach out with a slight jump from the three-point line and dunk over everybody, while getting fouled, for a potential four-point play on almost every possession. So I feel like with that in mind, it'd be really hard to beat the Hulk when it comes to basketball.
Marvel.com: OK, so if I'm ever choosing a team, too, I'll be sure to pick Hulk first.
Ryan Ruocco: Yeah. I think that's the move. I think you're going to have the best squad if that's the case.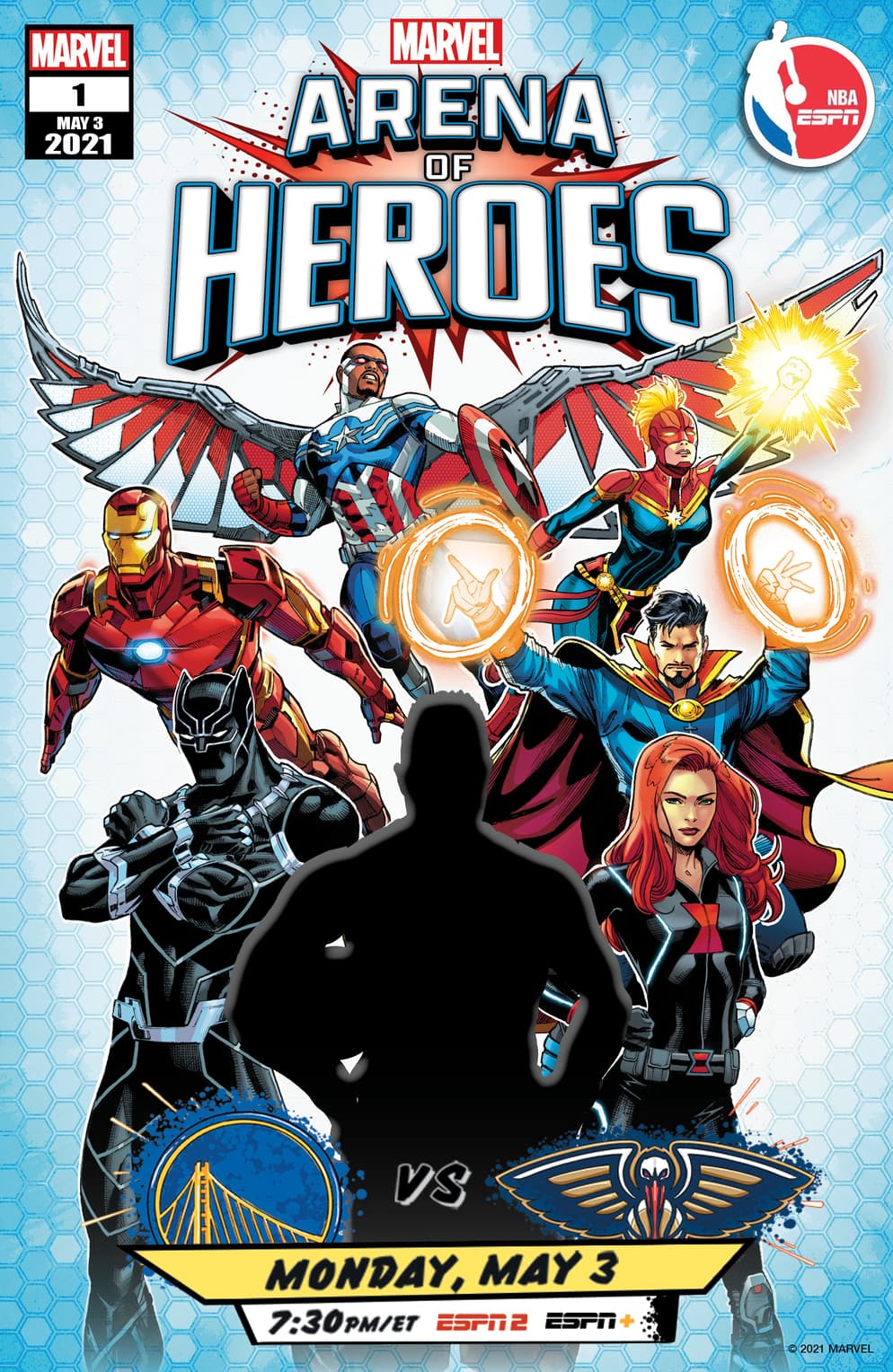 The Hype Box
Can't-miss news and updates from across the Marvel Universe!