Culture & Lifestyle
Published May 2, 2023
Behind The Scenes of Marvel Studios' 'Hawkeye' with Florence Pugh
Revisit the Yelena and the Hawkeyes with this excerpt from 'MARVEL STUDIOS' HAWKEYE: THE OFFICIAL COLLECTOR SPECIAL' on-sale May 16, 2023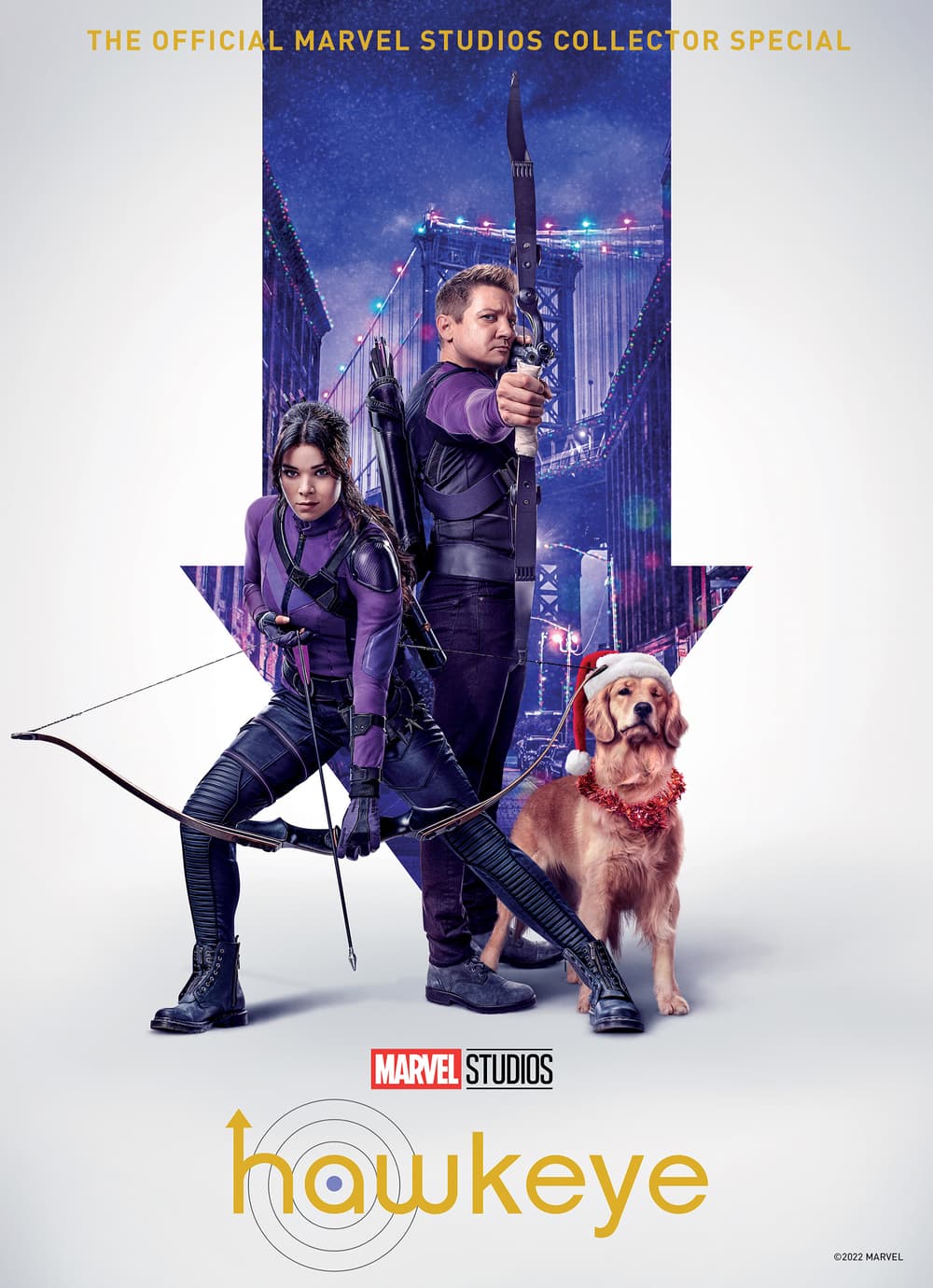 It was a holidays to never forget as Clint Barton did his best to get home for the holidays in Marvel Studios' Hawkeye, and in doing so, brought Kate Bishop to the forefront and dodged an unforgettable visit with Yelena of Black Widow fame. Now fans can go behind the scenes with the upcoming release of Marvel Studios' Hawkeye: The Official Collector Special, hitting bookstores everywhere on May 16, 2023.
Lavishly illustrated with stunning behind-the-scenes images, Jeremey Renner, Hailee Steinfeld, Florence Pugh, Vincent D'Onofrio and other members of the cast and crew, including the team responsible for the high-octane action sequences and the cast of Rogers: The Musical, reveal the secrets behind the creation of the hit Disney+ series.
Pre-order Marvel Studios' Hawkeye: The Official Collector Special at Amazon, Barnes & Noble, Books-A-Million, Indie Bound, or wherever books are sold.
You can get as sneak peek of the book here with this exclusive excerpt of Florence Pugh's interview about the making of Hawkeye!
FLORENCE PUGH
Having made her debut as Yelena, the late Natasha Romanoff's younger 'sister' in Marvel Studios' Black Widow, Florence Pugh is no stranger to the Marvel Cinematic Universe. Reprising her character for Hawkeye, the actor discusses some of the transformations her character has undergone since we last saw her…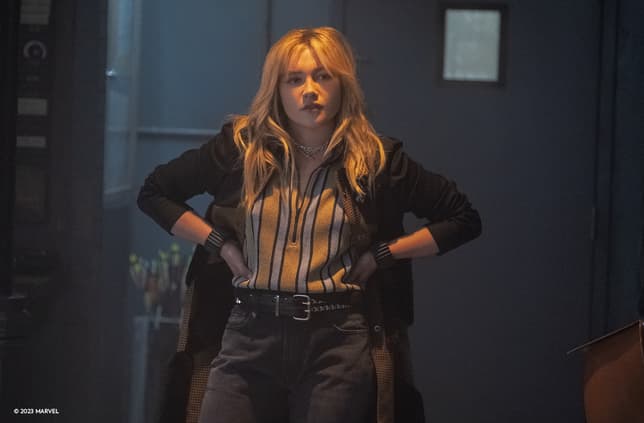 What did you want Yelena to be for her return?
I think from the get-go on Marvel Studios' Black Widow, I was really awarded the space and the opportunity and the freedom to create a new character, and that was totally down to director Cate Shortland. As exciting as it is to come into these big films, you're always interested and wanting to know how much freedom you have with these characters. I was just so amazed and excited that Cate was like, "Look, this is yours. It's going to go to you. You're going to continue this character, and you make it essentially whatever you want it to be." That was just so exciting and thrilling for me. So I've always wanted Yelena to be that she has kind of an unexpected edge to her. You don't really know whether she's going to be in a great mood, or a [bad] mood.
I wanted her to be a bit odd and for her timing to be unnatural. I think that's something that makes her quite loveable because she's just this incredibly inter-changing character. Coming into this series, knowing what we had done with Marvel Studios' Black Widow and knowing where I'd come from, that was an amazing gift to be given. And then, of course, in terms of story line, the difference of Marvel Studios' Black Widow to this is miles away because she's a changed person now.
How did you approach where she's been since Black Widow?
I think when we finished Black Widow I knew in the back of my head that if this character was asked to come back, [she] would be a completely different person because the whole film, the whole storyline of Black Widow, is that she's got her sister back and she's found her family again.
I knew going into that film that Natasha didn't make it back into her life, so from the get-go, I was automatically thinking about where [Yelena's] mind was at. How does she find out [about Natasha's death]? Who tells her? How does she react? Who does she go after? I did not see it coming, that they were going to put me and Clint against each other, which I thought was a really cool twist. So, I think in my head I'd already done the planning. I was really happy to have such a raw and painful revenge.
It was fascinating to be – in my character's head – a good person, but to everybody else, she is bad. That was an interesting line to walk.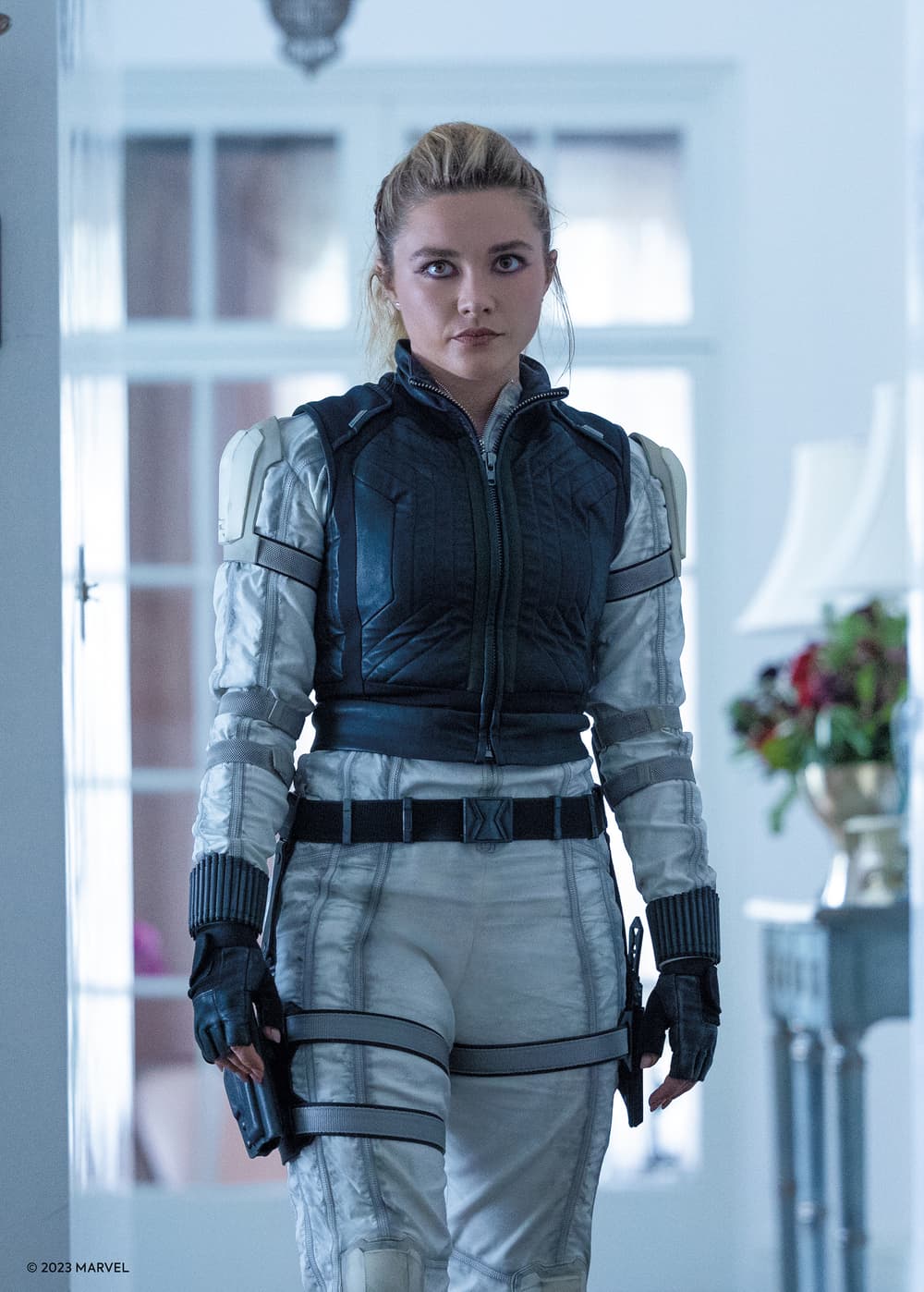 What was it like to work on that ice rink during the climactic showdown?
It was very, very slippy. It was almost like the material on the air hockey that you play at arcades. It was that, basically, which is great if you're pretending to slide around, but if you're having to do really precise fighting, it is absolutely terrifying. Stunts figured out the solution and they got a white carpet to put down when we were fighting, but there were a couple of times where I had to do a take where I wasn't on the carpet. That was just so scary, because if I had slid even by an inch, I would have properly clocked Jeremy in the face. When you're doing stunts, you have to know that you're not going to get anyone and that you're never going to catch them in the face, and that's down to your placement and their placement. When you're standing on faux ice and you're skidding around all over the place, the likelihood of you hitting someone just increases completely. So that was a little bit sketchy, but we figured it out. It actually made parts of the fight really fun and interesting because you did slide, and you would have to move. You wouldn't have been able to have got that effect any other way.
Read the full interview, plus interviews with Jeremy Renner, Hailee Steinfeld, Vincent D'Onofrio and many more of the cast and crew in Hawkeye: The Official Marvel Studios Collector Special on sale May 16. Pre-order at Amazon, Barnes & Noble, Books-A-Million, Indie Bound, or wherever books are sold.
The Hype Box
Can't-miss news and updates from across the Marvel Universe!