Culture & Lifestyle
Published December 31, 2019
Decade in Review: Our Favorite Moments in the Marvel Cinematic Universe
We love all these moments 3,000.
The last 10 years have seen a whopping 22 movies in the Marvel Cinematic Universe, and as we get ready to close out 2019 and head into 2020, can you pick just one favorite moment from all of them?
Considering the last decade took us to Asgard, Wakanda, and even Knowhere — and we met so many Super Heroes at every stop along the way — it's hard to pick just one favorite thing from 2010 to now. But, we sure tried! The team from Marvel.com asked around the House of Ideas and here are some of the stand-out moments we loved the most.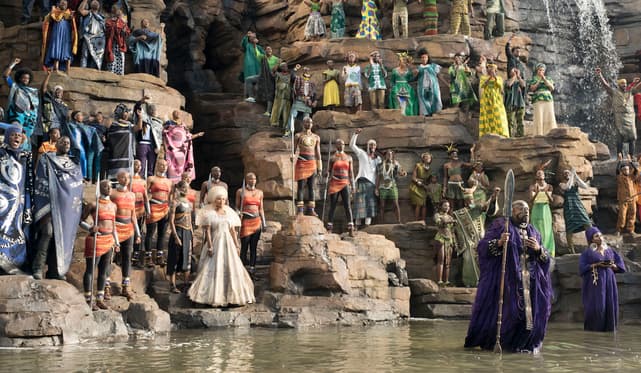 "I loved seeing Shuri's lab in Marvel Studios' Black Panther. It's when you first see Shuri and big brother T'Challa kidding around and showing off new tech. It's one of the best 'everyday Wakanda' moments - you see how close the royal siblings are ('I invite you to my lab and you just kick things around!'), but you also see how the princess herself is behind much of the technological innovation that defines Wakanda. Though T'Challa may not want you to see every test run." — Marika J Hashimoto, Associate Editor 
"Outstanding costumes, gorgeous production design, killer good soundtrack, brilliant marketing, Black Panther is one of the most beautiful and well-crafted entertainment events of the past decade. Inspired by the rich lore of the comics, it's ultimately the story of a clash in ideologies, Malcolm X (Killmonger) versus Dr. Martin Luther King (T'Challa), told in the most compelling and thoughtful ways possible through the modern lens of life happening in both Wakanda and Oakland. For me, who lived in real-world Oakland for a few years, it's a landmark film in the history of cinema and should be required viewing for everyone old enough to understand what's being said and what's portrayed." — Eric Monacelli, Director of Production, Marvel Games
"I've got two: In Black Panther when everyone is on the waterfall, I suddenly felt like I've never seen a film like this that depicted Africa in this way and that it was something that had never existed before in Western film. It felt truly special and exciting to witness. And the 'she's not alone' scene from Marvel Studios' Avengers: Endgame! My heart exploded seeing all those ladies back each other up in the final battle!" — Lorraine Cink, Talent & Senior Creative Producer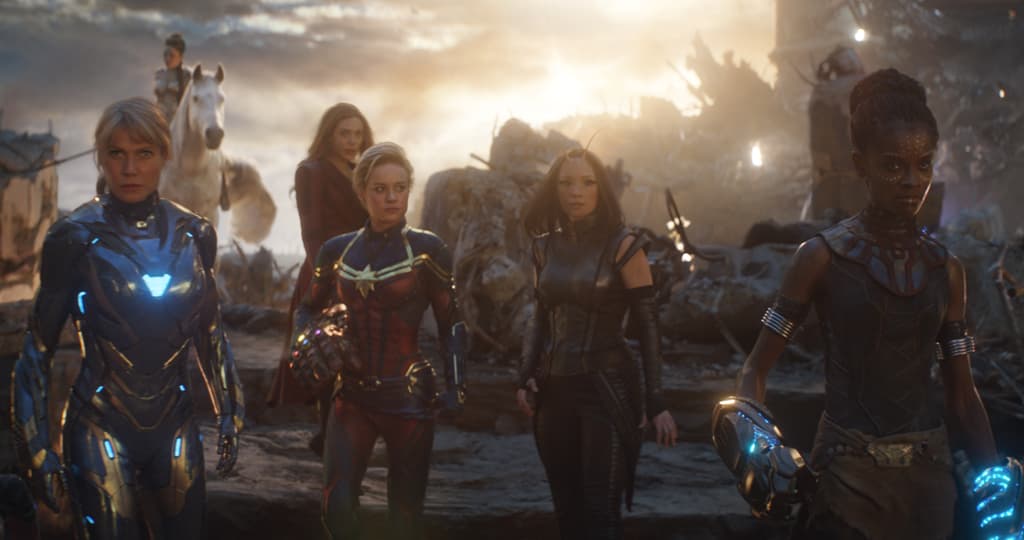 "The Women of Marvel moment in Avengers: Endgame. I have a distinct memory of being in the theater and seeing all the female Super Heroes gather on screen together. It sent chills down my arms, and I think I screamed out loud. This is the moment I've waited 10 years for, and I will never forget it, as I knew what it meant for this and the next generations of fans to see a moment in this incredible monumental film." — Judy Stephens, Producer 
"'Don't worry, she's got help.' Getting to see all the incredible female Marvel Super Heroes fighting together was an empowering moment for me. I still get goosebumps every time I watch it!" — Laura Hathaway, Operations Coordinator, Marvel Games 
"My favorite MCU moment is when we the ladies in the MCU (Wasp, Scarlet Witch, Captain Marvel, Shuri, Mantis) fight alongside each other in the final battle in Avengers: Endgame against Thanos. Truly a full circle moment!" — Charmaine Gomez, Assistant Manager, Sales Integration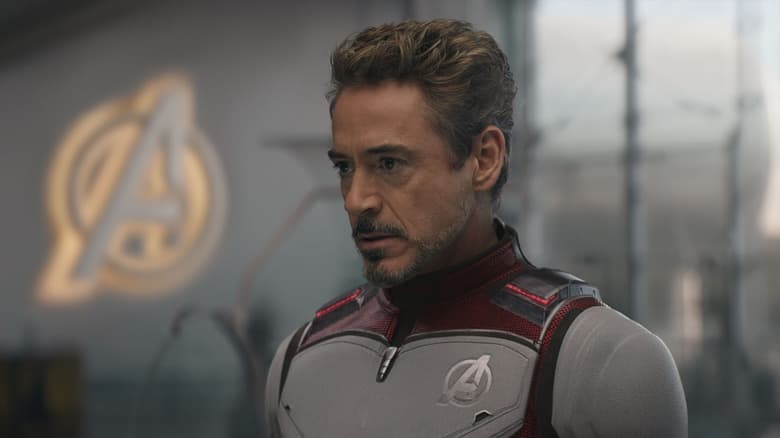 "My favorite MCU moment is when Tony Stark recorded himself and was speaking to Pepper and his daughter in Endgame: 'Part of the journey is the end. Everything is going to work out exactly the way it's supposed to. I love you 3000.' I was going through a rough time in my personal life as Endgame came out, and that quote really resonated with me. It's amazing how the feelings from films can carry over into our personal lives. The quote was the perfect way to end a very successful chapter of the MCU. I was at peace with the story and thus made me at peace with my own story. It was a very serendipitous moment for me; one that I will never forget." — Irene Wu, Coordinator, Integrated Marketing
"My fave moment is the original 'I am Iron Man' from the end of Marvel Studios' Iron Man. I remember sitting in the Marvel company screening, days before release and feeling floored and excited and amazed at what Marvel Studios had done, with that line being a cherry on top!" — Ryan Penagos, VP & Creative Executive 
"I'm gonna go a little off the grid with this one. My favorite moment came in Marvel Studios' Captain America: The First Avenger. Just as Steve Rogers is pronounced killed in action, Steve Rogers emerges over the hill having saved the 107th Infantry Regiment. As all the Army soldiers gather around, Bucky shouts 'Let's hear it for Captain America!' The group cheers and Alan Silvestri's score swells with Cap's theme. Still gives me chills and Captain America the hero is truly born and accepted in that moment." — Brian Crosby, Creative Director, Themed Entertainment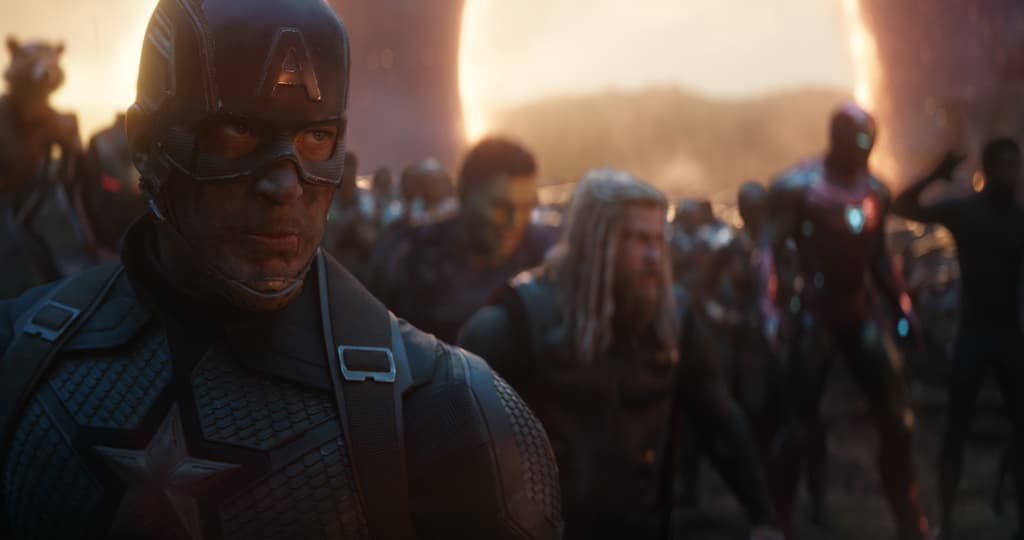 "The most triumphant thing I've seen all decade in all the Marvel Studios movies was when Captain America wielded Mjolnir in Avengers: Endgame. I feel like Steve Rogers has had one of the most impactful arcs as a character since his debut, proving that he's not a cut-and-dry Super Hero, but a complicated, flawed, and thoughtful man. Seeing him hold that weapon, something that can only be held by the most worthy of heroes, proved that Steve Rogers, that 'kid from Brooklyn' who didn't like bullies, was a hero of a higher caliber." — Jamie Frevele, Editor, New Media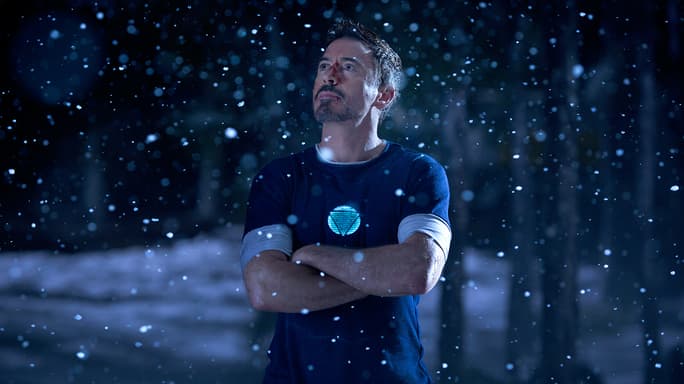 "Potential hot take, but Marvel Studios' Iron Man 3 is a definitive chapter in Tony Stark's story. After being stripped of everything that he thought made him a hero, this moment forces Tony to confront his fear, his anxiety, and his trauma to do what he does best — build something. He's not just building new gadgets. Through this process, Tony starts to put the pieces together to rebuild his identity. He finds a new strength in who he is when he isn't wearing a suit of armor. You know that at his core Tony is and always will be The Mechanic." — Alana Herrnson, Social Media Coordinator
"During my stint as a comic book editor, I was lucky enough to collaborate with Keith Giffen, Timothy Green, Dan Abnett, Andy Lanning, and Paul Pelletier to assemble the modern iteration of the Guardians of the Galaxy. Believe it or not, there were quite a few doubters who mocked us for making a book starring a talking raccoon and walking tree. So while it wasn't on screen, my favorite MCU moment was when they released the first concept art for the film and I saw the team roster of Rocket, Groot, Gamora, Drax, and Star-Lord. I immediately phoned Dan & Andy and yelled, 'They're making a movie of our team!'" — Bill Rosemann, VP & Creative Director, Marvel Games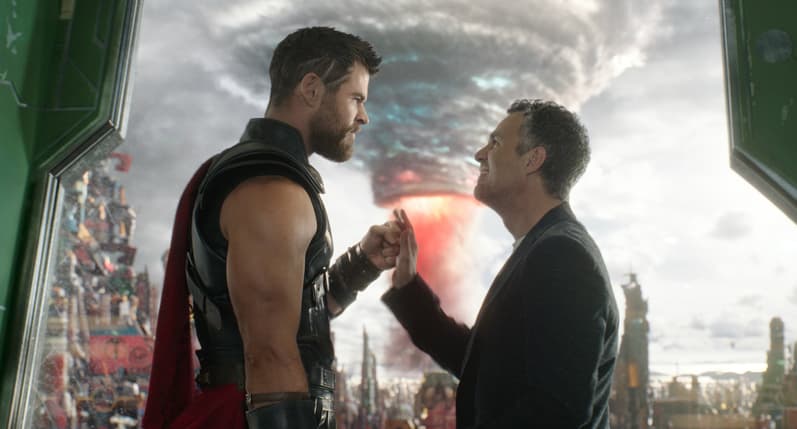 "Absolutely Marvel Studios' Thor: Ragnarok. That moment when Odin tells Thor that he is stronger than him got my heart racing! I love the understanding between Thor and Loki and the introduction of Valkyrie!" — Loni Clark, Operations Coordinator, Marvel Games
"I'm going to say Thor: Ragnarok's silly 'get help' segment between Thor and Loki, not only because it was improvised but because I think it really shows their relationship as brothers — which reminds me of me and my sister." — Jennifer Lai, Assistant Manager, Social Media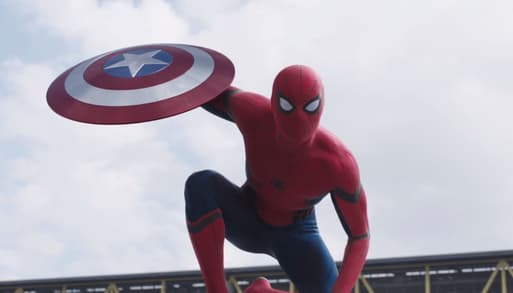 "I have a huge soft spot for Peter Parker, and nothing gives me more joy than his introduction in Marvel Studios' Captain America: Civil War. I love Tony going over Peter's apartment and asking him to come to Germany (and Peter's response: "I've got homework!") and later when he meets the rest of the Avengers with a soft, "Hey guys." — Rachel Paige, Associate Editor, Marvel New Media
"To me, Peter Parker will always be the heart of Marvel. In Spider-Man: Far From Home, the moment shared between Happy and Peter about missing Tony really got me in the feels ('I don't think Tony would've done what he did, if he didn't know you were gonna be here after he was gone.') Mysterio tested Peter in ways he had never been tested before, and he was nearly broken. This moment was special since it was a very real portrayal of grief, insecurity, and vulnerability. So yes, despite the odds stacked against him (and his loved ones), he found strength to continue on. It also reminds me of the classic Spidey panel in AMAZING SPIDER-MAN #33 ('Anyone can win a fight when the odds are easy! It's when the going's tough, when there seems to be no chance, that's when it counts!') — Christine Dinh, Editor, Marvel.com
Be sure to share your favorite MCU moment of the decade with us! You can follow Marvel on Facebook, Twitter, and Instagram!
The Hype Box
Can't-miss news and updates from across the Marvel Universe!