Culture & Lifestyle
Published September 22, 2017
Disney Parks, NASA and Marvel Explore How Storytelling Influences Science
With Guardians of the Galaxy - Monsters After Dark now open, a fascinating conversation took place.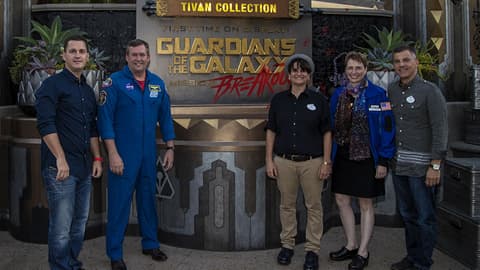 An impressive group of creative minds – including scientists, explorers and storytellers – gathered together this week at Disney California Adventure at the Disneyland Resort for a special event billed as the Disney Parks Blog Galactic Meet-Up.
Panelists Capt. Mike Foreman (retired NASA astronaut), Dr. Kimberly Ennico Smith (NASA Astrophysicist), Stephen Wacker (Vice President of Development, TV and New Media, Marvel Entertainment), John Mauro (Regional Executive Producer, Walt Disney Imagineering) and Amy Jupiter (Executive Media Producer, Walt Disney Imagineering) joined moderator and event organizer Erin Glover (Editorial Content Director, Disneyland Resort) to discuss how science influences storytelling – and how fictional and fantastical stories can inspire scientists and lead to real life breakthroughs.
Check out the video above to see an overview of the event and some of the highlights from the evening, which included character appearances by the likes of Star-Lord and Gamora!
The event came on the heels of the recent debut of the new Halloween-inspired version of the popular Guardians of the Galaxy – Mission: Breakout attraction called Guardians of the Galaxy – Monsters After Dark, which Mauro and Jupiter had both worked on. The panelists had all gone on the attraction together the night of the event, and as an expert on the subject, Foreman said he did indeed feel zero gravity for a moment during Monsters After Dark, though he laughed that it's even more fun to spend "a couple of weeks in zero gravity."
Even at their most fantastical, Smith said she felt stories like the ones Marvel tell, "throw in an element of truth," and serve as inspiration for real life scientists as herself. Said Wacker, "The foundation of everything we do is built on that grain of hopefulness and wish fulfillment."
Smith said that at NASA, they like to begin by asking, "What if? What if you could do that?"
Maura noted that at Disney Imagineering as well, "We ask 'What if' all the time," to which Wacker replied, "'What if' was a Marvel comic!"
The special Halloween Time version of Guardians of the Galaxy – Mission: BREAKOUT!, Guardians of the Galaxy – Monsters After Dark can be seen now through October 31st at Disney California Adventure.
The Hype Box
Can't-miss news and updates from across the Marvel Universe!