Culture & Lifestyle
Published November 18, 2020
Holiday Gift Guide: 12 Book Recommendations For Your Heroes-in-Training
We've got something for all the different types of little Champions in your life!
You've answered the call! 
Whether you have a special budding Champion, Avengers Institute honor roll student, or S.H.I.E.L.D. cadet in your ranks, we want to be there every step of the way with stories to inspire creativity or courage or adventure from their very first board book to the Marvel take on classic Little Golden Books to middle grade tales of angst and so much more. Here are our 12 book recommendations from this year!
My Mighty Marvel First Books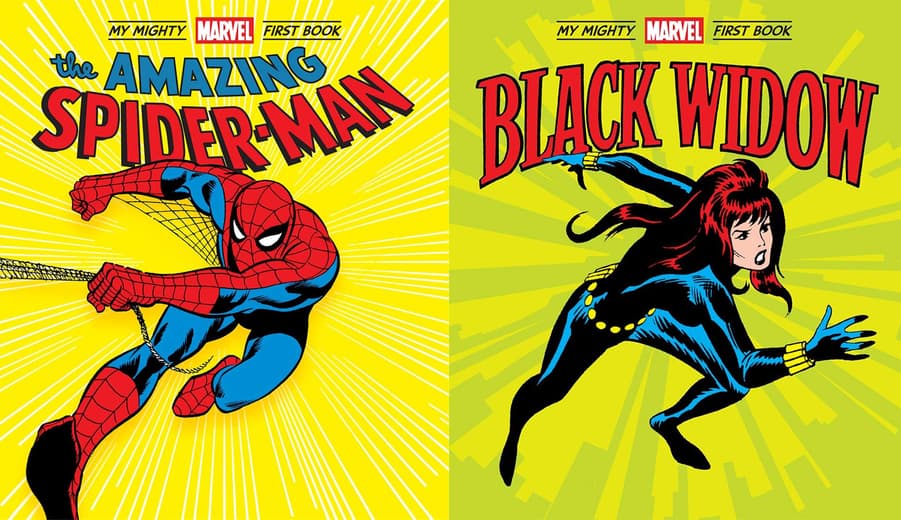 For the youngest superfans, we have two board books for your choosing!
The Amazing Spider-Man: My Mighty Marvel First Book — Swing into action with your favorite friendly neighborhood super hero, Spider-Man! With this introduction to the Amazing Spider-Man, learn all about his super-powers, friends, and arch-nemeses in this bright and bold board book, with art from the classic comics by legendary artist John Romita, Sr.!
Black Widow: My Mighty Marvel First Book — Launch into action with Natasha Romanoff, the super-spy known as Black Widow. Learn all about her abilities, skills, and friends in this bright and bold board book, with art from the classic comics by the legendary John Buscema.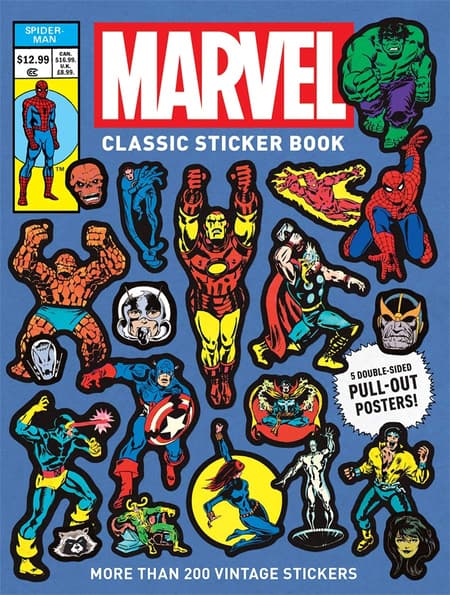 Whether you are a lifelong Marvel Comics fan, or if you're helping someone discover these iconic comic book characters, the Marvel Classic Sticker Book is the perfect package for fans of all ages to enjoy! Showcasing all of your favorite heroes and villains, the book includes five double-sided pull-out posters so you can make your own unique sticker creations on one side, or create your own posters and comics on the other with more than 250 vintage stickers.
Marvel Little Golden Books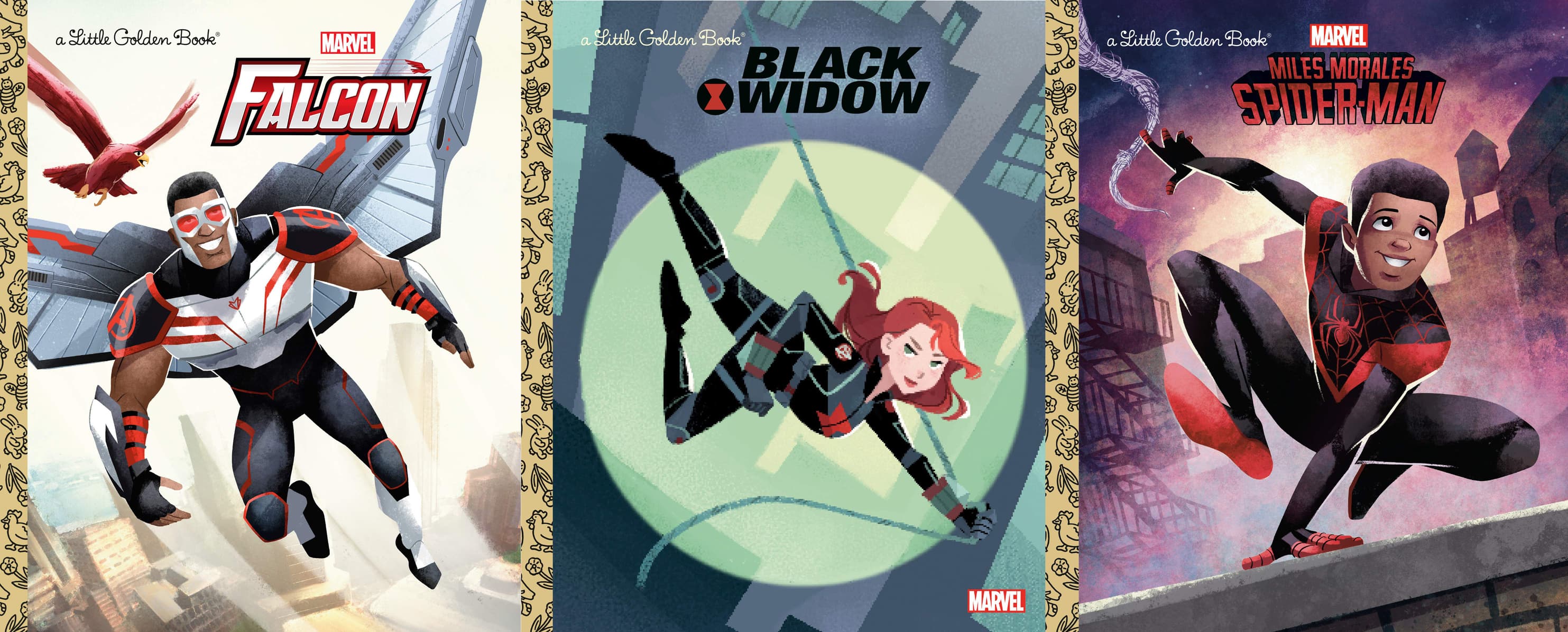 A childhood perennial favorite! Little Golden Books are here to introduce your little Champions to our Marvel heroes.
The Falcon (Marvel Avengers) (Little Golden Book) — Marvel's high-flying Avenger, the Falcon, soars into his first Little Golden Book! Meet Marvel's the Falcon as he takes to the sky in search of adventure with his amazing allies, Captain America and the rest of the Avengers. 
Black Widow (Marvel) (Little Golden Book) — The Marvel Avenger known as Black Widow is ready to strike in her first Little Golden Book! Meet Marvel's super-spy hero Black Widow, the Avenger who never backs down even when faced with the baddest of the bad guys. 
Miles Morales (Marvel Spider-Man) (Little Golden Book) — Peter Parker isn't the only Spidey in town; Miles Morales swings into his first ever Little Golden Book!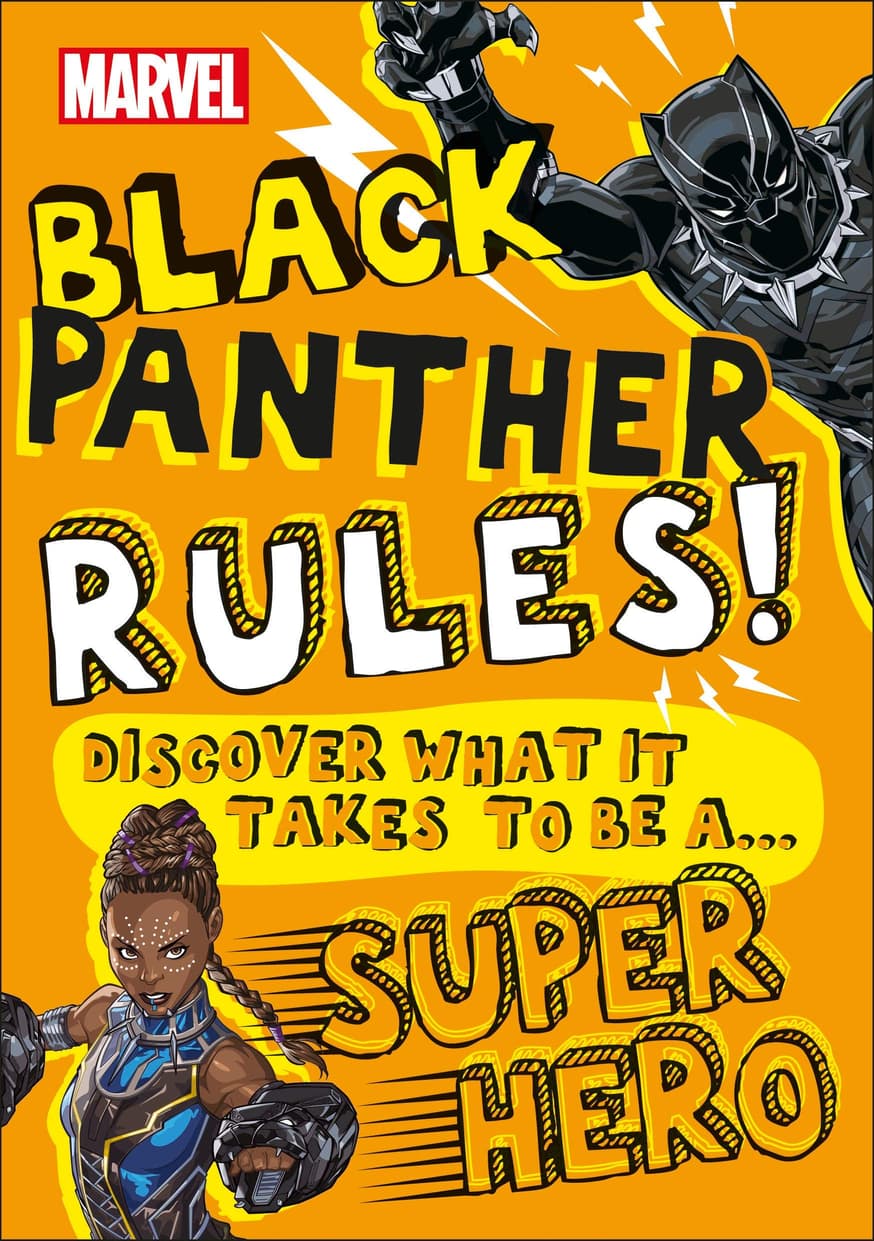 Your hero-in-training interested in how T'Challa became the mighty Black Panther—the strongest and swiftest man in all Wakanda? We've got this handy guide with all the answers to their questions, including Where is Wakanda? Who else has worn the Black Panther suit? Why is Vibranium so important. Introduce them to the wondrous world of Black Panther with this fact-filled journey that's jam-packed with Super Hero secret and jokes as well as insight on what it takes to be a hero.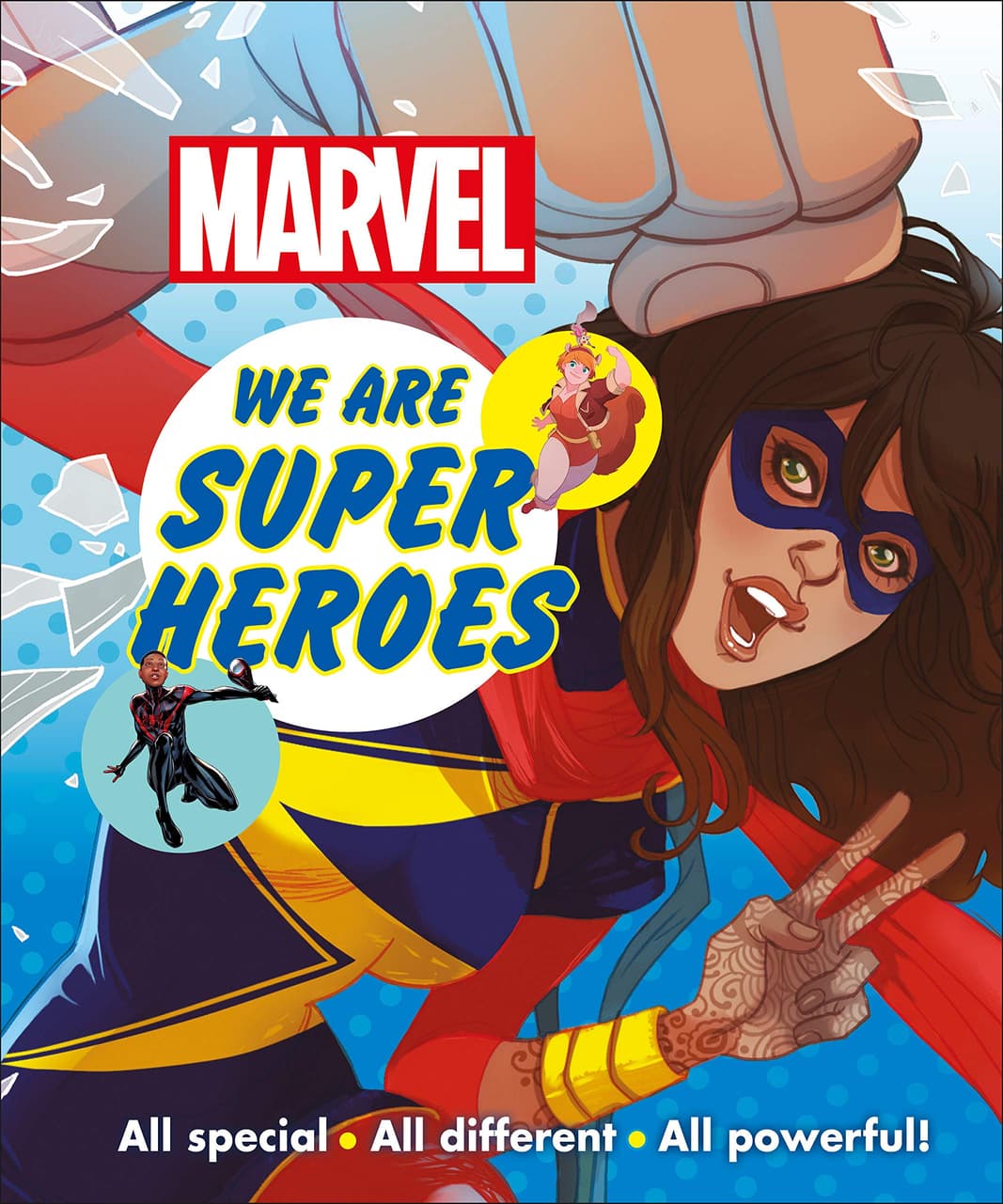 We are all about celebrating your Super Hero self! With this guide, we want you to meet 14 very special Marvel Super Heroes, including Captain Marvel (who is brave), Moon Girl (who has big dreams), Hawkeye (who likes new challenges), and Black Panther (who protects people). While our heroes come from different worlds, what unites them is that they're all fighting for good! Learn all about these Marvel Super Heroes, discover the similarities you share with them, and celebrate who you are!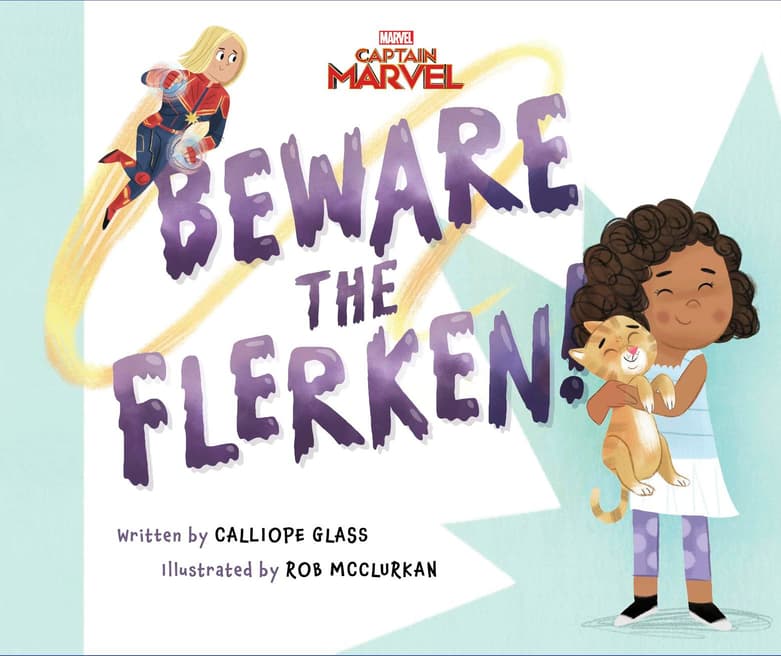 Who wouldn't want a book narrated by Goose the Flerken!? In this adorable picture book, our favorite Flerken embarks on an adventure alongside Captain Marvel that leads them to Louisiana, where Goose SLORPS some alligators and finds a new friend in Monica Rambeau! And while Goose may look like a cat, she's most certainly a Flerken-a cute little alien with...well, you'll see.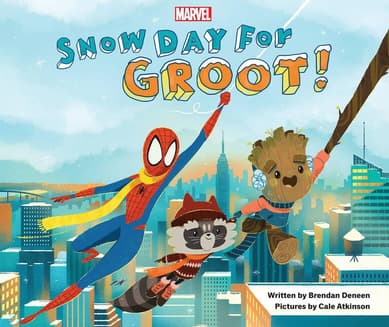 Do you want to build a snow man with Groot, Rocket, and Spider-Man? Of course you do! The third book in the hit Rocket and Groot picture book series, our best pals have the day off from guarding the galaxy, so they're heading to the Big Apple where Spidey is waiting to show them the city-which just so happens to be covered in glittering snow. The three pals swing through the boroughs enjoying famous NYC winter activities, from sledding in Central Park to ice skating at Rockefeller Center. This is one snowy adventure you don't want to miss!
Who doesn't remember new school jitters? But what happens when you're a hero-in-training who may have encountered some missteps while trying to do some good. Welp, you get sent to an after school program at the Avengers Institute led by some big-time heroes! In this completely delightful story, Kamala Khan (Ms. Marvel), Miles Morales (Spider-Man), and Doreen Green (Squirrel Girl) team up in their first-ever middle-grade series told through comics, in-world artifacts, and more!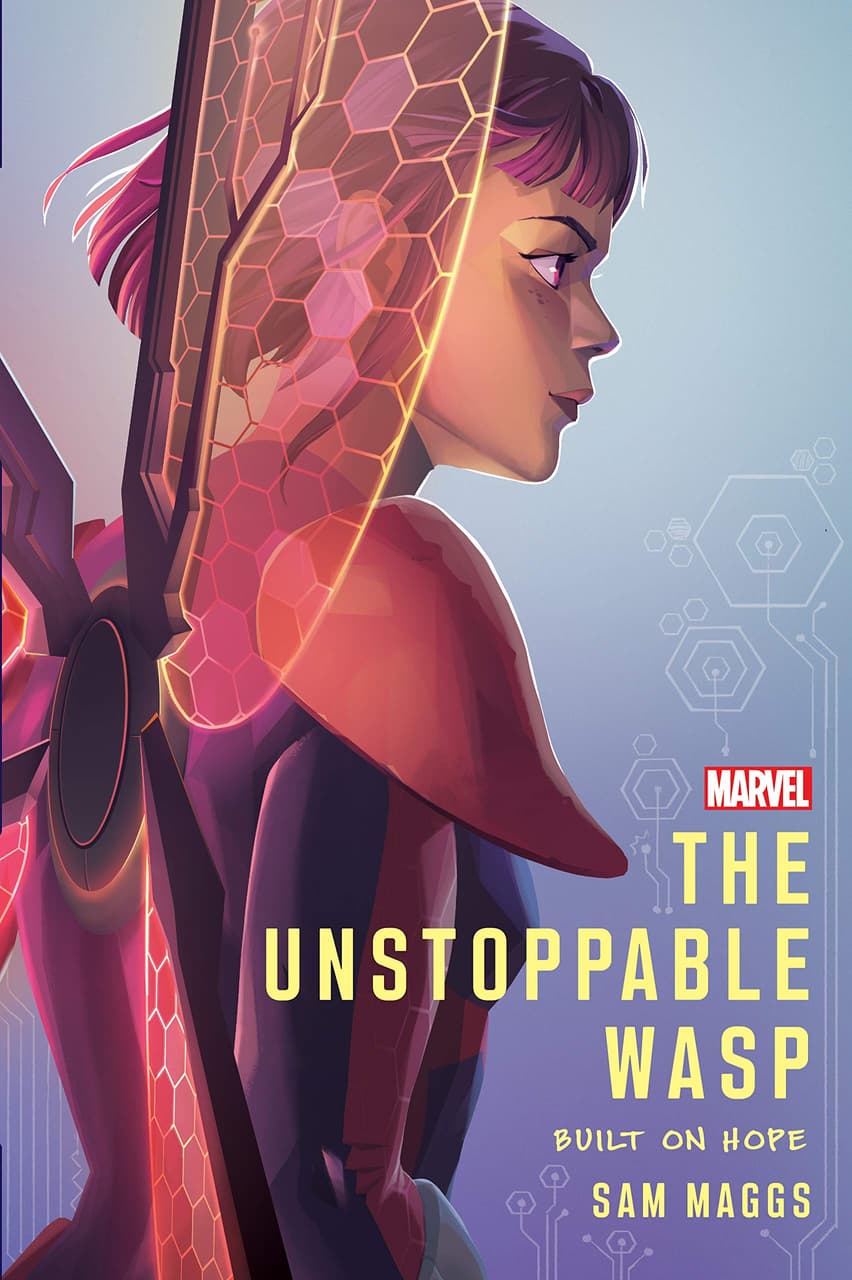 Nadia Van Dyne is new to this. New to being a Super Hero, new to being a real friend and stepdaughter (to one of the founding Avengers, no less), new to running her own lab, and new to being her own person, far, far away from the clutches of the Red Room-the infamous brainwashing/assassin-training facility. I mean, same, girl, same. What happens when adjusting to all this newness, channeling all that energy into being a good friend, a good scientist, and a good Super Hero takes its toll because there aren't quite enough hours in a day. Find out in this all-new original YA novel!
The Hype Box
Can't-miss news and updates from across the Marvel Universe!