Culture & Lifestyle
Published June 22, 2017
Hidden Treasures on Guardians of the Galaxy – Mission: BREAKOUT!
Have you spotted these rare Easter Eggs in the Tivan Collection?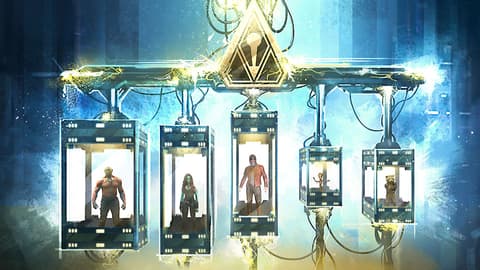 Guardians of the Galaxy-Mission: BREAKOUT! recently opened in Hollywood Land at Disney California Adventure, and fans have been lining up for hours to get a peek inside the Collector's fortress! Taneleer Tivan has amassed a large collection of unique objects from the Marvel Universe—over 2200 that are ever changing—Marvel and Disney fans will be surprised to know there are also some very rare hidden gems.
While many Easter Eggs have already been revealed, here are a few more you might have missed. From retro Disneyland artifacts to homages to the attraction that came before, the Tivan Collection is filled with ancient artifacts that fans will fondly remember. We'll keep some of these locations a secret so you can treasure hunt for yourselves—just be forewarned there are spoilers ahead!
EXTERIOR
Hidden Mickey
Hidden Mickeys are a natural part of the Disneyland environment. Concealed amongst the details, Imagineers always have a lot of fun adding the tiniest features to the attractions—Guardians of the Galaxy-Mission: BREAKOUT! is no exception.
On the front of the building you'll notice a series of bolted plates. If you look closely to the right of the Tivan logo and the left of the satellite dish, you'll see one plate is not like the others. In fact—it's upside down—creating the ideal Hidden Mickey. Once you see it, you won't forget it.
The Avengers Hatch
It was the tweet heard 'round the world when our own Marvel twitter account directed our attention to a well bolted hatch that was in plain view, directly to the right of the attraction entrance. But what could it be? You'll have to stay tuned…
THE COLLECTION
Asgardian War Hammer
A nod to Beta Ray Bill, the Stormbreaker is an Asgardian War Hammer was given to him by Odin after being worthy by lifting Thor's hammer Mjolnir. Who knows how the Collector came to possess such a treasure—so far no sight of the mighty Korbinite in the collection.
Celestial Masks
Celestials were a big part of "Guardians of the Galaxy Vol. 2" and these masks are part of their armor. It should be noted that no Terran has seen a Celestial without their armor so just how did Tivan come to collect such rare pieces?
Figment
Hidden inside one of the terrariums, high up near the top of the room is Figment—the mascot of Walt Disney World's Journey Into Imagination pavilion at Epcot. Since the loveable fellow is the physical embodiment of a figment of the imagination, it will make you wonder if that's really him high up in the box.
Painting of the Grandmaster and the Collector
Brothers, you can't live with them, you can't beat them at board games. The Grandmaster is an Elder and brother of the Collector and in this portrait you can see that he loves a good game. As in the painting he is played by Jeff Goldblum, and will appear in the upcoming "Thor: Ragnarok." You can see the Grandmaster isn't taking his loss lightly.
Stan Lee
Stan Lee has made many Marvel cameos over the years and now it seems he's become a permanent part of Tivan's collection, as he shows up on the video screen asking about parking validation.
TIVAN'S OFFICE
Golden Apples of Idunn
In another reference to Thor, Tivan's office holds a bowl of the Golden Apples of Idunn, which only grow in Asgard on a tree and can only be picked by the goddess Idunn, the Goddess of Immortality.
Hydra
Hydra is everywhere, including Tivan's collection. Inside his office you'll not only find a Hydra gun and helmet, but a rare red and black Hydra symbol.
X-S Tech Invoice
The Collector is nothing if not organized. On his desk by his log book there's an invoice from X-S Tech. This is a reference to the Magic Kingdom attraction The ExtraTERRORestrial Alien Encounter. It makes sense that Tivan would want to collect as much old Disney tech as possible to create his fortress.
Letter to Jeutar Morat
Directly on top of that invoice is a letter to Jeutar Morat. Morat is a bounty hunter from the Guardians of the Galaxy comics who was hunting down Gamora. In the letter Tivan refers to a mysterious stranger. Hmm…
Loki's Shackles
Yet another nod to Thor artifacts, you'll see the shackles worn by Loki Laufeyson worn by in "Thor: The Dark World."
Loki's Optical Torture Device
As seen in "The Avengers," Loki used this device to remove the doctor's eye in Germany. And now sits on Tivan's shelves. Here's to hoping it got a good cleaning.
Original 1955 Disneyland maps
In addition to Tivan's penchant for collecting old books he has also has stockpiled tons of old maps. You'll notice a few of them have familiar faces. Is that Lady I see? Could that be Peter Pan? That's definitely Tinkerbell. These maps of the original 1955 layout of Disneyland are a must have for any Disney fan or—immortal Elder of the Universe.
Mickey Mouse and Minnie Mouse Tin Toys
The only thing better than hidden Mickey symbols are hidden Mickey toys. Inside the Collector's office you'll find an abundance of collectibles, including some very familiar friends. Obscured from view behind several objects you'll be able to spot two Disney Schylling wind up tin toys. You'll find a retro Mickey in one room and his companion Minnie in the other.
Tower of Terror Books
You can't build a new attraction without an homage to its predecessor and inside the Collector's fortress there are a ton of familiar nods to Tower of Terror. Tivan's office is filled with books leftover from the Tower lobby.
Tower of Terror luggage tag
Tivan must love to read, as books upon books fill his office shelves. You'll find he has a penchant for unusual bookmarks as luggage tags leftover from the Tower days, keep his place in some of the tomes. You'll see a noticeable Hollywood Tower Hotel logo peeking out from the pages.
Tower of Terror bellhop hat
A keen eye will find an homage to the original cast member outfits from Tower of Terror. Look closely and you'll may be able to spy a rogue bellhop hat—an essential part of the Hollywood Tower of Terror costume.
GANTRY LIFT
F'Saki Chow
In "Guardians of the Galaxy," inside the bar Boot of Jemiah on the planet Knowhere, gamblers are betting on Orlonis while they try to survive being eaten by F'saki. Here Tivan finds a more humane way to feed the fierce creatures, with bags of F'saki Chow.
Animatronic Dolores the Octopus
Disneyland devotees remember the Country Bear Vacation Hoedown. Terrance the bear (clad in swim trunks, no less) and his octopus girlfriend Dolores sang the fitting duet, "Two Different Worlds." In the end things didn't work out between the two, with Terrance declaring, "This just ain't working out, Dolores." Now she's found a new home in the Tivan Collection, pink bow atop her head and all.
Harold the Matterhorn Yeti
The Matterhorn was home to Harold the Yeti for 37 years, surprising riders as they turned the corner on the coaster. For the 60th anniversary of the park Harold was replaced with a new animatronic monster. Now you can find him hanging out in the rafters of the fortress queue.
Howard the Duck
While waiting in the queue not only can you spot Howard the Duck in Tivan's welcome video, but you can hear his voice if you listen closely. If you still need more Duck-Man in your life you can pick up a Howard the Duck plush in the Collector's Warehouse.
Kamar-Taj Dragon
Uncovered and ready to display is a Kamar-Taj dragon statue. Kamar-Taj as referenced in "Doctor Strange" was the Himalayan home of the Ancient One and the Sorcerer Supreme of Earth.
Tower of Terror Painting
It makes sense that Tivan would want to keep some souvenirs from the Hollywood Tower Hotel, after all the lobby was filled with rare antiquities. One of which you'll find while heading towards the gantry lift.
Have you spotted any other rare artifacts amongst the Collector's treasures? Make sure you keep an eye out at the ever-changing Tivan Collection the next time you're on Guardians of the Galaxy-Mission: BREAKOUT!
The Hype Box
Can't-miss news and updates from across the Marvel Universe!