Culture & Lifestyle
Published November 8, 2020
Last Chance to Bid On Items from 'Marvel's Agents of S.H.I.E.L.D.' Prop Store Auction
Take a peek at items from all seven seasons of the ABC show!
If you've ever wanted to get your hands on a piece of Marvel's Agents of S.H.I.E.L.D., the time is winding down! The Marvel's Agents of S.H.I.E.L.D. Auction, hosted by Prop Store, closes on November 10, with an all-day live stream starting at 11am EST/ 8am PST. 
Bidding is open from now until the auction lots closes, so make sure you're registered and get ready to watch along with Prop Store's live stream from the bidding room as they sell over 550 original props, costumes, and more from all seven seasons of the series. It's not too late to register, and do so now as an Online Bidder and start bidding today on the entire catalog!
If this is your first auction with Prop Store, be sure to take a look at the Bidder's Guide to answer any questions you have about joining the bidding. 
Marvel's Agents of S.H.I.E.L.D. catalogs are also still available from Prop Store. With over 250 pages of original high-quality product photography and detailed descriptions for all 557 lots in the auction, it is a great addition to any fan's reading collection.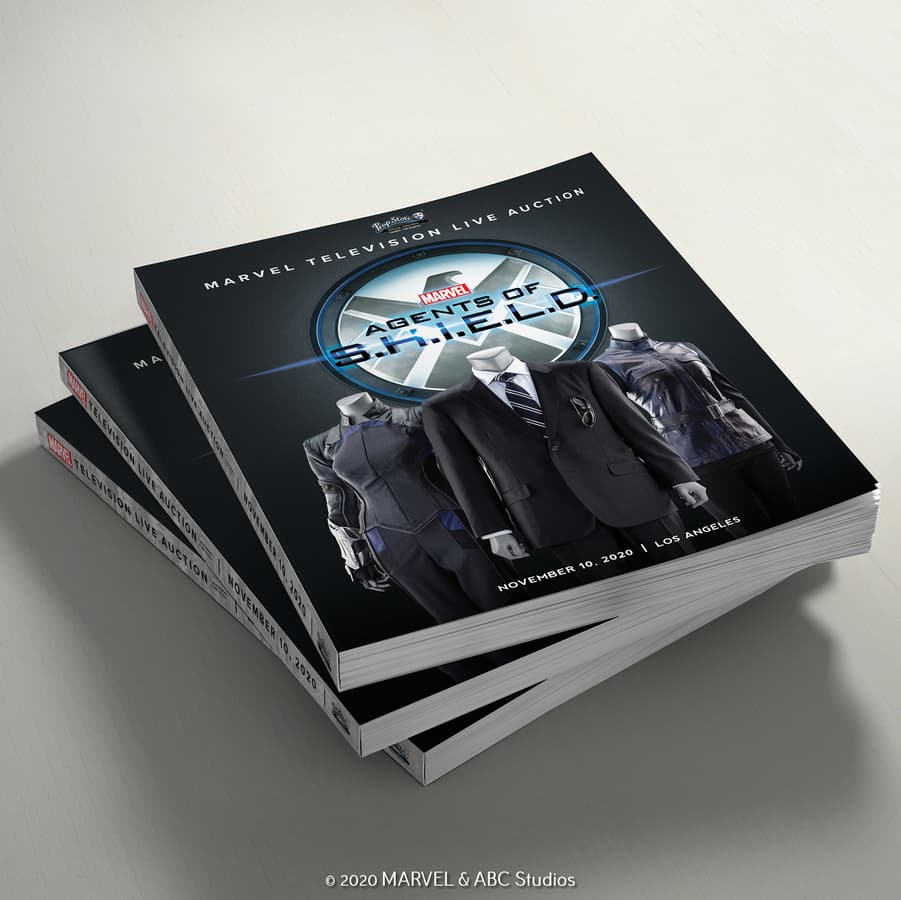 With this auction can relive key moments from all seven seasons with items in the expansive collection, with the opportunity to own an authentic part of the Marvel universe.  Lots offered will span across each season, including items from many of the characters who originated from the series others who make appearances from the broader Marvel Cinematic Universe or the pages of Marvel Comics! Highlights include: 
Alphonso "Mack" Mackenzie's Signature Shotgun Axe from Season 7
Daisy "Skye" Johnson's "Quake" Costume from Season 5
Robbie Reyes' "Ghost Rider" Costume from Season 4
The Darkhold Book from Season 4 and Marvel's Runaways,
Mike Petersen's "Deathlok" Costume from Season 5
Bobbi Morse's "Mockingbird" Costume with Batons from Season 2
Deke Shaw's Space Costume with Light-Up Helmet and Light-Up Gravitonuim Belt from Season 5
Nick Fury's Costume Components with Toolbox Cube from Season 1
AIDA's "Madame Hydra" Full Cloak Costume with Wig from Season 4
Elena "Yo-Yo" Rodriguez's Gloves from Seasons 5-7
Phil Coulson's Light-Up S.H.I.E.L.D. Badge from Season 1
Melinda May's Hydra Costume from Season 4
And more! 
Want to stay on top of everything in the Marvel Universe? Follow Marvel on social media—Twitter, Facebook, and Instagram—and keep watching Marvel.com for more news!
The Hype Box
Can't-miss news and updates from across the Marvel Universe!