Culture & Lifestyle
Published April 24, 2020
Marvel Mission Recap: Captain America's Shield
We could craft this all day.
The latest Marvel Mission is here! We know you're worthy of this one because it's time to create Thor's Mjölnir using ONLY safe household items and materials. The deadline for submissions on social media is May 6, 2020 and be sure to tag #MarvelMission.
Congrats agents — it appears that many of you successfully completed the latest Marvel Mission!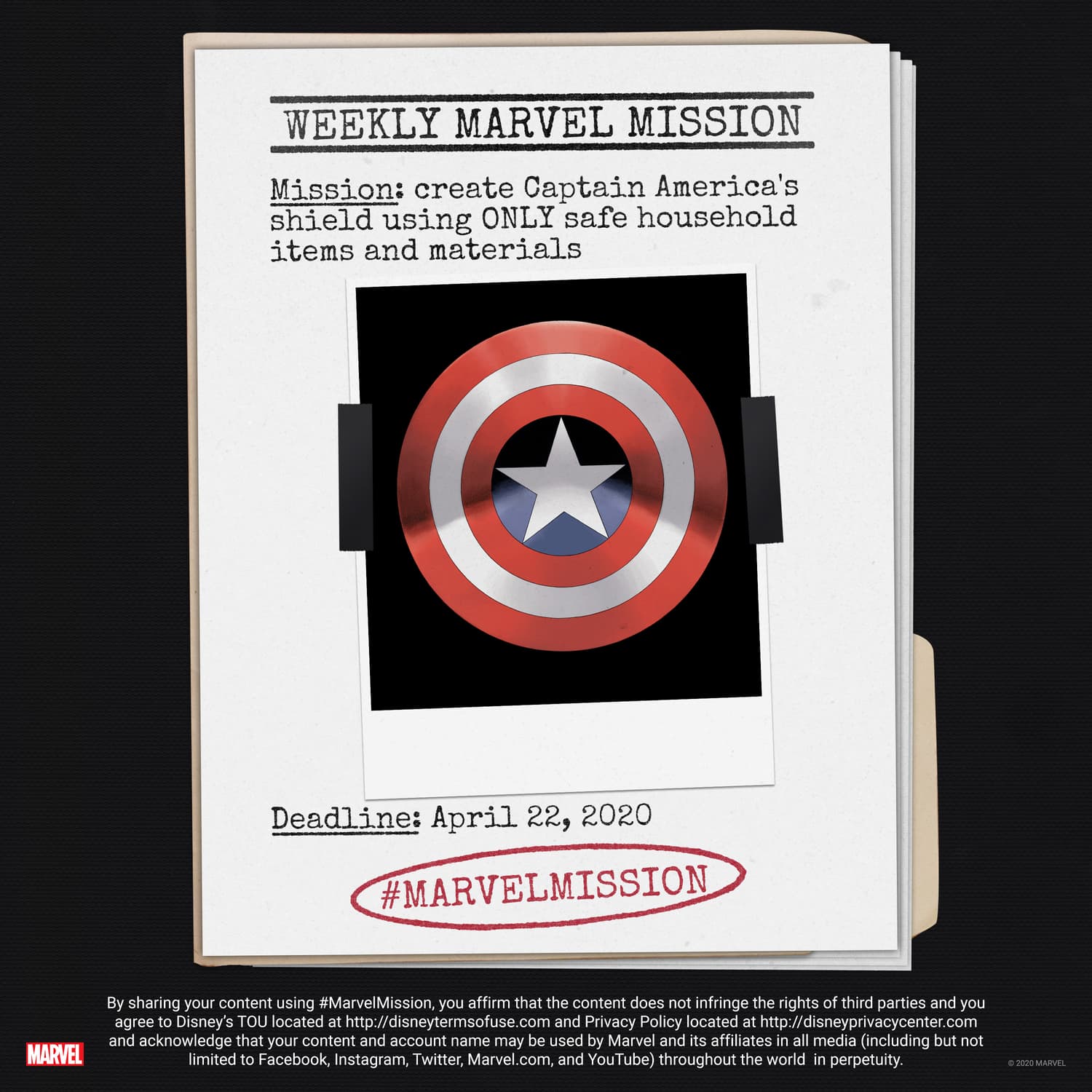 Tasked to bring Captain America's shield to life using only safe household products and materials, the results we saw were outstanding and would make Steve Rogers proud. The creativity was through the roof utilizing the likes of cardboard, cloth, paper, and of course lots of red, white, and blue paint. While it was tough to narrow down all the submissions we received, we've rounded up some of our favorites that we saw across social media. Take a look at the post below, and start brainstorming what you could use for the next Weekly Marvel Mission! 
Though this week's Marvel Mission might be over, there's still time for you to make your own shield! Here's an easy shield how-to if you're looking to make one yourself: 
Grab a sturdy paper plate (but anything white and circular will do!) and designate one side as the front and the other as the back. 
On the backside of the shield, attach a handle with glue or tape — shoelace straps, pipe cleaners, or plastic utensils will work! 
On the front side of the shield, find the center of the circle and draw a big star. 
Then, trace the outlines of the rings on the shield: a red, a white, a red, and a blue until you reach the star in the middle. 
From there, fill in the red and the blue areas of the shield with whatever you've got! Colored paper, bottle caps, cut up cloth, cotton balls, even paint. Make sure everything is secured down so your supplies don't fall off in battle. 
If you want to show some shield wear and tear, create a few nicks and scratches on the front side. This can be done by simply removing the colored items you've used to create a void, or literally scratch the shield if you've used paint! 
You're done! Time to save the day. 
 
The possibilities are endless as to what you can create, so go ahead and assemble whatever craft supplies you might need — and be sure to share them on social with the hashtag, #MarvelMission.
Stay tuned for the next Marvel Mission! 
Want to stay on top of everything in the Marvel Universe? Follow Marvel on social media—Twitter, Facebook, and Instagram—and keep watching Marvel.com for more news!
The Hype Box
Can't-miss news and updates from across the Marvel Universe!