Culture & Lifestyle
Published May 14, 2020
Marvel Mission Recap: Thor's Hammer
Lightning not included.
The latest Marvel Mission is here! We know you're worthy of this one because it's time to create Iron Man's arc reactor using ONLY safe household items and materials. The deadline for submissions on social media is May 20, 2020 and be sure to tag #MarvelMission.
Congrats agents — it appears that many of you successfully completed the latest Marvel Mission, and this one was fit for a god!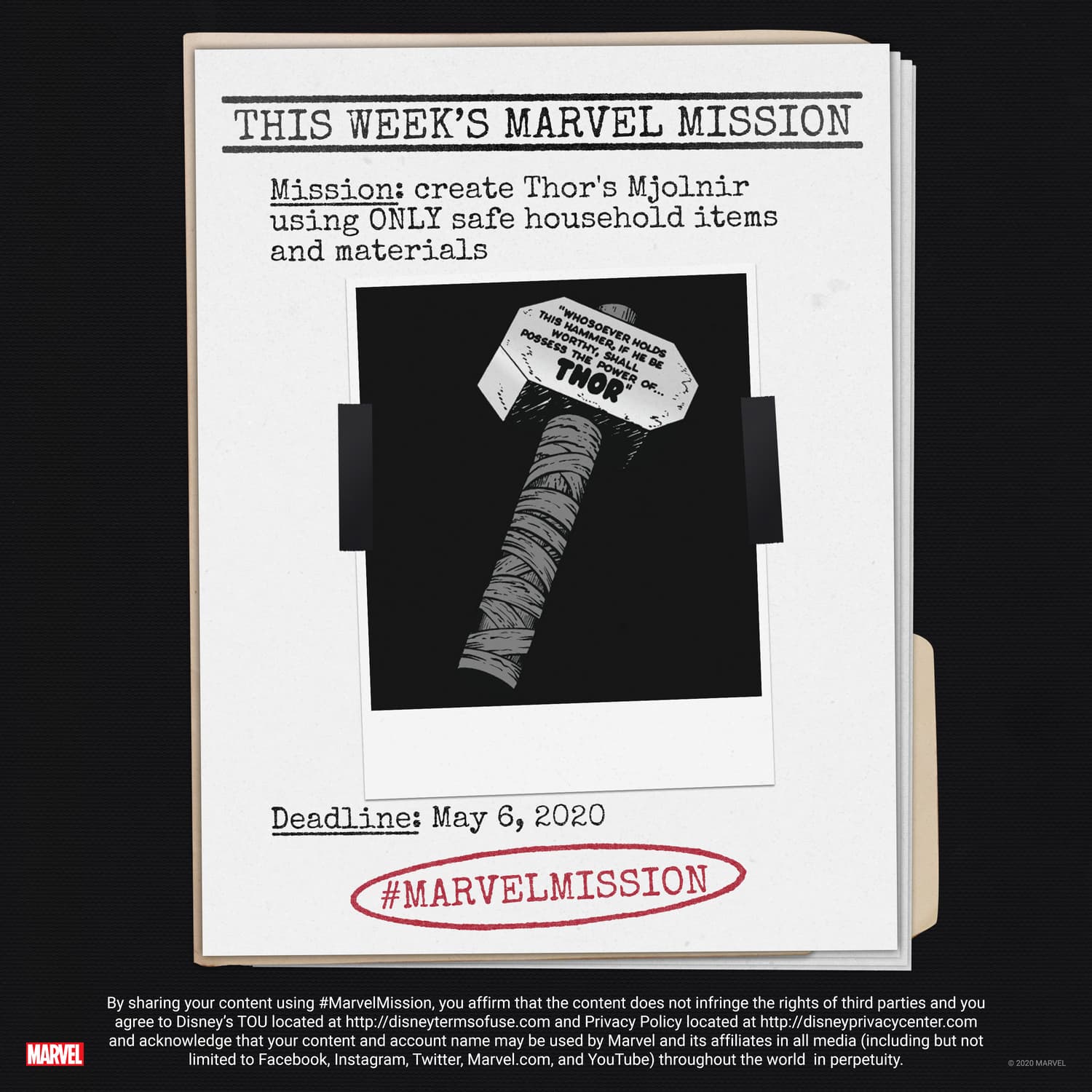 Tasked to bring Thor's trusty hammer to life – Mjölnir! – everyone in every realm was up to the task. Using only safe household products and materials, the results we saw were outstanding and would make Odin himself proud.
From the looks of it, there was lots of duct tape, tinfoil, and silver paint involved in the crafting of Mjölnir and thankfully it appears as if no one has tried to harness actual lightning...at least not yet. Go ahead and build this at home, just don't try to unlock Thor's full power at home. 
While it was tough to narrow down all the submissions we received, we've rounded up some of our favorites that we saw across social media. Take a look at the post below, and start brainstorming what you could use for the next Weekly Marvel Mission!
Looking to build a Mjölnir of your own? Though this week's Marvel Mission might be over, there's still time for you to make your own hammer! Here's an easy hammer how-to if you're looking to make one yourself:
If you've got an unused rectangle box lying around the house, grab that! If not, something like an empty tissue box is perfect for the shape of Thor's hammer. 
Using something silver — whether it be silver paint, markers, scraps of tinfoil, or even silver take — go ahead and completely cover the box all the way around. 
You're going to need a handle for the hammer, and anything long and circular will do. Like say, a used paper towel roll? Otherwise, a handful of sticks or pipe cleaners will get the job done. 
Attach the handle to the hammer. 
Time to draw some Norse symbols! Completely okay if you don't know what's inscribed on Thor's hammer off the top of your head. A black marker or pen can help you make the markings on Mjölnir.
If you're inclined to add a strap, attach a piece of close to the bottom of the hammer's handle to make it so much easier to lift. 
You're done! Go out there and use your newfound lightning powers responsibly. 
The possibilities are endless as to what you can create, so go ahead and assemble whatever craft supplies you might need — and be sure to share them on social with the hashtag, #MarvelMission.
Stay tuned for the next Marvel Mission! 
Want to stay on top of everything in the Marvel Universe? Follow Marvel on social media—Twitter, Facebook, and Instagram—and keep watching Marvel.com for more news!
The Hype Box
Can't-miss news and updates from across the Marvel Universe!