Culture & Lifestyle
Published November 18, 2021
'Marvel's The Punisher' Items Available in Latest Prop Store Auction
Bidding begins November 30th!
Prop Store, one of the leading film and TV memorabilia companies, in association with Marvel Entertainment, today announced it is hosting its most recent Marvel Television online auction featuring original costumes, props and set decoration from "Marvel's The Punisher."
The latest Marvel Television Online Auction will feature iconic pieces from Seasons 1 & 2 of Marvel's The Punisher and Frank Castle's introduction in Marvel's Daredevil Season 2. Over 300 different lots will be offered in this online auction, including costumes, props, and set decoration, with online bidding opening November 30, 2021 (when the full online catalog will be released), and concluding on December 14, 2021.
A printed auction highlights catalog is now available for pre-order and includes a comic book sized limited-edition artwork print featuring The Punisher drawn and signed by Marvel Entertainment Executive Vice President and Creative Director, Joe Quesada. The catalog and prints are currently on sale for $20 (plus shipping and tax), with a limited supply of only 200 available here.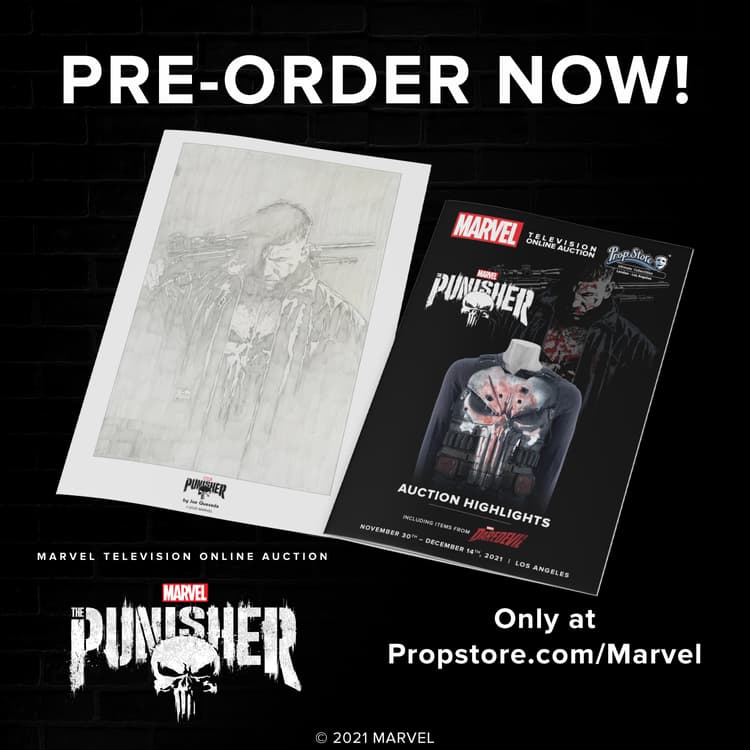 Additionally, Prop Store is offering a free chance to win Frank Castle's Family Photo or Frank Castle's Jacket Ensemble from Marvel's The Punisher to two random winners who register for the auction. You can register today at propstore.com/marvel. Complete contest rules can be found here.
"The work on this series by Steve Lightfoot, Jon Bernthal and the whole creative team on Marvel's The Punisher was second to none and should be celebrated by the fans who loved their work," Mike Pasciullo, SVP, Marvel Marketing and Communications, spoke about the upcoming auction. "We're proud once again to be working with Prop Store to give Marvel fans everywhere a chance to add these authentic pieces of the Marvel Universe to their cherished collections."
"Prop Store is excited to bring this Marvel Television Online Auction to fans. It's a pleasure to offer fans iconic props, costumes, and set decoration that were used in the production of Seasons 1 & 2 of Marvel's The Punisher and Frank Castle's introduction in Marvel's Daredevil Season 2.," Chuck Costas, VP of Business Development & Operations for Prop Store, commented on the upcoming auction. "We're also thrilled to be offering fans an exclusive limited-edition Punisher art print created and signed by Executive Producer and extraordinary artist, Joe Quesada, which can be ordered along with our auction highlights catalog."
Highlights of the upcoming auction that fans and collectors can bid on with estimated sale prices can be found at propstore.com/marvel and a selection of items are viewable below:
The Hype Box
Can't-miss news and updates from across the Marvel Universe!