Culture & Lifestyle
Published July 22, 2020
San Diego Comic-Con: A Look Back At The Expanding Marvel Cinematic Universe from Hall H
What's your favorite SDCC Marvel moment?
This year, San Diego Comic-Con is moving online which means for the first time ever everyone will be able to experience the panels – no waiting outside in the hot Southern Californian sun for hours on end just to snag a coveted seat on Hall H!
While we're all certainly sad to see a year pass without a trip to the San Diego Convention Center, that doesn't mean we can't be happy about all the great moments that have come out of the convention over the last decade! To celebrate SDCC, now's a great time to revisit some iconic Marvel Studios moments from the past few years, from movie announcements, to surprise guests, and incredible footage reveals.
So stay right where you are — no need to form a queue! — and take a look at some of the best Marvel convention moments from the last 10 years.
Loki Crashes Comic-Con
There have been numerous major moments out of Hall H, but the one that stands out for many is when Loki crashed the show back in 2013. Marvel Studios' The Avengers had only just arrived in theaters the year before, and though we met Loki for the first time in Marvel Studios' Thor, we didn't see his true power until Marvel Studios' The Avengers. Flash-forward to the next summer's Hall H panel when Loki takes control of everything for a few minutes. Tom Hiddleston might be the only person in history who has ever completely silenced all 6,000 attendees in Hall H.
The Cast of Marvel Studios' Age of Ultron Assembles
Robert Downey Jr. parades onto the stage throwing roses to the crowd and the panel for Marvel Studios' Avengers: Age of Ultron only gets better from there — especially since this is the first time we're introduced to Paul Bettany's Vision and Elizabeth Olsen's Wanda Maximoff. That's not all, as Josh Brolin pops up at the end of the panel wearing a completed Infinity Gauntlet, and little did we know what kind of destruction Thanos would cause.
Introducing Ant-Man
For his first time at San Diego Comic-Con ever, Paul Rudd and the rest of the cast of Marvel Studios' Ant-Man took Hall H by storm. As one of the new guys in the Marvel Cinematic Universe, Rudd — joined by costars Michael Douglas, Evangeline Lilly, and Corey Stoll, and director Peyton Reed — talked about making a big splash with their movie about a small hero.
The cast of Black Panther reacts to Black Panther footage
[!twitter=https://twitter.com/Marvel/status/889216274189778944]
Hall H is the perfect place for big reveals, and sometimes that also includes showing footage to the stars of the movie. In 2017, the cast of Marvel Studios' Black Panther saw the trailer for the first time and their reactions say it all: there's screaming, jumping, hugging, and a little bit of dancing. You more than likely reacted the same.
The Women of the MCU
[!twitter=https://twitter.com/Marvel/status/757960086870429698]
It's not every day that the women of the Marvel Cinematic Universe assemble together, SDCC in 2016 brought 11 of them together. Spanning five different MCU movies, the group posed for a photo together backstage.
Another Thor is Worthy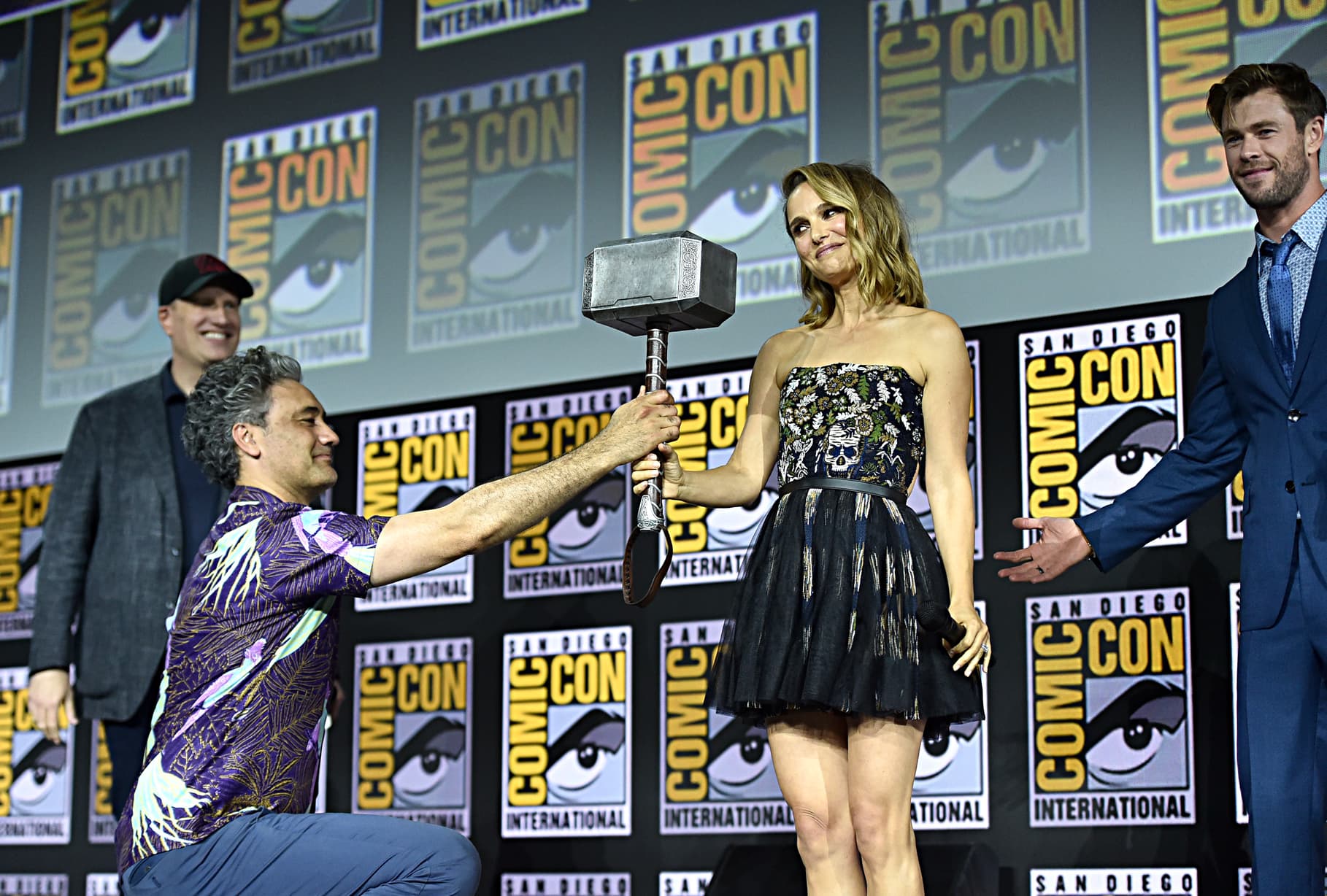 Where were you when you learned that Natalie Portman was returning to the Marvel Cinematic Universe as Jane Foster in Thor: Love and Thunder, and was going to take on the mantle of Thor? If you were in Hall H, maybe you can still hear the excited screams a whole year later.
Phase Four and Beyond
[!twitter=https://twitter.com/Marvel/status/1152985416238157824]
By the time SDCC happened in 2019, the Infinity Saga was completed, meaning that we're heading to new places with new characters and stories for Phase 4! During the Hall H panel, we learned about The Falcon and The Winter Soldier, WandaVision, Loki and Hawkeye all coming to Disney+, along with where the movies are going next, with Black Widow, The Eternals, Shang-Chi and the Legend of the Ten Rings, Doctor Strange in the Multiverse of Madness and Blade! That's not all -- Kevin Feige ran out of time before diving into Captain Marvel 2, Black Panther 2 and more!
Black Widow takes us to Budapest (finally)
[!twitter=https://twitter.com/Marvel/status/1153413308977823744]
The first movie of Phase Four of the Marvel Cinematic Universe is Marvel Studios' Black Widow, and those in Hall H got a first taste at the Natasha Romanoff-centric movie. Of course, Budapest is involved. Heading backstage after the panel, we got the inside scoop from the cast themselves.
Simu Joins the MCU
[!twitter=https://twitter.com/SimuLiu/status/1153142079364587522]
You might think you have a whirlwind story of going to Comic-Con, but none of us will ever be able to beat Simu Liu's story of joining the Marvel Cinematic Universe as Shang-Chi. As he told the crowd in Hall H in 2019, he was sitting in his underwear eating shrimp chips when Kevin Feige called to offer him the role...and then told him he needed to be at Comic-Con in four days.
The Eternals

Cast is Revealed
Start getting ready to meet The Eternals, which we did for the first time at Comic-Con in 2019! But it wasn't until 2019's D23 Expo that we got a first look at their impressive, cosmic costumes on the big screen.
There's still more from the Marvel Universe on Disney+. Sign up for Disney+ and start streaming now! And be sure to follow Disney+ on Facebook, Twitter, and Instagram for more.
Looking for more Comic-Con @ Home coverage? Check out everything happening right here.
The Hype Box
Can't-miss news and updates from across the Marvel Universe!