Culture & Lifestyle
Published August 30, 2018
From Spider-Man to Black Panther: The Many Heroic Encounters at Disneyland Resort
Guests at Disney California Adventure Park have the opportunity for unique interactions with their favorite Super Heroes.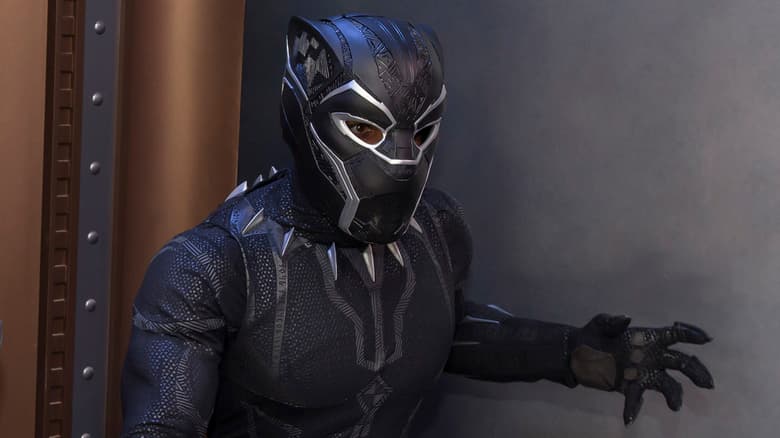 Spider-Man! Captain America! The Guardians of the Galaxy! Black Panther!
Several of the world's greatest heroes are waiting to meet guests these days at Disney California Adventure Park at the Disneyland Resort in Anaheim, California, for some very memorable encounters. Marvel.com recently paid a visit to Disney California Adventure to get a look at what it's like to meet these iconic Super Heroes and got to see firsthand just how thrilled guests are coming face to face with these icons. 
Associate Creative Director, Disney Parks Live Entertainment, Michael Serna remarked, "What we like about these heroes is that they're so world-renowned and everyone wants to meet them, find out what they're up to and learn about their new adventures. We feel like we can expand their stories here." 
Films, TV shows, animation, and video games are letting audiences explore many different facets of these characters and continually be introduced to new ones they never knew before, and Serna noted, "We have the ability to then bring those heroes [here] in real time. You see them and then you get to meet them out of their stories. You get that immediate response." 
Here's what we discovered about the many Heroic Encounters available at Disney California Adventure Park right now… 
Spider-Man
Spider-Man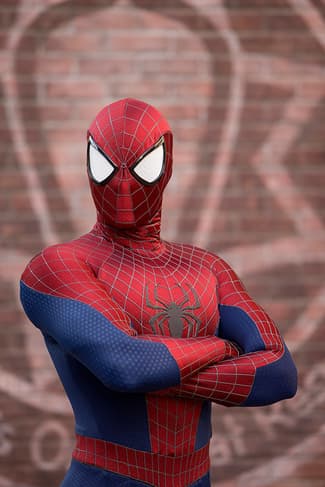 Spider-Man is known for really connecting to the streets he comes from, and so it's only fitting that guests encounter the wall-crawler standing on a New York street, in front of an apartment complex. 
As Serna put it, "Spider-Man is, as the friendly neighborhood Spider-Man, patrolling his neighborhood there. It's an apartment complex… Aunt May might live up there. He's making sure things are safe in his neighborhood!" 
If you look around the street corner Spider-Man meets guests at, there is a lot of intriguing elements in view – from a Midtown school shirt draped over a balcony, to a Steeltown Rockers sticker, to a Daily Bugle headline with a notable headline. 
Serna explained they took, "Any chance we have to give something to the fans; to remind them of the things they may know, because there's a broad world to pull from." Whether it be from the comics or any other realm a Super Hero exists in, Serna added, "We will pull from any part we can to deliver more story. In the location where Spider-Man lives, there are a lot of stickers and newspaper headlines, and if you look at who is living in the apartment complex, those names are familiar. Things like that are what we're trying to get." 
"Spider-Man is a kid. He's just starting out in the world," Serna noted. Reflecting that, he's notably exuberant and energetic with those he meets at Disney California Adventure, exclaiming "Your shirt is awesome!" to one fan, or "Nice team up scene!" to a group of friends. During our visit, Spider-Man was always ready to give a high five to those he encountered or to start bantering in his trademark style. 
When one young boy showed off his Mickey Mouse shirt to Spider-Man, Spidey turned to those standing nearby and proclaimed, "He has Mickey Mouse powers! Watch out everybody!" – before telling the boy, "I'll teach you some of my spider powers, you teach me some of your Mickey powers!" 
Captain America
Captain America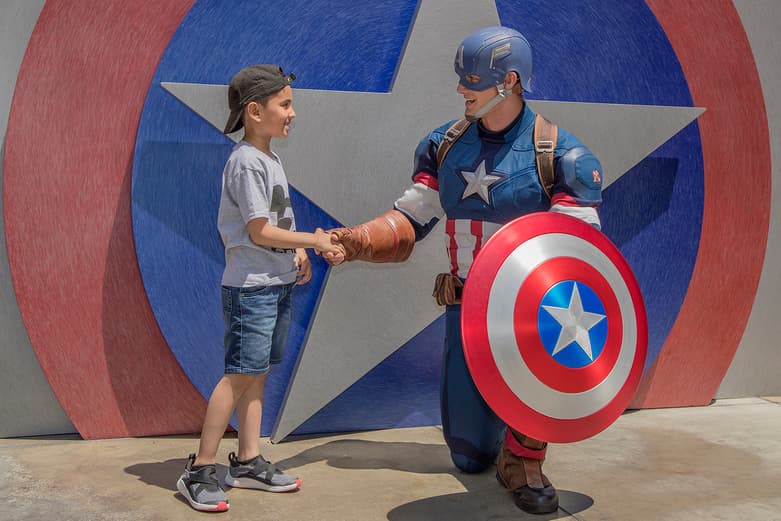 If anyone embodies pure heroism and standing up for what you believe in, it's Captain America. At Disney California Adventure, guests meet Cap in front of a special backdrop that depicts a large version of his famous shield. 
Serna said with Captain America, "We want to welcome him in a way that is worthy of his stature. We want to celebrate him by having that location. His shield is an iconic piece of him. So we wanted to celebrate with this giant shield, to say, 'We're glad to have you here. We want to welcome you.' It gives him a place where he feels at home. It's iconic."
When Captain America isn't off on an adventure and is able to interact with guests, he's just as polite and inspiring as one would hope. On this particularly hot day, he tells one group, "Have a good time out there. Stick to the shade! It's very important." When encouraging one guest, as they pose for a photo, to "show off that brawn," only to be told "I don't have brawn," Cap quickly replies, "It's okay. You show off your spirit!" 
Soon after, a group of kids yell their thanks to Captain America and he tells them, "You're welcome, recruits!"
And then there's the gentleman with a Groot toy on his shoulder. Captain America is bemused by this, mentioning to the man that he's met Star-Lord. And when the guest makes his goodbye, Captain America intones, "Tell Star-Lord I say hi!" 
Guardians of the Galaxy
Guardians of the Galaxy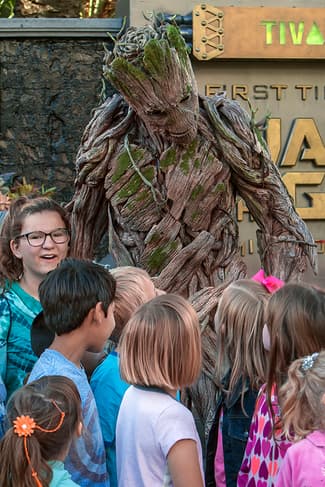 Several Guardians of the Galaxy characters also appear in person at Disney California Adventure as well, though in a bit of a different manner than their fellow heroes. 
In this case, right outside The Collector's Fortress that houses the popular Guardians of the Galaxy – Mission: BREAKOUT!, guests encounter Star-Lord and Gamora, in a funny and irreverent scenario that, fittingly for the Guardians, involves plenty of Star-Lord's music. Guests should also look for Rocket, contacting his fellow Guardians on video screens, and, perhaps, even an appearance from Groot. 
As Serna explained, "Once The Collector arrived and he decided he was going to start collecting our heroes, we realized The Collector was collecting other things - things that were very important to Star-Lord, like his boombox, which has made it personal for Star-Lord."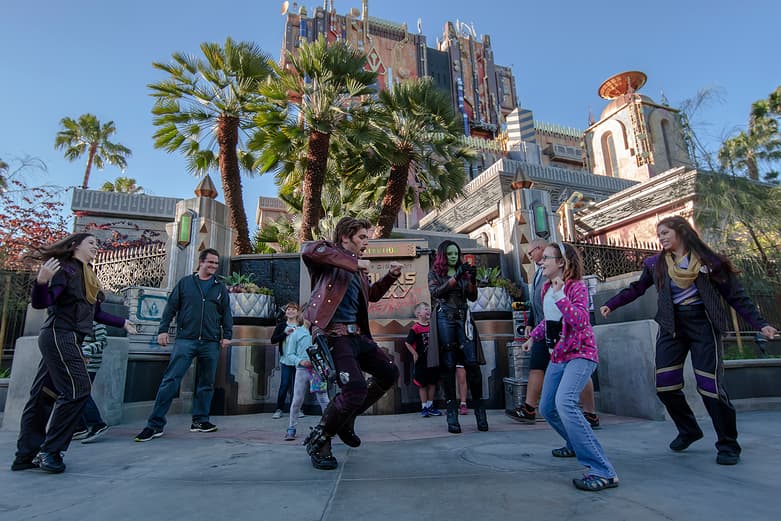 In an effort to subvert The Collector's scanners, Star-Lord encourages guests to dance to his music, something that plenty of the Disney California Adventure guests are more than happy to do – singing and moving to the likes of Queen's "Don't Stop Me Now." 
Said Serna, "I love the story so much and the music is so great. That's why we wanted to make sure we had something that highlighted the music and the songs of the 70s he got from his mom and the b-tracks that have become, now, huge songs because of the film. What we realized with Star-Lord and Gamora is people want to be up close to those characters. They want to have fun with them. It allows us the freedom to do things that we don't normally do... He's got the same sort of humor you expect from Star-Lord, which is a little bit off color sometimes. But it's fun. It's in spirit and I think everybody understands when they see Star-Lord that he's got a very unique view of the world and his own sense of humor about it. And the same with Rocket. Rocket definitely has some things to say and we expect that!" 
As with Spider-Man, Serna remarked, "Guardians has some hidden things as well - jokes and things we can add in that the eagle-eyed fans will see and those that don't will still enjoy the experience, so we're not excluding anybody."
Black Panther
Black Panther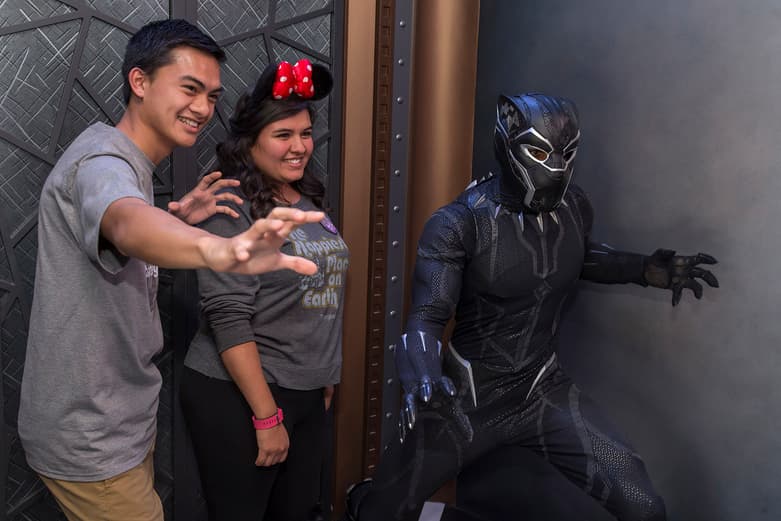 Marvel Studios' "Black Panther" became a true cinematic sensation this year, with audiences worldwide flocking to the film. With the character more popular and beloved than ever, Serna noted it was especially exciting to provide guests at Disney California Adventure with the opportunity to meet the King of Wakanda. 
Said Serna, "We're opening the gates of Wakanda, we're sharing the technology of Wakanda. And King T'Challa is welcoming you. He wants you to see what he's been working on. He wants you to see the highest tech that Shuri has created. If you saw the movie, you know what's happening here. And opening day, he walked out with the Dora Milaje and people were ecstatic."
This certainly continues to be the case, as there were many wonderful moments Marvel.com observed as guests got their first glimpse of Black Panther and let out audible gasps or screams of excitement – with one child, unable to contain himself, yelling, "He's right there!"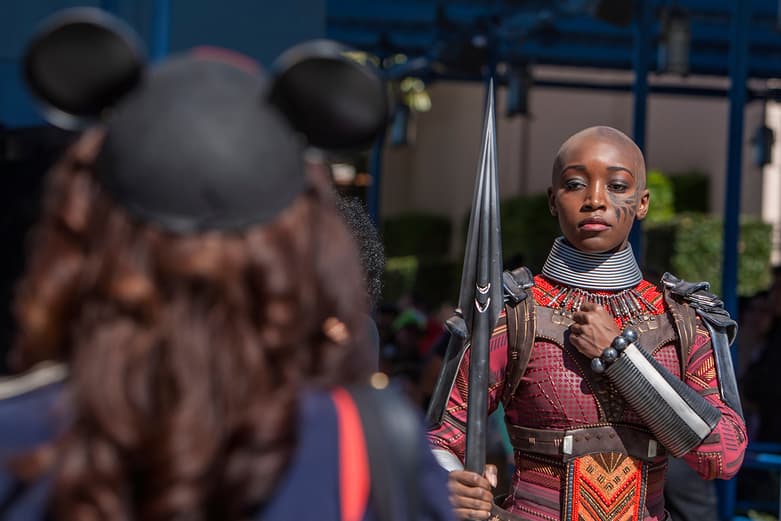 As Serna noted, T'Challa is very welcoming to those he meets, whether he's asking what mission they themselves are on, or suggesting a child pose in a warrior stance with him for a photo. Black Panther's ever-present Dora Milaje guards are also there both to protect their king and offer some humorously pointed comments, such as correcting those who might accidently do the "Wakanda Forever" pose wrong… Lest you forget, it's "right arm over left arm!" - not the other way! 
At one point, one adult guest's phone could be heard loudly playing the score from Marvel Studios' "Black Panther," leading to one of the Dora asking, "Is that your ring tone?!" Replied the guest, "No, just respect for the king!" 
When asked whether there was a character he had a particular fondness for, among the many Super Heroes now a part of the Disney California Adventure tapestry, Serna replied, "I love all of our characters a lot. I really fell in love with the Dora Milaje. I loved Marvel Studios' "Black Panther" and I walked away and thought 'Wow, these women are amazing!' This whole military unit of women. And I was happy to see that when we brought them into the park everyone else got excited as well and really embraced them into our Super Hero universe. We know Spider-Man, Iron Man, Captain America. It's the ones we don't expect that surprise me the most."
MORE TO COME... 
With the distinctive personalities of the Super Heroes – and, sometimes, Super Villains  – one can meet at Disney California Adventure, and the unique alchemy that comes from each guest interaction, there are plenty of special and unique experiences to be had from the heroic encounters. 
While Thor and his brother Loki are not currently visiting Disney California Adventure, a video went viral earlier this year showing what happened when two young sisters – one dressed as Thor, one as Loki himself – encountered Loki at the park and were given an impromptu tour to meet various Super Heroes. 
Said Serna, of that situation, "Not everyone wants to encounter the same experience. Loki walks around. He's a trickster. He's not clear what side he's on. So we want to give him the freedom to play around and have a good time, find the guests that want to do that with him. They were teasing other heroes, giving Captain America a hard time. That's what she wanted to do and how she wanted to experience time with Loki. Some just want to meet him and say hi or some want to stay far away from him because they're afraid of what he's going to do. I want to give an opportunity to have that unique one on one experience and take home something you can't get anywhere else, that you can only get here." As for that video, Serna noted, with a grin, "Her squeaky shoes were my favorite part!"
Serna couldn't yet go into specifics on what's coming down the line at Disney California Adventure – though it has been revealed that an entire Super Hero-themed land is set to open in 2020 – but said he couldn't wait for what the future holds. 
"I get most excited to see what Marvel Studios can come up with. I'm excited about 'Captain Marvel' and the next 'Avengers' film. To me, that's the thrill, to have a great brand like that that is constantly revealing exciting new things that people are going to be thrilled by." 
The Hype Box
Can't-miss news and updates from across the Marvel Universe!