Culture & Lifestyle
Published April 8, 2020
What's It Like to Be a Creative Mind Behind Marvel Themed Entertainment?
Get to know the True Believer backing the biz (and live Spidey drawing lessons), Brian Crosby!
Take a guided tour of Marvel's mightiest creators with Marvel Tales! Ben Morse, currently a visiting lecturer at UNLV, previously spent a decade working within the House of Ideas. In each installment of this series, he utilizes that insider knowledge—plus his lifelong fandom—to connect with comics professionals as they spin stories about the Marvel Universe and its inhabitants!
Marvel has an extended family that stretches far and wide. Over the past decade, countless figures have joined the House of Ideas, often coming from an equally wonderful world with its own tenured pedigree. The Creative Director of Marvel Themed Entertainment, Brian Crosby, blends the universes of Marvel and Disney as a fan-turned-fixture of the former who got his start working with the latter! And hey, you might've even seen him recently leading livestream How To Draw episodes about Spider-Man and Groot!
Crosby kicked off his career as a Concept Designer for Walt Disney Imagineering, putting his creative stamp on attractions across the Disney Parks. "I really found my niche working on the Marvel projects once Marvel became part of The Walt Disney Company," Crosby insists. "I worked on anything and everything 'Marvel' I could get my hands on." Helping to "oversee the dimensional installation and execution of the Marvel brand" everywhere from conventions to museums to malls, he marked a milestone working with fellow Imagineers to launch "Iron Man Experience" for Hong Kong Disneyland in 2017.
The first Disney attraction to be based on a Marvel property, "Iron Man Experience" forged a friendship between Crosby and Marvel icon Joe Quesada that endures to this day. It also led to future collaborations including the opening a few months later of "Guardians of the Galaxy — Mission: Breakout!" at Disney California Adventure Park, part of the Disneyland Resort. "That project started out pretty rough because we were tasked with converting an already beloved attraction into something very new and irreverent," he recounts. "We worked very closely with Imagineer Joe Rohde and we really believed we were telling a fresh new story that would be fun, exciting and unique. I'm very proud of what we were able to do there which helped set the table for a whole new world of experiences coming to that park."
For Crosby, though, his association with Marvel didn't kick off with his professional association; he first entered the House of Ideas via the Spider-Man and his Amazing Friends cartoon in the '80s. "I knew who Spider-Man was, but Iceman and Firestar were new to me—it opened up a whole new universe." That show, as well as the action figures based on the seminal SECRET WARS series, brought young Brian in as a comic book collector. "I discovered Marvel and what I wanted to do when I grew up—I'm still waiting to grow up."
Like any '90s kid, Crosby found himself drawn to the surging X-Men franchise, spending his junior high years drawing the Children of the Atom, but his heart never wavered from the Web-Slinger, particularly when artist Todd McFarlane put his stamp on Spider-Man. "The first comic I ever read was drawn by Todd and that was when it first dawned on me that people could actually draw these characters for a living.
"Once Todd took over [as artist of AMAZING SPIDER-MAN], my mind was just blown," Crosby continues. "It was like nothing I had ever seen before. It was a darker approach to Spider-Man and his rogues. You could almost smell the alleys and the grime. I don't necessarily think of Spider-Man as a dark character, but there was a mystery to it all and [stuff] ripped right out of a horror story. Reading Al Ewing's current IMMORTAL HULK brings back some of those same feelings."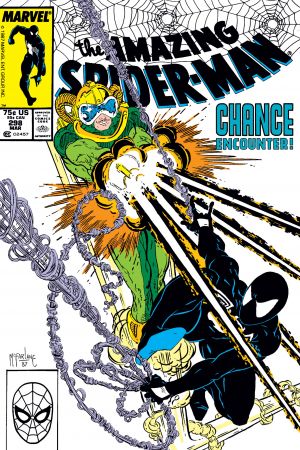 The Amazing Spider-Man (1963) #298
published

added to marvel unlimited

penciler

letterer

colorist

writer

inker
What is Marvel Unlimited?
After introducing the original Venom into AMAZING with writer David Michelinie, McFarlane illustrated and served as scribe on SPIDER-MAN, a new ongoing title that launched in 1990. For his part, Crosby "couldn't have been more excited and it really refreshed my love of Spider-Man from my childhood." The future Imagineer appreciated a slightly older Peter Parker as well as his relationship with Mary Jane and the nuanced take on New York City.
"The streets had so much texture to them, and Spider-Man dealing with more adult issues and more threatening adversaries was really perfect for me at that age," says Crosby. "I still revisit those stories from time to time and they absolutely hold up."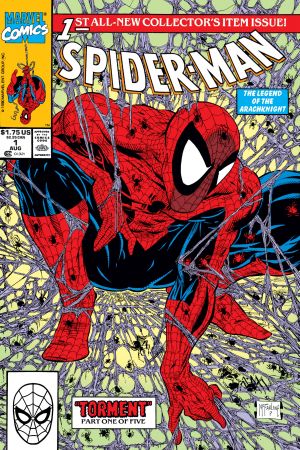 As Crosby continues looking toward the future of Marvel Themed Entertainment, he uses those classic comics as inspiration. "I'm loving our Marvel museum exhibit right now, Marvel: Universe of Super Heroes. We launched that at the Museum of Pop Culture—MoPop—in Seattle and it's a true love letter to 80+ years of Marvel in all its mediums. It's really special and the response has been phenomenal.
"Whatever I'm working on at the time tends to be my favorite because I really try to dive into every project so completely," Crosby concludes. "I really do feel blessed to be a small footnote in everything that's happening with the Marvel Universe today."
Feeling inspired? If you want to revisit some of Todd McFarlane's major Marvel moments, head over to Marvel Unlimited! Enjoy an underrated run alongside writer Peter David on INCREDIBLE HULK beginning with issue #331, witness the emergence of Venom in AMAZING SPIDER-MAN #300, and feast on the first 15 installments of SPIDER-MAN (1990) featuring Hobgoblin, X-Force, and more!
The Hype Box
Can't-miss news and updates from across the Marvel Universe!