Digital Series
Published August 15, 2019
Earth's Mightiest Show: How the 'Avengers: Endgame' VFX Team Pitted Captain America Against Himself
See how the famous Cap vs. Cap fight was made and more on this week's episode!
It's one of the most memorable fights that ever took place in the Marvel Cinematic Universe -- Captain America versus... himself! When present-day Steve Rogers (Chris Evans) took part in the time heist to retrieve the Infinity Stones in Marvel Studios' Avengers: Endgame, he hardly anticipated having to make it through a past version of himself. And while the folks at Marvel Studios have a lot of amazing technology at their fingertips, one thing they can't do is clone their actors. This doppelganger duel called for some visual effects!
This week's episode of Earth's Mightiest Show features the making of the Cap versus Cap fight and the special effects that went into a scene featuring Chris Evans. Ryan "Agent M" Penagos spoke with Dan DeLeeuw, VFX Supervisor at Marvel Studios, to get the inside story.
The process began with two stunt doubles running through the fight, establishing the moves and camera angles. Then Evans stepped in to perform each side of the fight. Originally, both Caps were shown without their helmets, but according to DeLeeuw, when they "started testing the movie, people were losing track of which Cap was which. ... We ended up having to actually put a CG helmet onto Avengers Cap."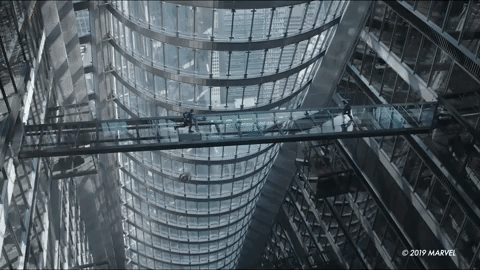 The next step was to replace the face of the stunt double with the face of Chris Evans, a process that involves three cameras and lots of extra coverage to find the best angle for the face replacement. DeLeeuw explained: "The trick is, a lot of times, you can't just stretch the actor's face to match the stunt double's head. So you end up having to warp the stunt person's head to match Chris Evans' head, and then put his face on it."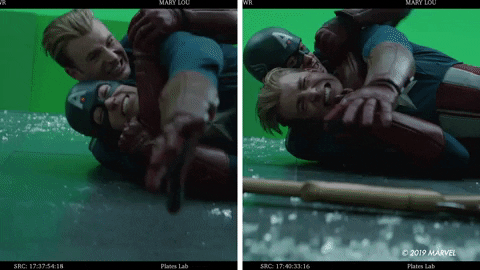 Another fun fact about the fight inside Stark Tower: there was no actual Stark Tower. Of course, because it's fictional, but also because there was no location that could serve as the set. The scene was shot entirely on a green screen set and the interior was created digitally. Some practical effects were involved, including some staircases. Said DeLeeuw: "I like shooting as much practically as we can, and we have this relationship with the stunt team, and Cap falling and smacking things seems to be one of their favorite things."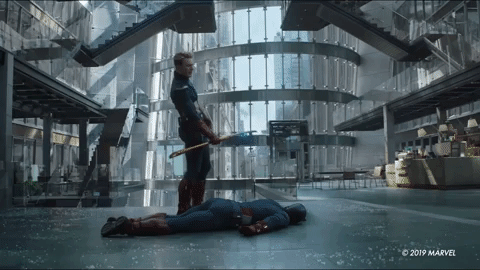 Watch the full episode of Earth's Mightiest Show above!
Marvel Studios' Avengers: Endgame is now available on Digital and Blu-ray.
The Hype Box
Can't-miss news and updates from across the Marvel Universe!