Games
Published February 8, 2018
Black Panther Takes Over Marvel Puzzle Quest
The King of Wakanda rules Marvel Games!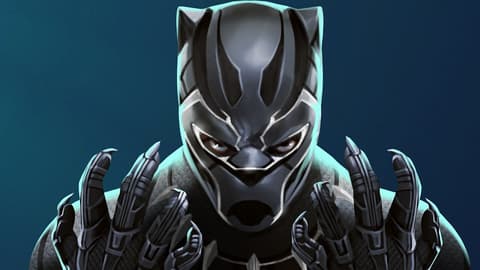 When villains besiege the nation of Wakanda, The Black Panther appears when his people need him most.
In anticipation of the February 16 release of Marvel Studios' "Black Panther," T'Challa is taking over Marvel Games! In "Marvel Puzzle Quest," players will get to bring a powerful 4-Star Black Panther on the hunt to bring down the bad guys. We caught up with D3 Go! Producer Josh Austin about the new looks, the new abilities, and the new event.
Marvel.com: Players have enjoyed using the 3-Star Black Panther for years, and with 5-Star Black Panther covers tough to come by, it's great to see a 4-Star T'Challa! 
Josh Austin: Yeah, I only have a couple covers of 5-Star Black Panthers myself and I do take advantage of his hide Move…or Be Moved ability with Thanos. It's a fun way to blast through some of the Deadpool's Daily Quests to get covers. The new 4-star Black Panther (King of Wakanda) focuses on what makes him awesome in the new Marvel Studios' "Black Panther" movie, plus he is wearing the awesome new purple glowing suit!
Marvel.com: Black Panther (T'Challa) seems like a jack of all trades—he has some decent offensive and defensive utility while bringing great team damage to the table. Black Panther (Civil War) strikes from the shadows, neutralizing single targets with extreme accuracy. Where will this new Black Panther fit into the game?
Josh Austin: The new Black Panther (King of Wakanda) protects and strengthens his allies with Fortified special tiles and utilizes them for additional damage. One of his attacks damages, then strengthens Fortified Attack, Strike, and Protect tiles which comes in handy!
Marvel.com: Okay, let's talk about 4-Star Black Panther's abilities. What's he hiding in that suit of his?
Josh Austin: His first ability is called Protector of Wakanda and costs 7 Yellow AP. King T-Challa stands up to protect his people by creating Yellow Repeater tiles that generate Strike, Protect, and Attack tiles. If another ally is still in the fight, these tiles become fortified; if two allies are still in the fight, this generates tiles with higher strength instead of Fortifying them.
His second ability, Kinetic Shield, costs 8 Blue AP. Black Panther absorbs enemy attacks and redirects their energy back at the opponent. He creates Fortified Protect Tiles and the power has a Passive that deals damage for each friendly Protect tile on the board, to a max of 8 tiles.
T'Challa's last ability is called Tooth and Claw and costs 10 Red AP. Black Panther bares his claws and unleashes a powerful strike that deals damage and increases the strength of Fortified Attack, Strike, and Protect tiles.
Marvel.com: It looks like you'll want to keep your allies safe to get the most out of Protector of Wakanda. Any advice on who those teammates should be?
Josh Austin: Black Panther (King of Wakanda) is strong with characters that create Fortified friendly tiles, which includes Green Goblin, Hawkeye (Clint Barton), Luke Cage (Power Man), and Iron Fist (Danny Rand) to name a few. It's definitely good to take advantage of the extra damage from fortified tiles!
Marvel.com: And alongside releasing a new character, the team has an entirely new story event coming up!
Josh: That's correct! We have a new story mode titled "Fight For Wakanda" where Wakanda is under attack from H.A.M.M.E.R. and Ultron! T'Challa must travel back to his kingdom with his allies to defend its greatest resources!
"Fight for Wakanda" is a 3-Day story event. Defeating the villain each day will unlock a Sub-Chapter, and each Sub-Chapter is a different location in Wakanda that will feature different Hazard tiles. The new Hazard tiles include an Exploding Tech tile that creates a dangerous blast that harms both allies and enemies. There is a Royal Shield Tile that helps allies but can also turn the tide in the enemy's favor. Another type of tile, Collapsing Mine, makes it harder to defeat the enemy.
Marvel.com: Anything else we need to know before we head to Wakanda to take on some super villains?
Josh Austin: Black Panther (King of Wakanda) is available starting today! A T'Challa & Friends Vault will be open between February 11 and 17 and will feature Black Panther (King of Wakanda).
The Black Panther (King of Wakanda)'s debut event is called Fight for Wakanda and runs from today through February 12 and he is featured in placement rewards. There will also be a S.H.I.E.L.D. Training Event featuring Black Panther that rewards tokens to the Fight for Wakanda Vault. He is also featured in the Venom Bomb event that runs from February 11-16 and rewards tokens for the T'Challa & Friends Vault. Lastly, his Versus Tournament runs from February 11-14 and he is a progression reward, along with token rewards for the T'Challa & Friends Vault.
Players can also be on the lookout for special power-ups for Black Panther (King of Wakanda) for damage that can be earned as progression rewards in various events (including the aforementioned events—Fight For Wakanda, S.H.I.E.L.D. Training, and Venom Bomb). Each stack adds about 20% damage.
And that's not all! We will be featuring the "Fight for Wakanda" event again later in February where we will be releasing Shuri. Her details will be announced when it's closer to her release date!
And wait, I have one more thing: be sure to check out Marvel Insider where players can earn Insider Points by scoring 8,000+ points in the Fight for Wakanda event in Marvel Puzzle Quest. Visit Marvel Insider for more details!
Enjoy the events and the upcoming film!
Pick up the new 4-Star Black Panther here and keep an eye on Marvel.com and @MarvelGames for more "Marvel Puzzle Quest" news and interviews!
The Hype Box
Can't-miss news and updates from across the Marvel Universe!