Games
Published September 30, 2019
Celebrate Six Years of 'Marvel Puzzle Quest'
The team behind 'Marvel Puzzle Quest' reflects on its accomplishments and reveals what to expect in the year to come!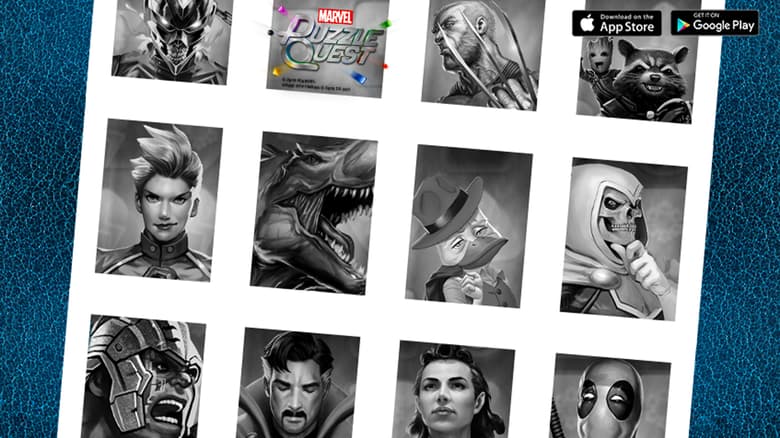 Marvel Puzzle Quest celebrates its sixth birthday this week!
We had the opportunity to chat with the talent behind the game's passions and successes at D3 Go! Producer Joseph Fletcher reflects back on some of the big moments, give us some fun stats, and dishes how we all can get in on the celebration.
Celebrate SIX years with in-game Anniversary events starting tomorrow, Tuesday, October 1! Battle with your favorite Super Heroes in Marvel Puzzle Quest on the App Store, Google Play, Amazon Appstore, and Steam. Download Marvel Puzzle Quest for FREE here.  
And if you're heading to New York Comic Con, head over to Booth #445 to demo the game, partake in the photo booth, snag free gifts or special promotions, and more!
Marvel.com: Marvel Puzzle Quest players have been making matches for 6 years now, how are you celebrating this anniversary!
Joseph Fletcher: As a player of the game as well, I'm going to be enjoying it by finishing up my Taskmaster and playing through the new content that's going to be coming up. The new story event that will be running is an interesting take on PVE events, and is going to be a lot of fun. Playing through the 'Class of 201x' Versus events has been neat too, seeing people make teams made up of characters from that time. So for me, it's sort of a mix of looking forward to building my roster and enjoying some of the stuff that has come before at the same time.
Marvel.com: What have been some of your most memorable MPQ milestones?
Joseph Fletcher: From a project point of view, Bonus Heroes and Saved Covers have been very memorable as something that wasn't only game changing, but also great for players. Being able to direct progress towards specific characters with Bonus Heroes made it so much easier to finish off a couple characters I had been waiting for certain covers for. Saved Covers also was a big blessing since it let me not worry so much about getting that 7th Purple cover for Devil Dino while I just needed that Red one.
Marvel.com: Personally, what were some of the characters, events, etc that you're most proud of when it comes to the game and/or community?
Joseph Fletcher: Bar none I'd say Peggy Carter (Captain America). We had the opportunity to create an original character who was received super-well by not only the player base but Marvel fans alike. Now Peggy is running around with the rest of the Exiles in Marvel's comics universe. Seeing a character expand from a game only thing into other media has been an amazing experience.
Marvel.com: Do you have some exciting stats shared with us whether it's total number matches made, powers used, damages dished, or most Championed characters?
Joseph Fletcher: Funny that you ask, as we have this pretty nifty infographic/yearbook that we put together based on some of the findings this year. It's been an amazing year and we are looking forward to the Class of 2020!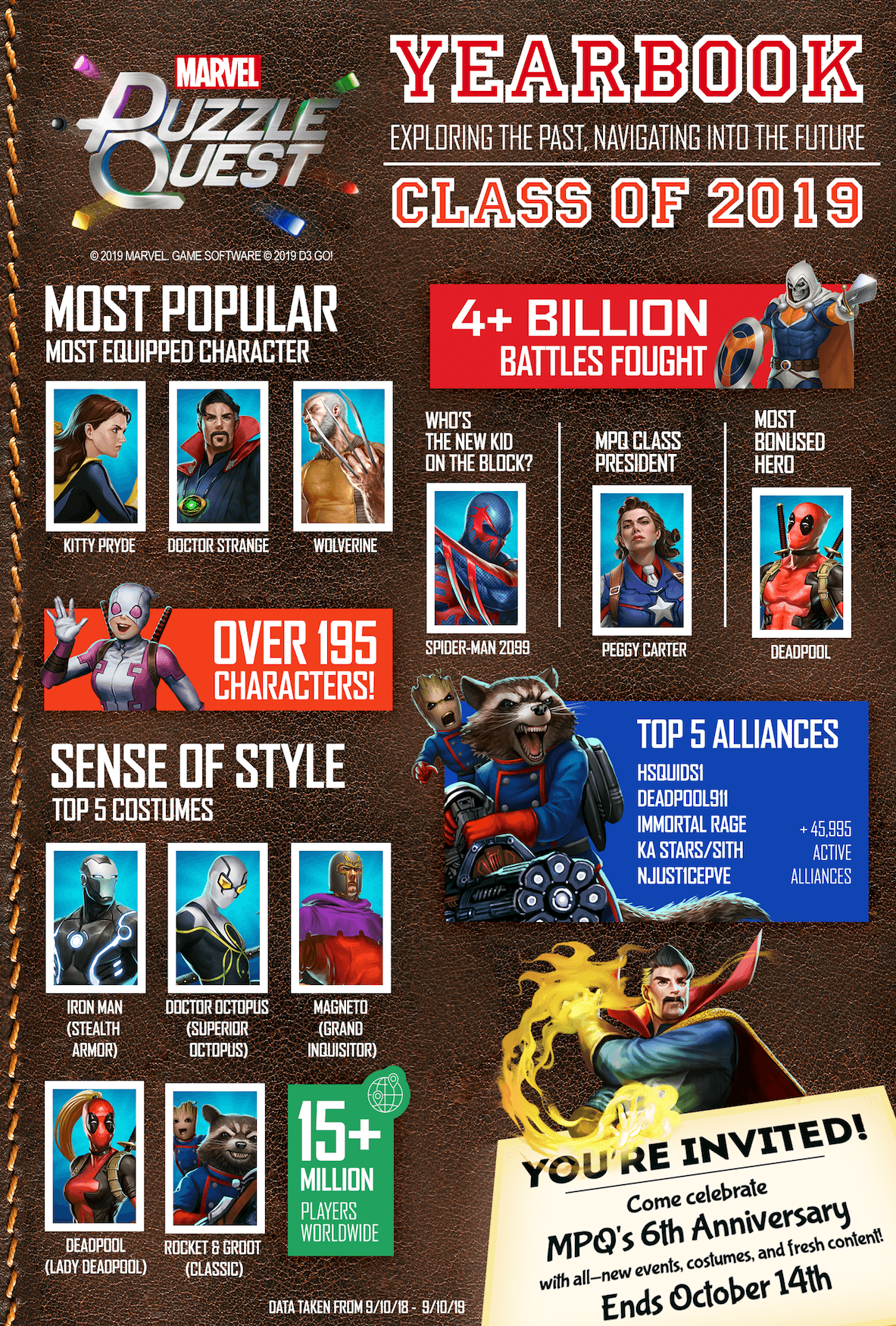 Marvel.com: Any in-game celebrations whether it's new character additions, costumes, gifts, or events you can tease for us for MPQ's birthday?
Joseph Fletcher: Yes, we have a ton happening this Anniversary, kicking off starting tomorrow (October 1).  This Anniversary players can expect 2 new events
1. Lost in Time, a 3 sub-chapter linear story event featuring Doctor Doom and
2. Best in Class. a nine day daily unlock event to earn some really great rewards. 
We plan to feature a new character starting with a 4-star Spider-Man 2099 on October 10th. In addition, the Anniversary is always a great time to load up on resources and comic covers, as this year we have double Iso-8 crystals in all PVE, Boss, Lightning and PVP events, plus players can login starting tomorrow to get a free Anniversary Vault token. And for those that are really into our costumes, keep an eye out for the Medusa (Best Hair) costume and Devil Dinosaur (Dapper Dino) costume. We will have an FAQ detailing the activities that we will update on a daily basis so players can check it out to see the latest happenings of the Anniversary. The FAQs will be a great way to see when free gifts and special offers are live in the game.
Marvel.com: Lastly, how can we celebrate MPQ in-person at NYCC?
Joseph Fletcher: The MPQ team absolutely loves NYCC! It's where we first introduced the game 6 years ago (boy, they grow up so fast!) to the masses. Please come visit us at the D3 Go! booth (Booth #445) and meet the team and learn more about all the latest happenings for the game. We plan to hold a free raffle one hour before the show ends each day where we will be giving out fun in-game prizes. We look forward to meeting all the Marvel and Marvel Puzzle Quest fans!
Want in on the "MPQ" sixth birthday festivities? Pick up the up the game here, and stay tuned to Marvel.com for more "Marvel Puzzle Quest" news and interviews!
The Hype Box
Can't-miss news and updates from across the Marvel Universe!