Games
Published September 6, 2017
How Lockjaw Can Be a Big Help in 'Marvel Puzzle Quest'
The Inhumans' teleporting dog makes his way to the roster beginning September 7th!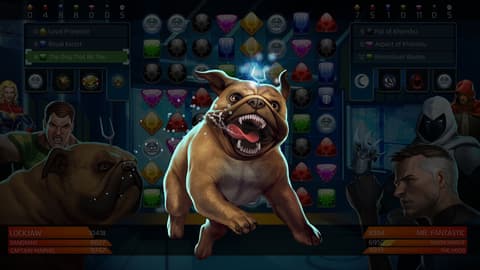 Everyone's favorite Inhuman mutt, Lockjaw, is making his way to "Marvel Puzzle Quest" and he's bringing some friends. As the honorary escort of the Inhuman Royal Family, Lockjaw makes an awesome addition to the "MPQ" roster. We talked to D3 Go! Senior Producer Josh Austin about the teleporting dog and all his incredible canine abilities.
Marvel.com: Oh my gosh who's a good doggy?! I'm so excited to finally be able to play a full Inhuman team! Why did the team decide on Lockjaw over some of the more… Human Inhumans?
Josh Austin: Lockjaw is awesome and his popularity is growing so finally being able to add a playable canine to "Marvel Puzzle Quest" just made the team really excited. One of the great things about Lockjaw in "Marvel Puzzle Quest" is his ability to teleport in other Inhumans, so while we aren't adding Crystal and Karnak to the game as playable characters (at least it's not planned right now), they are getting put in the game through Lockjaw.
Marvel.com: Aside from Devil Dinosaur this is the only other animal on the "MPQ" roster. Do you see, say, any Pet Avengers in our future?
Josh Austin: That would be fun – there are a lot of animal lovers out there! We do have some non-playable dogs including, but who knows what the future will hold? I would expect we should see more animals in "Marvel Puzzle Quest" in the future.
Marvel.com: Okay, what tricks has this dog learned?
Josh Austin: Lockjaw's first ability is Loyal Protector and it's a Yellow Passive ability, so it doesn't cost AP to use. Whenever an enemy match includes a friendly Special tile, Lockjaw jumps to the front, resisting a percentage of that damage and dealing damage to the enemy who messed with the player's Special tile!
His second ability is called Royal Escort and it costs 9 Blue AP. This is his teleport ability that brings in a different Inhuman friend depending on which color is most present on the board. For Blue he teleports in Quake who shakes up the board and destroys random tiles of the enemy's strongest AP while also doing damage (does not generate AP).
If there is yellow mostly present on the board, Lockjaw summons Kamala Kahn to inspire everyone around her giving the team a burst of health. If Green is the most present on the board, Lockjaw summons Black Bolt, who with a whisper destroys the middle two rows dealing damage (does not generate AP).
If Purple is the most present, Lockjaw summons Medusa who users her hair to swap 16 pairs of random tiles, stealing any swapped enemy Strike, Protect, or Attack tiles and improving them. If Red is the most present, Lockjaw summons Crystal who deals damage and creates a Red Attack tile, Blue Protect tile and a Black Strike tile. If Black is the most present on the board, Lockjaw summons Karnak who deals damage to the enemy with the lowest health and stuns all the other enemies.
His last ability is called The Dog That Bit You and it costs 8 Green AP. For this ability Lockjaw follows a trail of psionic energy to track down his enemies and attack. This ability converts random basic tiles to Charged tiles. This power also has a Passive, where at the start of the turn, if there is a Charged tile in the enemy's strongest color, it deals damage.
Marvel.com: Man I'm not quite sure what to think of the dog wonder! He seems so dang versatile! Royal Escort feels a lot like Nick Fury's "Avengers Assemble" ability. What changes when we level up this move?
Josh Austin: Mostly the damage dealt, strength of special tiles, and health given to the player goes up as the levels increase. The best part about Royal Escort is that it's like Hawkeye (Clint Barton)'s full Quiver power, but instead of it being sequential the player can guide which power will be used if they use characters that help change the color of the tiles on the board.
Marvel.com: Loyal Protector also feels really cool, especially in some match ups where you might have a bunch of Special tiles on the board. Does it work like Doc Ock's Insult to Injury where it only procs once per tile match, or does he do damage for every Special tile matched?
Josh Austin: It triggers every time the enemy matches a friendly special tile, and it can be pretty powerful with Medusa's The Resolute Queen and heals after Lockjaw takes reduced damage due to the enemy's match!
Marvel.com: I can think of a few teammates I want Lockjaw fighting alongside but I'll leave it to the professionals. Who are we teaming him up with?
Josh Austin: Lockjaw works well with characters that create Special tiles like Medusa, Carnage (Cletus Kasady), Venom (Eddie Brock), Gamora (Awesome Mix Volume 2), and Professor X (Charles Xavier). Lockjaw also works well with characters that create Charged tiles like Black Bolt, Silver Surfer, The Hulk (Totally Awesome), Thor (Goddess of Thunder), and Mordo (Master of the Mystic Arts).
Marvel.com: And when can we give him a good home on our rosters?
Josh Austin: Lockjaw will be released on September 7 and will be available in placement rewards in Hearts of Darkness that starts September 7 and ends September 12. He will be in Meet Rocket & Groot and available in the Vault that will start September 11 and run until September 15. His Versus tournament is called Inhu-Man's Best Friend and it starts on September 14 with increased odds to get Lockjaw and he will be a progression reward.
Take Lockjaw out for a walk by clicking here and stay tuned to Marvel.com for more "Marvel Puzzle Quest" news and interviews.
The Hype Box
Can't-miss news and updates from across the Marvel Universe!