Games
Published September 8, 2017
Marvel Games Rolls Out the Red Carpet for the Inhuman Royal Family
Prepare yourself for their television debut with a royal adventure across five Marvel games!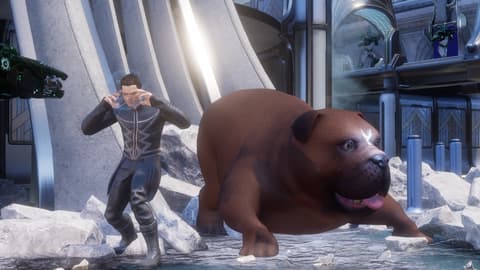 The Inhuman Royal Family make their television debut at the end of September, but your favorite Marvel games are rolling out the red carpet well in advance of the monarchy's arrival. We talked to a lot of people about the Inhuman goodies on the horizon, from the fine folks working on "Marvel Contest of Champions," "Marvel Avengers Academy," and "Marvel Puzzle Quest" to "Marvel Heroes Omega" and "Marvel Powers United VR." Are you ready for the terrigen knowledge bomb we're about to drop? We sure hope so!
"Marvel Contest of Champions" kicks off our Inhuman fun. Take Medusa into the Collector's contest where she joins Black Bolt and her cousin Karnak as the Inhuman representatives on Battlerealm. You might have also seen Lockjaw in game already! Isn't he just the cutest? Alongside Medusa and Lockjaw, players will also get to play an Inhuman-centric event pitting the chosen of Attilan against the Iso-8 Mafia.
"The Inhumans are one of my favorite Marvel families, because they have always been so weird," exclaimed Gabe Frizzera, Art Director at Kabam. "The unapologetic 'Kirbyness' of the stories, with the lofty themes of alien gods experimenting with the fates of early humans, was one of my first tastes of sci-fi as a kid. I love every time we have a chance to bring an Inhuman to the Contest of Champions, especially Royals. I think they fit beautifully in our particular brand of Marvel cosmic extravaganza." We couldn't agree more.
Not to be outdone, "Marvel Avengers Academy" is unleashing an entire event on players involving the Attilan Academy with a whole host of Inhuman characters joining the game's roster including Medusa, Black Bolt, Crystal, and Triton to name a few.
"It seems like we've been waiting forever to introduce the Inhumans royal family to 'Marvel Avengers Academy,' shared Allen Warner, Director of Narrative at Tinyco. "We're so excited that the time has finally come. It's an awesome opportunity to embrace their inherent potential for comedy and otherworldly weirdness, which have always been big parts of our game, as well as reimagining what all of them would be like as school-aged students from Atillan Academy. I can't wait for the world to see what our awesome artists have done with Lockjaw's designs in particular. Hint: He looks even more amazing in a Black Bolt themed dog sweater!"
The gang at D3 Go! aren't skimping on the Inhumans content either, with everyone's favorite lovable teleporting dog popping into "Marvel Puzzle Quest" in early September. He joins Black Bolt and Medusa (one of my personal favorite characters, teaming her up with Carnage is so fun you guys!) as the third playable Inhuman and he's bringing a few friends with him. Wink wink.
"Lockjaw will be our first playable dog character in Marvel Puzzle Quest!" revealed Josh Austin, Senior Producer at D3 Go! "With his Royal Escort ability, not only does he call in the many Inhumans we have in the game including Kamala Khan, Black Bolt, Medusa and Quake, but he also brings in two additional Inhumans: Crystal and Karnak!"
Have you picked up "Marvel Heroes Omega" for your PS4 or Xbox One yet? Well if you've been waiting for some Inhumans action, Gazillion has you covered. A new-to-console Black Bolt will be joining the playable cast with a costume inspired by his small screen look, as well as a fresh take on his classic outfit fans will no doubt dig.
"With Black Bolt, we introduce players to one of the most powerful heroes in the Marvel cannon," said Anthony Gallegos, Designer at Gazillion. "With a voice that can destroy anything just by whispering, as well as an array of energy powers, super-human speed, and more, we can't wait for players to try the king of the Inhumans for themselves. Black Bolt's silence is only a reminder of his power and restraint — prepare to be awed when he decides to grace (or destroy) your very essence by daring to speak a word."
Last but not least, "Marvel Powers United VR" is adding two new characters to the game: Black Bolt and Crystal. Harness Blackagar's electron-fueled energies and devastating voice or command the very elements themselves with Crystal Amaquelin. One thing's for sure – you've never experienced Inhuman abilities quite like this before! Take a look at the game play trailer above!
"Having the opportunity to bring Black Bolt and Crystal into the game has been an exciting design and technical adventure," admitted Mat Kraemer, Creative Director at Sanzaru Games. "They've become favorites with our team to throw down and kick some bad guy butt! We can't wait to see what fans think when they wield Inhumans powers and jump into the fight!"
Before we sign off, we'll leave you with a word from your man @ Marvel Games, Bill Rosemann, "With their combination of fantastic designs, bold personalities, wild powers, royal intrigue and sci-fi weirdness, the debut of the Inhumans symbolized the game changing genius of Stan Lee and Jack Kirby. All these years later, and after so many amazing creators have expanded their legend, the Marvel Games team and all of our talented partners are excited to unleash them in a new medium, celebrate their awesomeness and help introduce them to a new generation of True Believers."
Be sure to check out all the Inhuman action happening across a host of your favorite Marvel Games and watch the first chapter of "Marvel's Inhumans" early in IMAX now and the complete series on ABC starting September 29. Stay tuned to Marvel.com and follow @MarvelGames on Twitter for the latest news and interviews from Marvel Games!
The Hype Box
Can't-miss news and updates from across the Marvel Universe!