Games
Published July 20, 2018
Marvel Games Seizes The Moment With San Diego Comic-Con 2018 Hall H Panel
Marvel Games gave fans a major inside look across their games portfolio during first-ever Hall H panel!
Kinda Funny's Greg Miller led a room full of True Believers through an hour-long inside look at the latest and greatest console, mobile, and VR content during Marvel Games' first-ever Hall H panel during San Diego Comic-Con 2018!
Marvel Games' Mike Jones and Bill Rosemann stressed the driving force behind their console, mobile, and VR games was strong storytelling. Along with Jones and Rosemann, teams behind Sony Interactive Entertainment Insomniac Games, Oculus Studios, FoxNext Games, and more unveiled several new looks and updates from their respective games.
Get ready to unleash your inner hero!
Next week, on July 26, Marvel Powers United VR will be arriving on Oculus Rift with 18 playable characters from Spider-Man and Wolverine to Captain America. Wield their amazing powers and assemble your ideal Super Hero squad as you battle it out in explosive, immersive co-op fights across iconic Marvel locations.
Creative Director Mat Kraemer revealed two incredible characters joining our team next week: Storm and Iceman! Take our heroes on journeys across Wakanda, Asgard, Jotunheim, Knowhere and more starting July 26! Then, on July 31, be sure to grab the Oculus Rift x Marvel Powers United VR bundle from Amazon or Best Buy.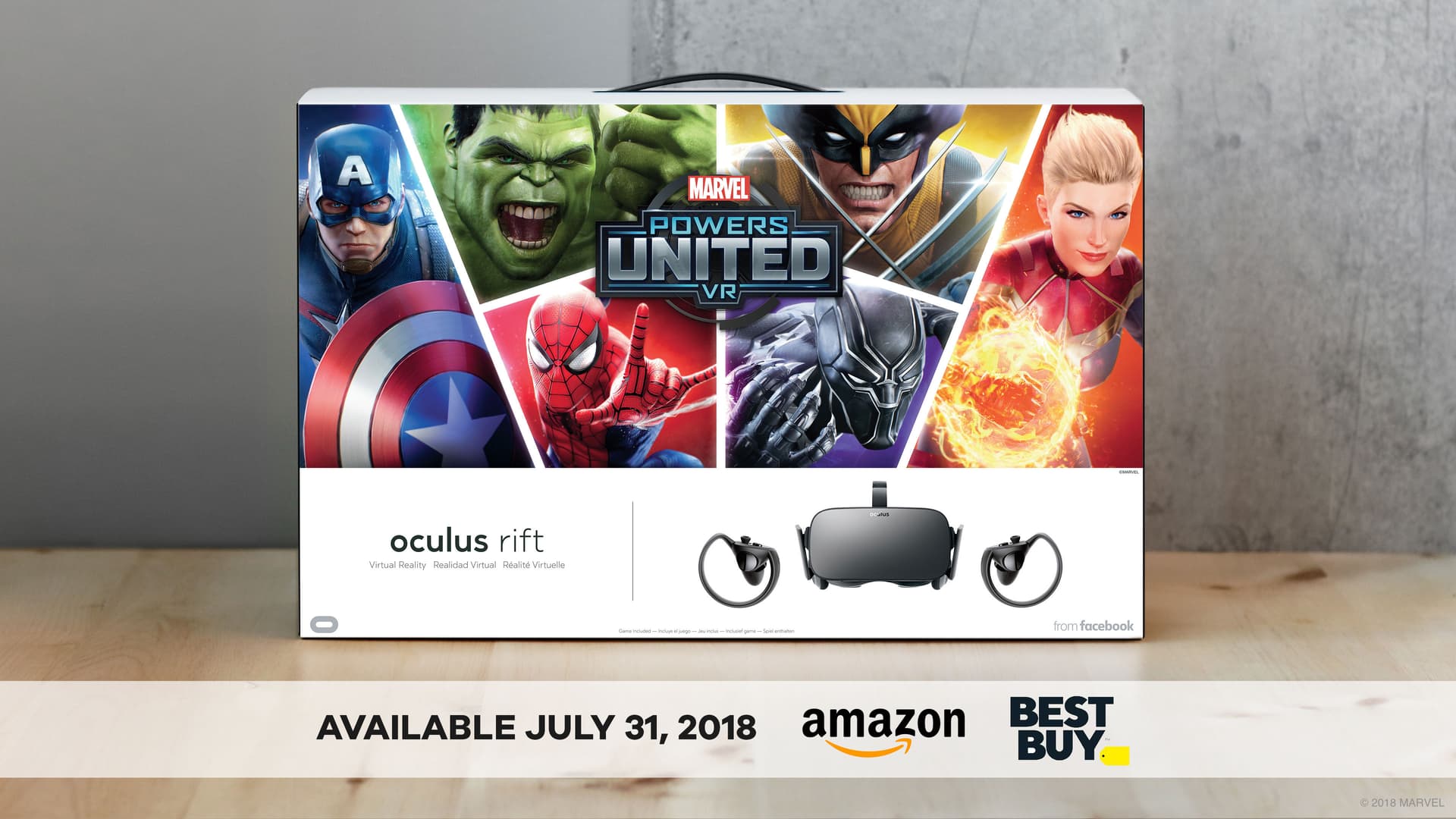 Nexon's director Heeyoung Lee and game designer Pine Sohn gave us a look at the strategic battle card game, Marvel Battle Lines. It was important to Nexon to have the game's look and feel adopt the Marvel comics art style. There are hundreds of characters fans can amass in their card collection as the storyline weaves its way through the gameplay. The game recruited writer Alex Irvine to build and write the story.
Through a hilarious video from a S.T.R.I.K.E. medic, FoxNext's creative director Jason Bender announced the next hero making her way to Marvel Strike Force: Ms. Marvel! Your team can dish out more damage when Kamala Khan jumps into the fray. She can block incoming attacks, rejuvenate, embigggen, and more!
If you're at SDCC, be sure to get your free prequel comic book at the FoxNext booth #2543. Don't miss out on daily tournaments where you can unlock Vision. Win the tournament and snag yourself Black Widow!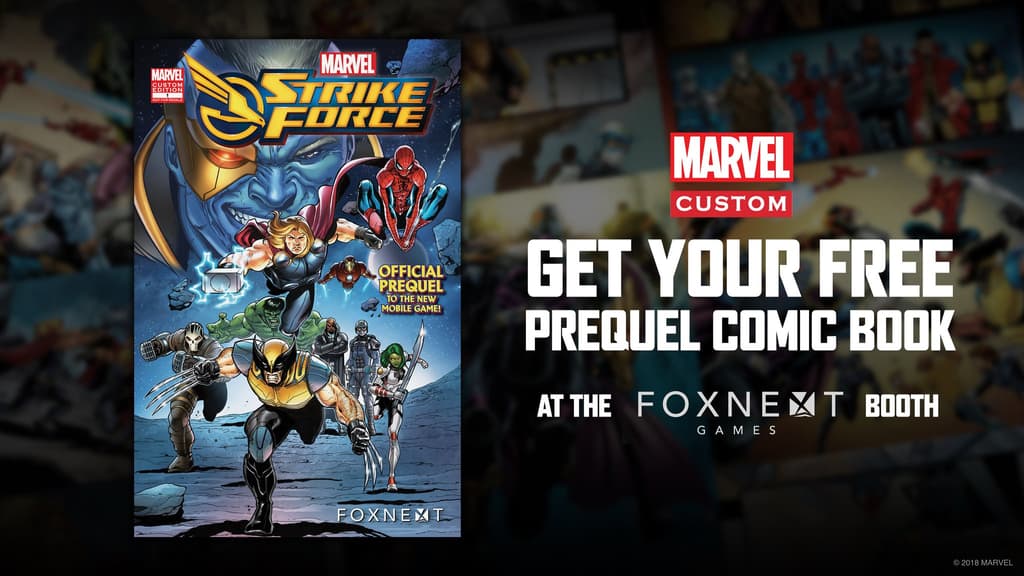 For fans of Marvel Future Fight, a certain Merc with a Mouth will be making his way to the game soon!
The folks at Kabam behind Marvel Contest of Champions weren't able to make the show, but gave us a tease that Red Skull, Heimdall, and Korg will be entering the Battlerealm soon.
Also coming soon, partnering with Titan Books, the Art of Marvel Contest of Champions will be showcasing art and events across the game the last four years. You can pre-order the art book starting on July 23, and it will be available December 10.
Closing out the Hall H panel, the folks behind Marvel's Spider-Man made their way on stage. Joining Insomniac Games' creative director Bryan Intihar was studio art director Jacinda Chew, writer Jon Paquette, and voice actor Yuri Lowenthal, who voices Spider-Man/Peter Parker.
The creative team behind Marvel's Spider-Man shared that the suits Spidey wears are essential to storyline. How will the distinctive white spider come into play? We'll have to wait to get our hands on the game September 7 to find out! We've seen the Spider-Punk suit and the Iron Spider suit, and in an exclusive debut, fans in the Hall got to get a glimpse at the Velocity suit, designed by acclaimed comic book artist and film character designer Adi Granov! See the Velocity suit in action below!
In partnership with Titan Books, we learned there will be the Marvel's Spider-Man prequel novel, written by David Liss, which takes place six months before the game picks up, as well as Marvel's Spider-Man: The Art of the Game. The art book will have a standard edition as well as a limited-edition version, which features never-before-seen concept art.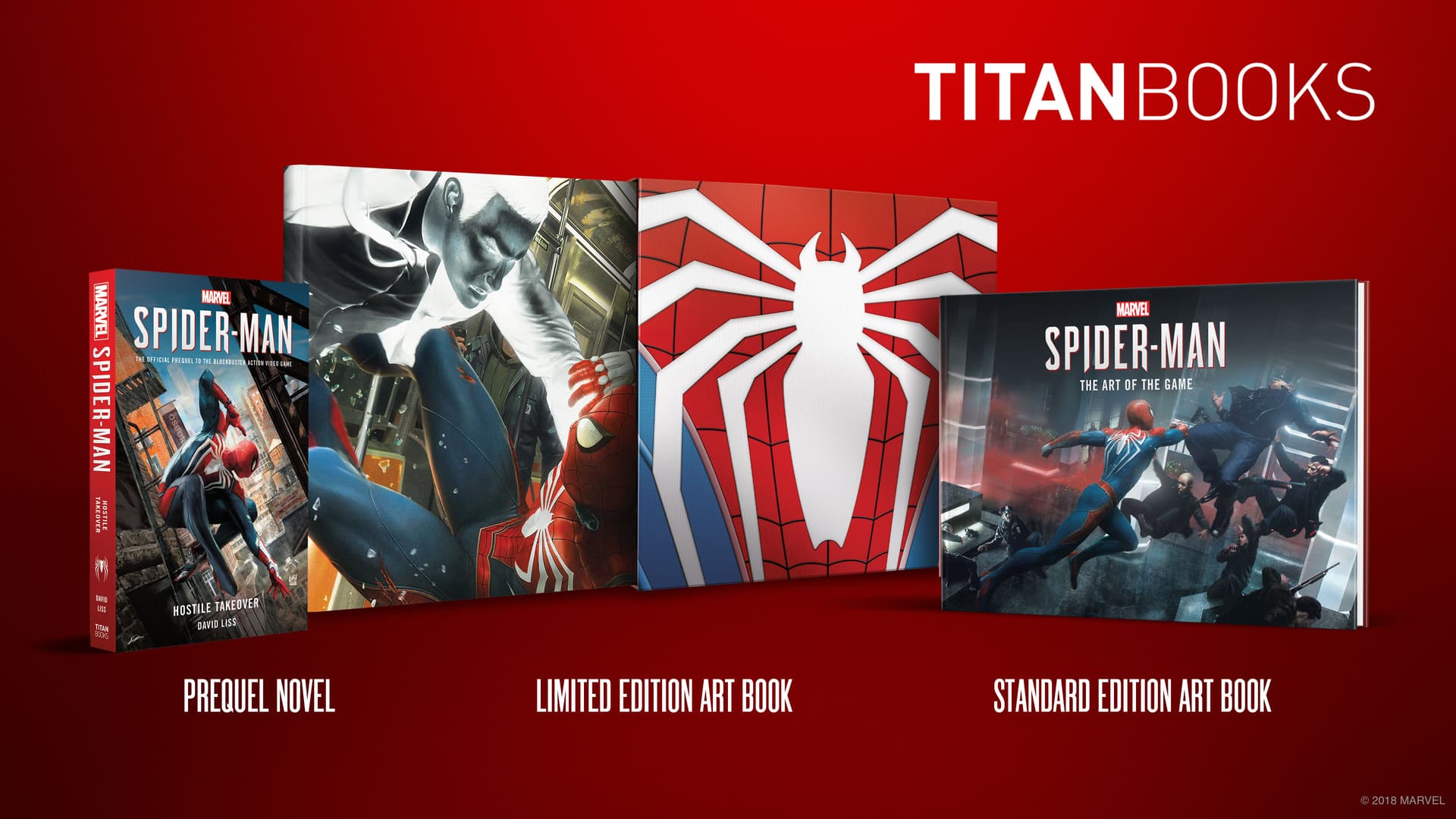 Integral to the storytelling and game play of Marvel's Spider-Man is the music. The folks behind the game announced Mondo will be releasing a soundtrack album with the full score by composer John Paesano, who composed the score for "Marvel's Daredevil" and "Marvel's The Defenders". The team lavished praise for Paesano who was able to perfectly capture the emotional journey Peter goes through in the game.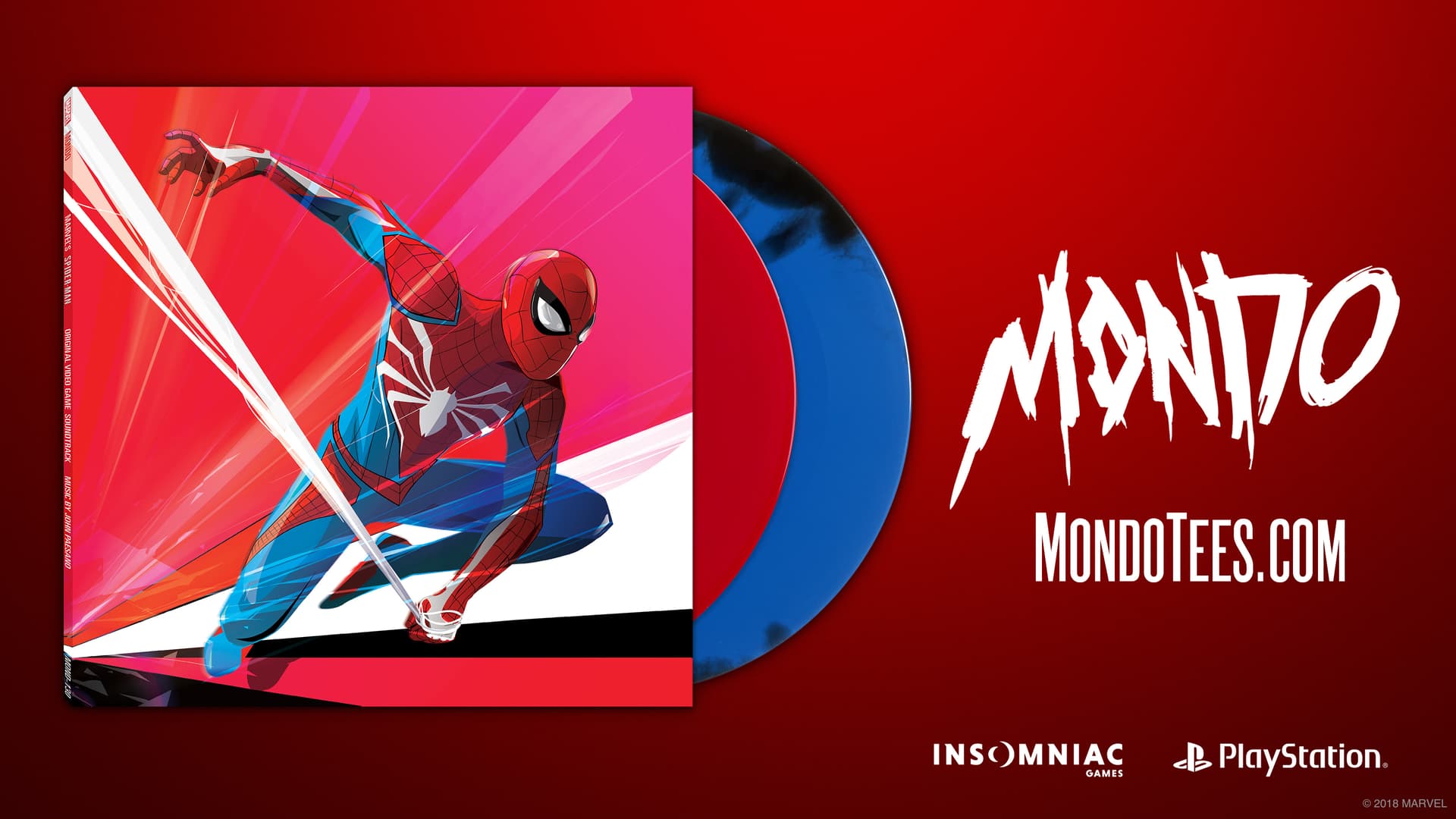 Additionally, if you can't get enough of Marvel's Spider-Man, don't sleep on Hot Toys releases based on the Spider-Punk and Advanced Suit looks. Pre-orders will open up next week via Sideshow. And you can see prototypes up close at booth #1929!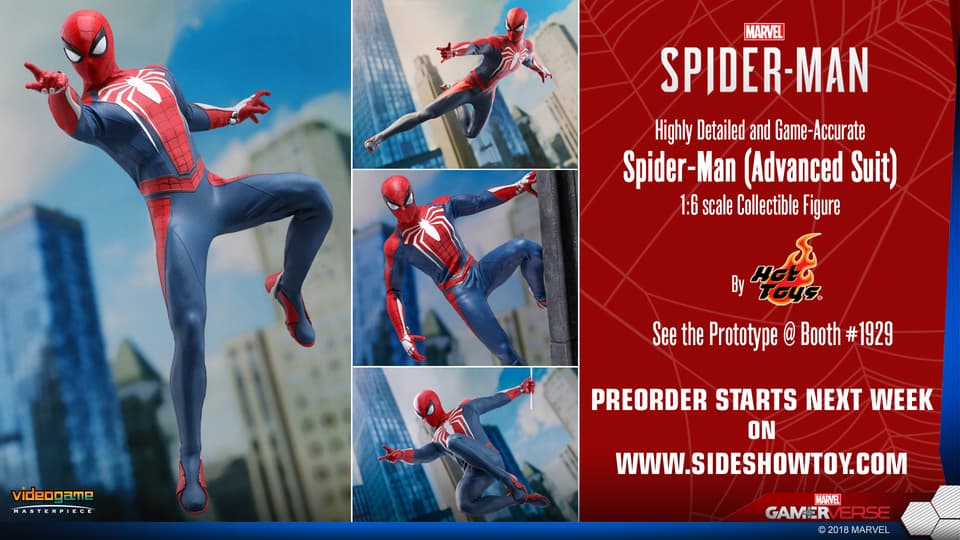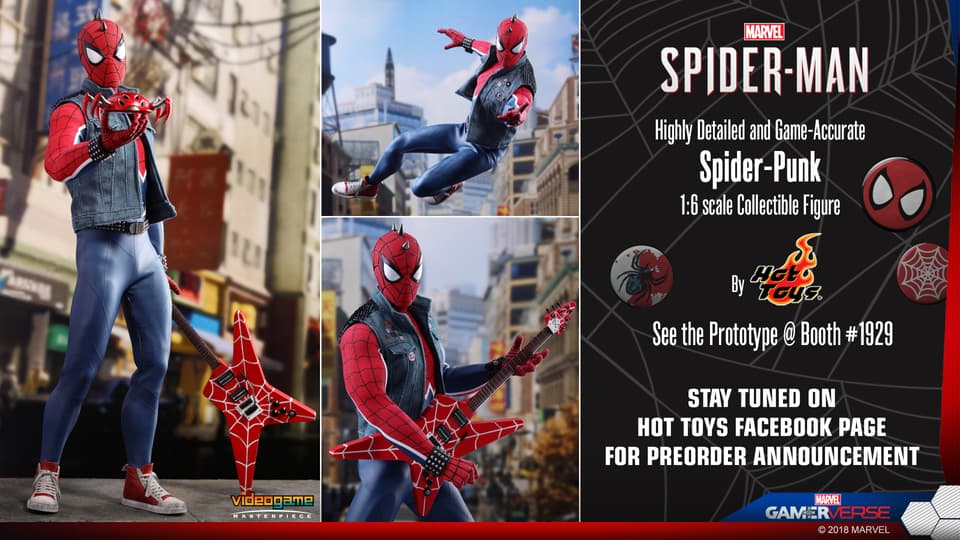 The audience also got a look at four Marvel's Spider-Man-themed Funko pops which feature an unmasked Spidey, Miles Morales, Mary Jane Watson, and Mister Negative!
Lastly, voice actors Steven Oyoung and Nichole Elise made their way on to the stage. As the story trailer played, we got a glimpse at a new character joining the game–Silver Sable, voiced by Elise, whose story will be tied to that of Norman Osborn!
The Hype Box
Can't-miss news and updates from across the Marvel Universe!