Games
Published May 23, 2017
'Marvel Heroes Omega' Launches Open Beta
Play the hit MMO game for PlayStation 4 and learn when it's coming to Xbox One!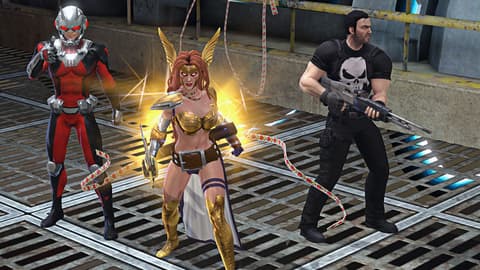 Ready to play some "Marvel Heroes Omega"? Well the gang at Gazillion's opening up the closed beta to everyone with a PS4. Did we mention it's free to play?
We talked with Lead Designer Ben "TheArtofRawr" Gilbert about what the team learned from the closed beta and all the awesome stuff in store for players going forward.
Marvel.com: How'd the "Marvel Heroes Omega" closed beta go? Has the team picked up any cool learnings?
Ben Gilbert: The closed beta was great! It's really exciting to see so many new players enjoying "Marvel Heroes Omega" and couch co-op on PlayStation 4. The response from players, press, and broadcasters on YouTube and Twitch.tv has been quite positive. But we've also been looking closely at critical responses and suggestions from players—as we always do. Feedback continues to be one of the most valuable sources of guidance for us.
There's still so much that we want to improve upon and add to the game over time. However, after a series of major patches during the beta, we're very confident about the current state of the game.
Marvel.com: And now we're into the open beta where anyone can play right? What's changed? What can players expect?
Ben Gilbert: That's correct! Starting today, anyone can download and play "Marvel Heroes Omega" on PlayStation 4 completely free. Players who participated in our Head Start program will have all their progress saved and can resume playing from where they left off.
New players can expect to start off with our Prologue Mission. It's an awesome scenario that finds players leading the Avengers to New York City where Ultron is laying siege to Times Square. It's a great introduction to how our different heroes feel. Players will get a chance to play as Captain America, Black Widow, and The Hulk before diving into the main nine-chapter story campaign.

Marvel.com: For people who aren't aware, how close to the full launch are we? Closed beta, open beta, then what?
Ben Gilbert: We're very close! I wish I could tell you more, but I can say that the game's official launch is coming very soon. Until then, we'll be looking closely at what we can do between now and then to improve the "Marvel Heroes Omega" experience as much as possible with the goal being to update with one last major patch before launch.
Please keep in mind that our upcoming launch is still just the beginning for "Marvel Heroes Omega." Just as we did with "Marvel Heroes" for PC, we're committed to regular updates, improvements, and new content so players can always look forward to something new and exciting!

Marvel.com: For the players that don't want to grind to get their favorite heroes, the Founder's Packs are still on sale right?
Ben Gilbert: That's correct. Players will still be able to purchase our Founder's Packs. There's also a variety of G Bundles, which is our real money currency. Gs can be used for all sorts of things from costumes to consumable boosts that will help speed things along. That being said, we really pride ourselves on not nickel and diming players in "Marvel Heroes Omega." All heroes are free-to-play till level 10 and then there are Eternity Splinters. These are items that have a chance to drop from any enemy in the game and can be used to unlock additional Heroes for free.

Marvel.com: Right now the game's just on PS4. Does the team have any plans to migrate "Omega" to the Xbox One?
Ben Gilbert: You bet! In fact, I'm happy to announce that "Marvel Heroes Omega" will be launching on Xbox One on June 20. We really would have loved to launch on both platforms at the same time, but staggering our releases this way will help us release a higher quality game. At the end of the day, that's more important to us than anything else.

Marvel.com: What are the team's plans moving forward?
Ben Gilbert: We've got an extremely busy year ahead of us! This is just the beginning, and we think players will really enjoy what's in store for them. We're already hard at work on a boatload of new content, features, and Heroes. The future is bright for "Marvel Heroes Omega," and we're excited to embark with our players on this journey together!
Stay tuned to Marvel.com for more "Marvel Heroes Omega" news and interviews!
The Hype Box
Can't-miss news and updates from across the Marvel Universe!