Games
Published June 27, 2017
'Marvel Heroes Omega' Makes Its Way to Xbox One
Join the party and play the hit MMO game for Xbox one today!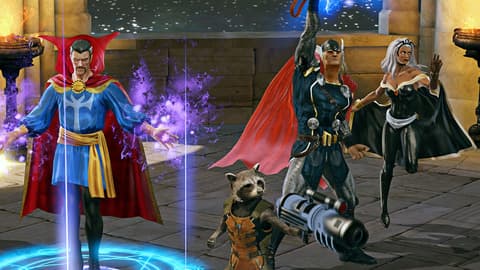 Xbox One players rejoice, "Marvel Heroes Omega" is making its way to your console today! Want to crush baddies as the Hulk? Blast bots into oblivion as Cyclops? The gang at Gazillion has you covered. We talked to Lead Designer Ben Gilbert about "Marvel Heroes'" big move and just what that means for players everywhere.
Marvel.com: The team is opening up a whole new player base to "Marvel Heroes Omega" today, the Xbox One crowd. That's gotta feel great.
Ben Gilbert: Yes, it sure does. The reception to our Closed and Open Beta for Marvel Heroes Omega on PlayStation 4 has been great so far — and we're very excited for Xbox One players to be able to join the party today.
Marvel.com: And while lining up the Xbox release you guys are getting rid of the Beta in "Marvel Heroes Omega" on the PS4? The game is fully functional and ready to rock?
Ben Gilbert: That's absolutely correct. Marvel Heroes Omega transitions out of "Open Beta" starting today! Today's live launch on both PlayStation 4 and Xbox One follows a ton of updates and improvements largely based on player feedback, covering everything from fixes for bugs, improvements to performance, quality of life, and tuning for Heroes and enemies, just to name a few highlights. Both console platforms will benefit from these updates made to Marvel Heroes Omega during the PlayStation 4 Open Beta.
Marvel.com: I can imagine the team got a lot of cool data from the beta. Anything that you can talk about? Number of players? Total hours spent beating up bad guys?
Ben Gilbert: We saw over one million new players take part of our Closed and Open Beta phases for Marvel Heroes Omega and are very happy with the reception we've received so far; 4.5 out of 5 star rating from PlayStation 4 players. However, the best feedback we receive is always the stories from our players.
Marvel.com: Now that we have the game firing on three different platforms what else do we have coming down the pipeline?
Ben Gilbert: That's the great thing about working on a game set in the Marvel Universe. Even with four years worth of content updates to date for the PC version, I still feel like we've barely scratched the surface of what we can still add to the game. There are still so many possibilities when it comes to new playable characters, villains, and stories and settings we've yet to explore. On top of that, the Marvel Universe continues to evolve and expand. Between the new comics, films, television shows, and Netflix originals, I doubt we'll ever run out of material for new content updates on any platform.
In the near-term, PC players can look forward to the introduction of Carnage as a playable Villain along with a thorough update for Venom. It's something the design team has been excited about introducing for a long time. For console players, there's also a lot to look forward to with the introduction of the notorious Black Cat as our next playable Hero. Console players can also expect new playable Heroes and more on a regular basis as we work towards bringing more parity between consoles and PC.
Marvel.com: What goes in to creating new costumes from the MCU? Does the team get design specs early and then get to work?
Ben Gilbert: Yes, we work closely with the good folks at Marvel and often get advanced looks at what's coming up next in the Marvel Universe, mostly in the form of reference materials. I can't speak for everyone, the people here at Gazillion are big Marvel fans, just like our players. So it's a real honor and privilege to be able to check out what's coming to the big screen ahead of time so we can bring it to life in our game. However, that privilege also comes with the responsibility to make sure we get it absolutely right – and I'm really proud to work with a team that shares the enthusiasm and passion for the Marvel Universe needed to do just that.
Marvel.com: Anything else you want to tell players?
Ben Gilbert: If you have a favorite Marvel character or like action-RPGs, I'd encourage everyone to give Marvel Heroes Omega a shot! It's the very first free-to-play Marvel game on consoles and with one of the largest rosters of playable characters, there's a good chance you'll either find them right now in Marvel Heroes Omega or very soon! Players can take on the role of some of the most beloved and iconic founding members of the Avengers, Guardians of the Galaxy, Defenders, X-Men, and so much more. We even have Squirrel Girl!
Stay tuned to Marvel.com for more "Marvel Heroes Omega" news and interviews.
The Hype Box
Can't-miss news and updates from across the Marvel Universe!