Games
Published June 2, 2017
'Marvel Heroes' Turns Four
Mark the anniversary of the hit PC game from Gazillion!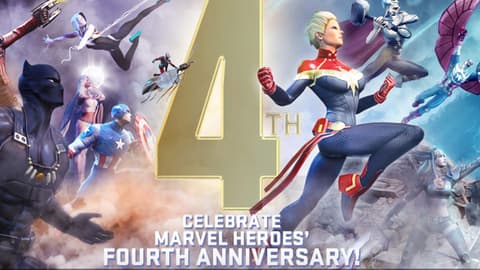 Four years of exceptional "Marvel Heroes" excitement led us here, to the game's latest anniversary! We got Gazillion Lead Designer Ben "TheArtofRawr" Gilbert on the horn to talk about the celebration. What does the team have in store for players? Read on to find out!
Marvel.com: Four years of "Marvel Heroes" is an awesome milestone! Want to take us on a quick trip down memory lane? What are some of the things the team is most proud of over the past four years?
Ben Gilbert: It has been a long and glorious road, and we're so thrilled to have our community to share it with. In my opinion, the big ones are the 62 Heroes strong roster and the first "Raid" in an ARPG.

Marvel.com: And what goodies do you have planned for this anniversary?
Ben Gilbert: We have so many things in store for this month long celebration! We've got special events, tournaments, gear, a new pet, one of our most unique Team-Ups ever, and more! That's really just the tip of the iceberg, so I'd encourage players to check out our 4th Anniversary Event Schedule on our official forums to make sure they don't miss out on anything!
Marvel.com: Can we dig into this cake stuff? It doesn't sound like a lie and I need to hear more!
Ben Gilbert: We are happy to confirm that the cake is not a lie. Throughout the entire month of June, all enemies will have a chance to drop Cake Slices, which can be exchanged at a special Anniversary Event Vendor in Avengers Tower. There's a ton of fantastic items that players can trade in their Cake Slices for. Some of them are just for fun flair, like our Anniversary Balloons Flourish and some will help players build their roster of characters with extra Eternity Splinters.
There's a lot of sweet loot available from our Anniversary Vendor, but I'd encourage players to spend their Cake Slices wisely, keeping an eye on the new Weapon X Unique Catalysts, the brand new S.H.I.E.L.D. Air Support Team-Up, and the new Captain America and Iron Man Cosmic Artifacts.
Marvel.com: Cosmo! The adorable and hyper-intelligent doggy cosmonaut from Guardians of the Galaxy? We get to take him out for a walk—er, float?
Ben Gilbert: It's true! Cosmo is coming soon to "Marvel Heroes 2016" for PC and we're very excited about this new canine companion. And yes, he does indeed float! It's a really fun idle animation that we think fans will enjoy.
The best part: Cosmo will be a free reward for completing a special 4th Anniversary Event mission. Upon logging in, players will learn about a mysterious canine visitor from Knowhere who was kidnapped. They'll be tasked with helping him escape through this brand new mission. Rescue Cosmo and get him as a free reward!
Marvel.com: And while super hero teammates are super cool, who wouldn't want a floating missile silo having their back? How in the world can a S.H.I.E.L.D. Helicarrier help us out in a fight?
Ben Gilbert: The S.H.I.E.L.D. Air Support is definitely one of most unique and unusual Team-Up we've ever shipped. It isn't summoned into battle directly, like most Team-Ups. Instead, players call on the S.H.I.E.L.D. Helicarrier for combat support with air strikes, strafing runs and gigantic missile bombardments. Players can grab this new Team-Up from the Anniversary Event Vendor in Avengers Tower for 100 Cake Slices.
Marvel.com: And that's not it, we have two new tournaments kicking off! Mind filling us in on the details?
Ben Gilbert: We've got a special Anniversary Tournament that'll be running throughout the month with resets every four hours. Players can earn points by completing all kinds of challenges, such as completing Terminals, defeating Patrol Bosses, finishing Legendary missions, and more. Some of our Anniversary Tournament challenges will be easier so everyone can participate, but the highest point rewards will come with our more difficult challenges, such as completing certain scenarios on Cosmic level difficulty.
We've also got a brand new Danger Room Tournament where players will compete for the fastest completion times. It features a new Trainyard tileset and will find players racing to stop the Purifiers from deploying a deadly new Sentinel model. We think players will enjoy the fresh visual updates to the Trainyard and the new look for this Sentinel model.  Plus, there are two brand new Medallions and two new Artifacts as rewards for defeating the boss in this scenario.

Marvel.com: All in all four years is an awesome accomplishment. Anything you want to say to the players out there?
Ben Gilbert: I'd like to thank everyone for playing "Marvel Heroes 2016" over the years. We're always checking out our forums, Twitter, and Facebook—and I can't say it enough. Thank you for all the feedback, questions, suggestions, and especially for the critiques. We read it all and are always looking at how we can make "Marvel Heroes" even better.
This month long celebration was something we wanted to do specifically for our PC audience, who has been playing alongside us from the very beginning! But even though we've come so far since our initial launch, there's still a long and bright road ahead for "Marvel Heroes." The Marvel Universe is so rich and diverse—and there are still so many more new Heroes, Villains, and ideas we'd like to explore. Here's to many more years of "Marvel Heroes"!
Stay tuned to Marvel.com for more "Marvel Heroes 2016" news and interviews.
The Hype Box
Can't-miss news and updates from across the Marvel Universe!