Games
Published December 29, 2022
Piecing Together MARVEL Puzzle Quest: Abomination (Emil Blonsky)
Abomination (Emil Blonsky) brings his brains and his brawn to MARVEL Puzzle Quest!
When he was transformed into the Abomination by the same process that turned Bruce Banner into the Hulk, Emil Blonsky got to keep his brains in addition to the brawn. Deemed "the Abomination" by Thunderbolt Ross, Blonsky is fully in control of his super-powered persona even in Hulked-out form. As a result, he can easily overpower the Hulk (unless the Jade Giant gets truly angry, of course).
With all the power and none of the responsibility, Blonsky sees his new strength as a way to achieve goals he could only dream of before—and if being part of the Thunderbolts program also keeps him off various world government's capture-on-sight lists, he'll seize that opportunity, too.
Abomination (Emil Blonsky) is the latest to join the ranks of MARVEL Puzzle Quest!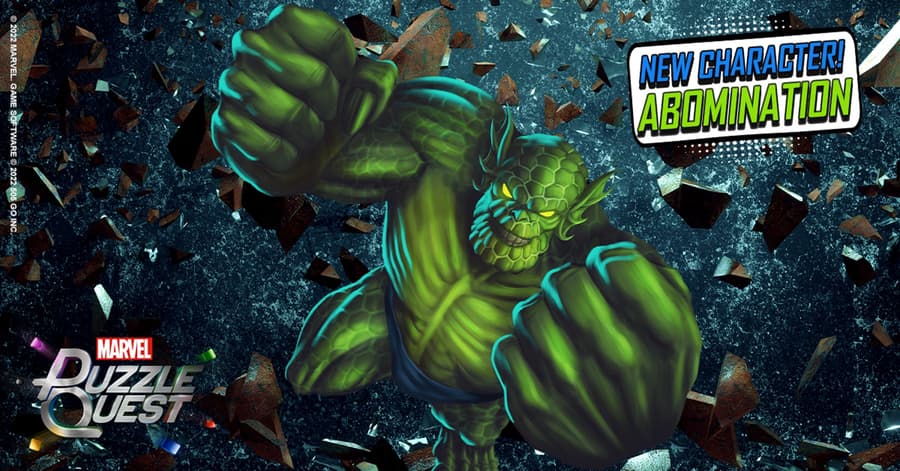 A 4-Star Rarity character with Affiliations Villains, Mercenaries, Thunderbolts, Gamma Mutates, and Enhanced, Abomination (Emil Blonsky) has a toolkit that includes Gamma Toxins, Return on Collateral, and The Direct Approach.
(PASSIVE) Eking Gamma Toxins, Abomination exudes toxic gamma radiation, causing weakness in his enemies. This reduces enemy match damage by 20% and enemy ability damage by 30%, reducing Gamma Mutates' match damage by an additional 30%. Abomination takes advantage of this weakness, dealing 50% match damage to Gamma Mutates.
Using Return on Collateral, Abomination creates collateral damage, creating new tactical opportunities amongst the rubble. For up to 5 random basic Green tile(s), destroy the surrounding tiles. Destroyed tiles deal 75% of Abomination's base match damage to the enemy team, but do not gain AP. For each Red, Strike, Attack, or Protect tile destroyed, Abomination gains a Return Point (up to 8).
(PASSIVE) If Abomination is downed at the start of his next turn, he heals 6% health for each Return Point he has, using all Return Points.
Abomination is not stealthy. He prefers bringing the fight straight to the enemy with The Direct Approach. This deals 4352 damage to the target and creates a 4-turn Countdown tile that causes his match damage to also deal 625 damage to all other characters.
(PASSIVE) Abomination trusts in his strength and healing to keep going. Each time he takes more than 8% of his max health damage at once, he gains 1 Return Point(s). Return on Collateral's passive is also always unlocked.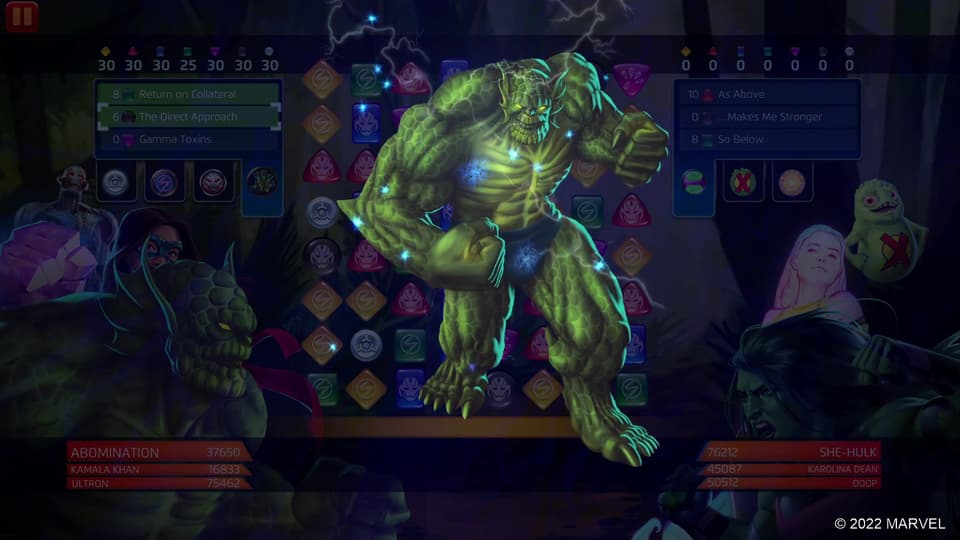 Release Schedule
All times in Pacific
Release Events
Story
Operation Spider Silk – 12/29 - 1/2
Abomination (Emil Blonsky) Covers and Shards in Progression rewards
Event Tokens in Placement rewards
Welcome to S.H.I.E.L.D. – 1/1 - 1/6
Abomination (Emil Blonsky) Shards + Recruit Token for Shield Offer in Progression rewards
Strange Sights – 1/5 - 1/8
Abomination (Emil Blonsky) Covers and Shards + Vault Token in Progression rewards
Versus
Lethal Intent – 12/29 - 1/2
Abomination (Emil Blonsky) Cover and Shards as Placement rewards
Feeling Green – 1/1 - 1/4
Abomination (Emil Blonsky) Covers and Shards + Recruit Token for Shield Offer in Progression rewards
Offers
Abomination & Friends Vault – 1/1 - 1/6
80 Item Vault:
3x 4-Stars

1x Abomination (Emil Blonsky) cover
1x The Hulk (Totally Awesome) cover
1x Random 4-Star cover

7x Tokens

1x Legendary token
1x Mighty Token
2x Heroic Tokens
3x Beginner Support tokens

6x Iso-8

1x 5,000 Iso-8
2x 2,500 Iso-8
3x 1,000 Iso-8

15x 3-Stars

3x The Hulk (Indestructible) cover
12x Random 3-Star covers

49x 2-Stars

10x Wolverine (Astonishing X-Men) cover
39x Random 2-Star covers
Pick up MARVEL Puzzle Quest here. Stay tuned to Marvel.com for Marvel Games news and interviews and follow Marvel Games on Twitter for more!
The Hype Box
Can't-miss news and updates from across the Marvel Universe!