Games
Published May 5, 2022
Piecing Together MARVEL Puzzle Quest: Gargantos (Multiverse of Madness)
Gargantos has unleashed his unknowable horror on MARVEL Puzzle Quest!
Gargantos has escaped a world outside our understanding⁠—and he's on his way to terrorize the Marvel Universe. Are Doctor Strange and the rest of Marvel's Super Heroes up to the challenge of stopping this tentacled monster from beyond, or will they also fall before his unknowable horror? There's only one way to find out!
Gargantos (Multiverse of Madness) is the latest to join the ranks of MARVEL Puzzle Quest!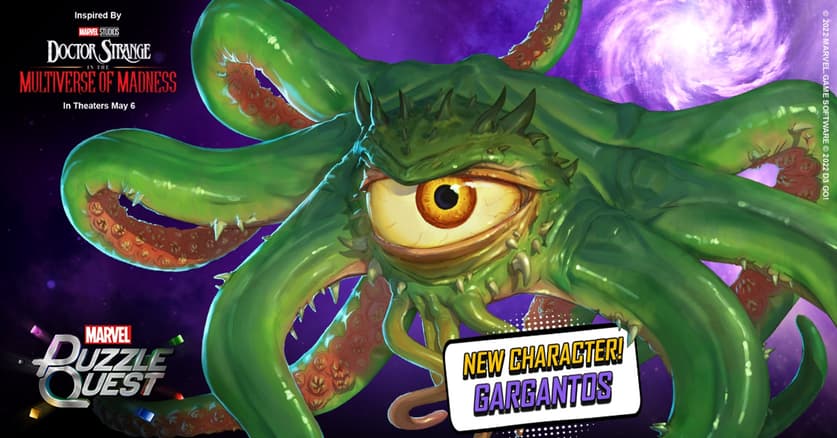 A 5-Star Rarity character with Affiliation Villains, Gargantos has a toolkit that includes Tentacle Thrash, Tentacle Teeth, and Ineffable Horror.
With Tentacle Thrash (PASSIVE), Gargantos flails his great arms, wreaking havoc on everything around him. At the start of the turn, if one does not exist, create a 1-turn Countdown tile that destroys 1 enemy AP in its color and recreates itself on an adjacent tile. If the enemy has no AP in that color, it deals 664 permanent damage instead. If Gargantos is Invisible at the start of the turn, create an extra Tentacle Thrash tile (up to 3 max).
Gargantos uses Tentacle Teeth to grab and crush his enemies with his tentacle arms. Reduce the strength of 1 enemy Strike, Protect and Attack tile(s) by 44, plus 44 for each Tentacle Thrash tile on the board. Then for each enemy Strike, Protect, and Attack tile below 44 strength, destroy that tile and deal 975 permanent damage.
It takes a strong will to comprehend Gargantos' true nature. Use Ineffable Horror to completely drain the friendly team's Blue AP, dealing 337 damage per AP drained. Gargantos also goes Invisible for 2 turns. While Invisible, Gargantos' matches deal permanent damage.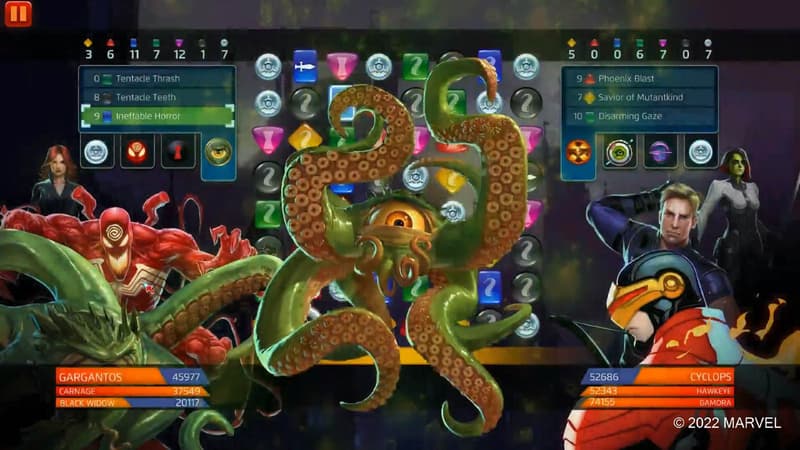 Release Schedule
All times in Eastern
Store Offerings
Unfathomable Gargantos Cover Store – 5/5 – 5/9
Chance to get Gargantos (Multiverse of Madness). Increased chances in 10x and 40x pulls
Multiverse of Madness Limited Vault 5/12 – 5/17
40 Items

1x Up In Arms Legendary Store Token
1x 4-Star Rhino (Classic) cover
3x Random 3-Star covers
6x Heroic tokens
4x 2500 Iso
6x 1000 Iso
5x 500 Iso
14x Two stars
Up In Arms Legendary Store 5/12 – 5/17
15% chance to get Gargantos (Multiverse of Madness), Spider-Man (Peter Parker), Star Lord (Awesome Mix Vol. 2)
Additional Tokens can be purchased for 25 Command Points
Release Debut:
Strange Sights 5/5 – 5/9
Gargantos (Multiverse of Madness) in placement rewards
Featured Event:
Operation Spider Silk 5/8 – 5/13
Gargantos (Multiverse of Madness) in progression rewards
Versus Tournaments:
Red Shift 5/5 – 5/9
Gargantos (Multiverse of Madness) shards as a placement reward
Feast Your Eye 5/8 – 5/11
Rewards tokens to the Unfathomable Gargantos cover store
Pick up MARVEL Puzzle Quest here. Stay tuned to Marvel.com for Marvel Games news and interviews and follow Marvel Games on Twitter for more!
The Hype Box
Can't-miss news and updates from across the Marvel Universe!