Games
Published April 6, 2018
'Marvel Puzzle Quest' Will Debut New Supports Feature to Game
Try out the new feature beginning April 10!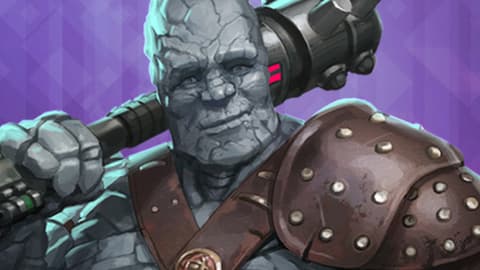 Want more firepower for your favorite "Marvel Puzzle Quest" crew? Then you'll love their newest feature: Supports! An awesome new addition to "Marvel Puzzle Quest," players can equip these items and get nice little bonuses to help bring the pain.
We talked to D3 Go! Senior Producer Josh Austin about Supports everything they bring to the "MPQ" experience. 
Marvel.com: I'm super geeked about Supports. What do we need to know about them?
Josh Austin: Supports are places, people, vehicles, gear–anything that helps make a Marvel hero or villain who they are. They're collectible, durable items that you equip to your 3, 4, and 5-star characters. They get stronger as their rank and level increase. I also want to note an all-new resource called Red Iso-8 that is used to level-up Supports. Red Iso-8 is earned through event rewards, special offers, and when receiving additional Supports that you already own.
Marvel.com: So we can equip our favorite champs with cool items that make them stronger in battle? 
Josh Austin: Correct. Each Support works with families of characters. So finding Korg, the player can attach the Korg Support to any Thor family character to get bonuses to health, extra chances to gain additional AP at match start, deal more damage and even a bonus for attaching Korg to Thor (Gladiator), which will create a Yellow Protect Tile whenever Thor (Gladiator) fires a power. There is going to be a lot of fun ways that players can connect Supports with their favorite Marvel characters.
Marvel.com: Dude sign me up! How many are we thinking that will be released to players at the start?
Josh Austin: The initial launch will include 14, the feature is new and is currently the most we plan to release at one time, unless we feel like going crazy at some point in the future. The first batch is rolling out with a group of various Marvel families followed by an "Infinity War" theme that we look forward to share more about in a couple of weeks. We have so many batches already planned and in various stages of completion, it's not going to be a try a few and it may go away, we have strong plans for it and can't wait to see what the players do and/or achieve with these Supports!
Marvel.com: Do you have any favorites?
Josh Austin: My favorite Support in the first wave is the Quinjet. It creates strike tiles, deals extra damage to those pesky Dark Avengers, increases character's maximum health and deals more damage for Green and Red matches. The icing on this one is it's one of the few that supports the affiliated team, which means powers fired by supported characters deal extra damage for each active Avenger on the team. This helps a couple of my favorites Grey Suit Black Widow, Captain Marvel (Carol Danvers) become even more powerful and I can swap out the third Avenger slot depending on the fight.
Marvel.com: And what kind of synergies do they promote? What kind of playstyles/heroes will see the most obvious benefits?
Josh Austin: There aren't too many yet that promote a synergy in the form of an affiliation, but there are plenty of synergies that can be gained depending on the players favorite characters. For example, there are a lot of Supports that have one perk that allows the player to gain extra AP in a color, for example, Quad Blasters grant an extra bonus chance of collecting Green AP when supported characters fire a power. This can be super handy for getting AP for those high-cost powers.
Marvel.com: And will the team be iterating on new Supports alongside new characters?
Josh Austin: Yes and no, we have so many groups of Marvel characters in the game already that we will have enough to do for a while with Supports.  I can say that they will match character releases a lot, but don't want to say we are only locking into this as a plan.
Marvel.com: When is all this stuff rolling out to players?
Josh Austin: Supports are going live on Tuesday, April 10. Red Iso-8 will be rewarded in events following the build going live.
Try out Supports soon here and stay tuned to Marvel.com for more "Marvel Puzzle Quest" news and interviews.
The Hype Box
Can't-miss news and updates from across the Marvel Universe!