Games
Published May 4, 2021
It's Time to Join the Asgardian Republic in 'MARVEL Realm of Champions'
Are you worthy? The v3.0 release is now live!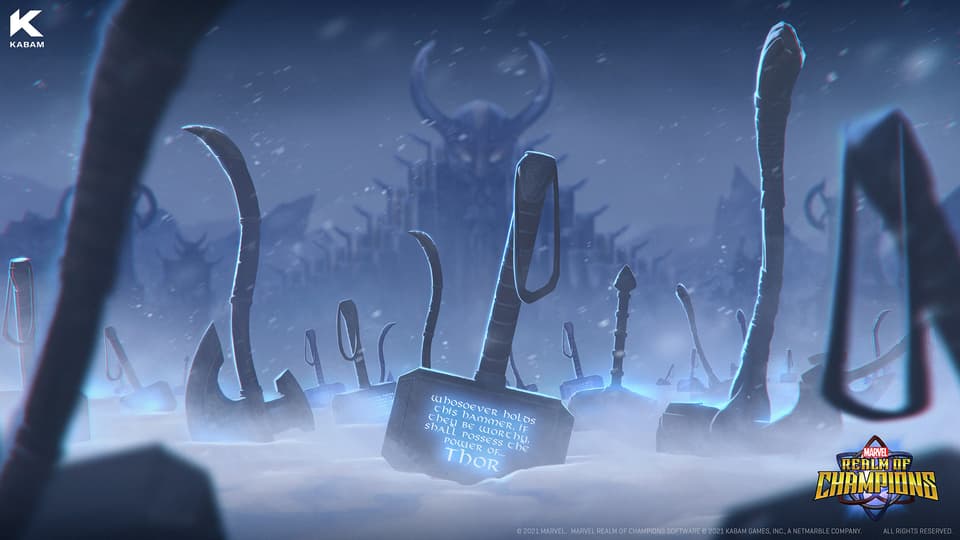 Whosoever holds this hammer, if They be Worthy, shall possess the power of...THOR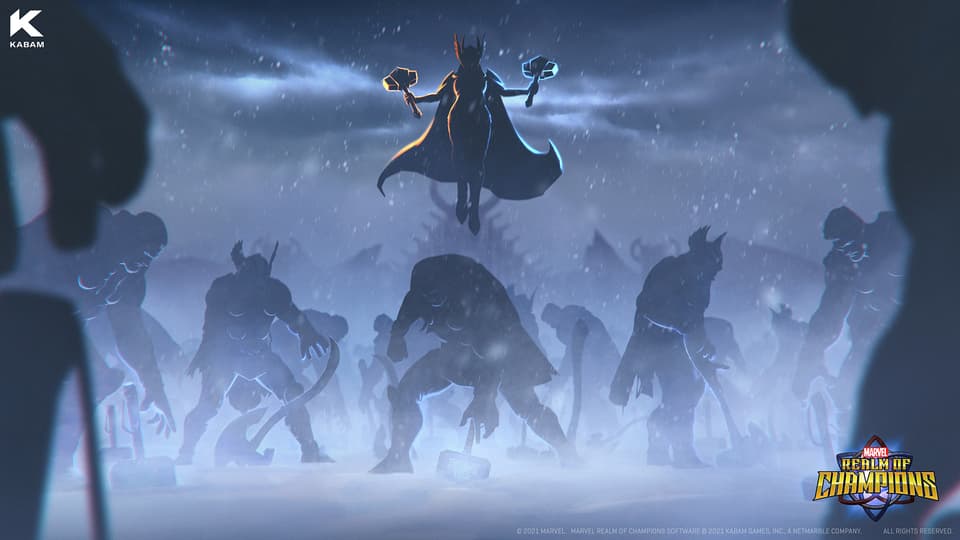 Summoners, we're thrilled to share the news of the MARVEL Realm of Chamions v3.0 update! Interested in joining the Asgardian Republic? Are you worthy?
This mighty v3.0 update includes the following:
•    New Champion: Thor
•    New World Quest: Black Mirror
•    New World Quest Experience: Showdown
•    Seasons — MROC's Most Competitive Mode
•    New PVE Game Mode: Pinnacle Quests
•    Summoner's Journey

By the might of the All-Father, let's dive into this godly amount of updates!
New Champion: Thor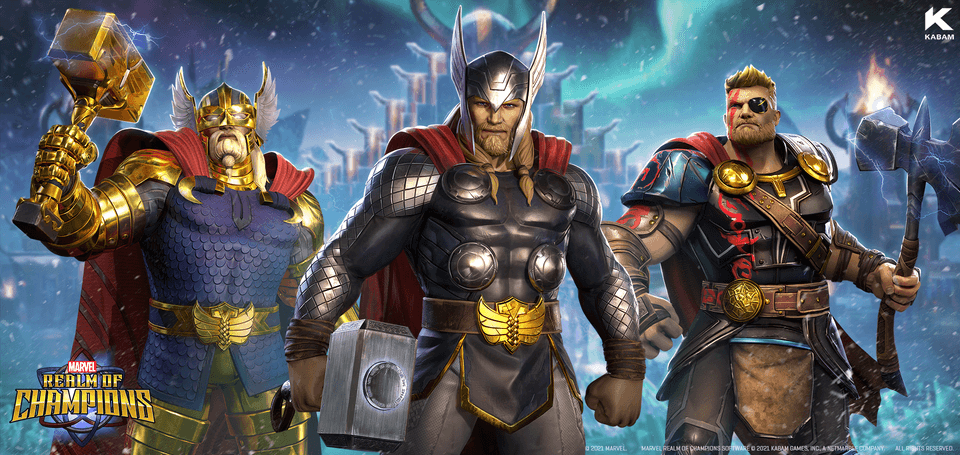 Thor, a warrior born and raised in combat – one who seeks to represent the glory of Asgard and its Nine Realms. As part of the mightiest society on Battleworld and forged into a weapon to deal out justice and achieve glory – Thor will stand above and act as a guard for all.
War Thor has called forth her Champion to fight for justice in Battleworld. Thor brings with him two new weapons, Mjolnir and Stormbreaker.
Mjolnir (Role: Tank) transforms Thor into an engage-focused front-line bruiser designed to initiate and disrupt team fights, sparking your teammates to follow up for tons of damage. With Hammer Throw, Thor throws his hammer and calls it back to him, dealing Crushing Damage each way. It also enables Thor to mitigate direct damage by applying Weakness to enemies and generating Armor Up buffs for himself. The first Special is God of Thunder where Thor calls down lightning, gaining a Lightning Armor Buff, dealing immediate Shock Damage around him and periodically striking a nearby enemy for the duration, each strike inflicting a Weakness Debuff. Thor leaps up into the sky, charging lightning around his hammer, with Special 3 Wrath of Odinson. Upon releasing the charge, he lands in a target area, dealing Shock Damage to all enemies. The damage is increased based on charge duration.
With the power of Stormbreaker (Role: Attack), Thor becomes a high-damage dealing attacker. Thor leaps towards his target, dealing Slashing Damage, with Volstagg's Slam. While Thunderstruck, the attack is empowered, leaping farther and dealing additional Shock Damage in a cone in front of him. Stormbreaker enables Thor to deal consistent cleave damage with his Special 1 God of Thunder and Special 2 Lightning Whirlwind. With Special 3 Titan Killer, Stormbreaker can instantly execute enemies sitting on low health, enabling Thor to engage and end fights quickly.
Interested in the full breakdown of Thor's weapons, gear, abilities, and synergies? Head over here! Additionally, Realm of Champions has provided two helpful guides: How to Play with Mjolnir as well as How to Play with Stormbreaker.
NEW WORLD QUEST: BLACK MIRROR
An Alliance of Houses has discovered that a dangerous weapon from the Isles of Agamotto has fallen into the hands of Skaar, Warlord of the Gamma Horde. They must band together to reclaim it from his grip before he learns how to use it properly. Meanwhile, Skaar sends a trusted lieutenant to deal with the onslaught of Champions from this alliance, and a new Adaptoid mutation begins to emerge, with explosive results.
NEW WORLD QUEST EXPERIENCE: SHOWDOWN
Showdown is a new 3v1 co-op PvE Game Mode that pits you and two allies against Skaar, Baron of the Gamma Horde. This powerful giant packs a punch, so come prepared! Showdown will be available at select times throughout the event's duration, so keep an eye out for your chance to fight the mighty Skaar!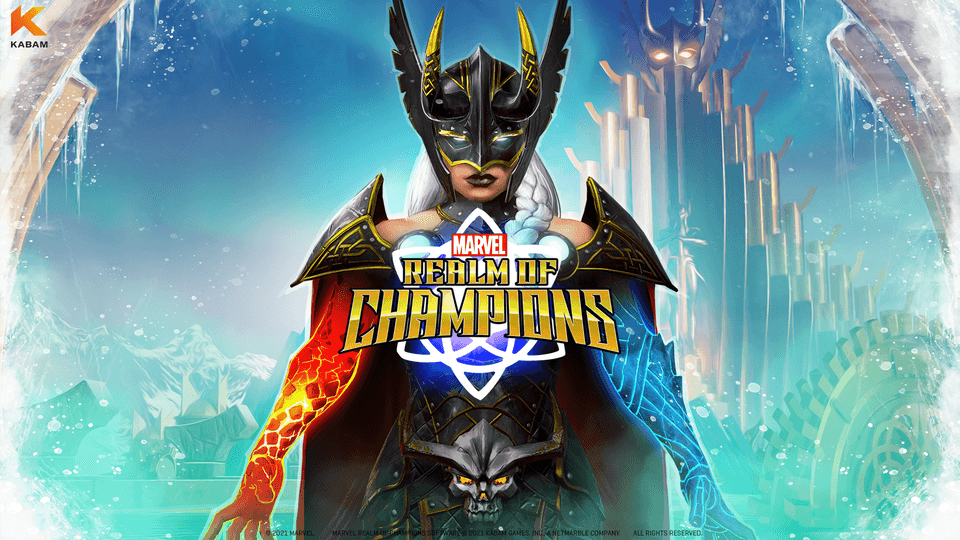 SEASONS
Become a legend and earn great rewards with our most competitive mode yet — Introducing Seasons!
Seasons are a brand new feature that promises to be the most competitive component of Marvel Realm of Champions. Seasons open up a brand new bracket for matchmaking that allows players that have reached the top of the highest bracket to duke it out for glory and highly coveted ranked rewards.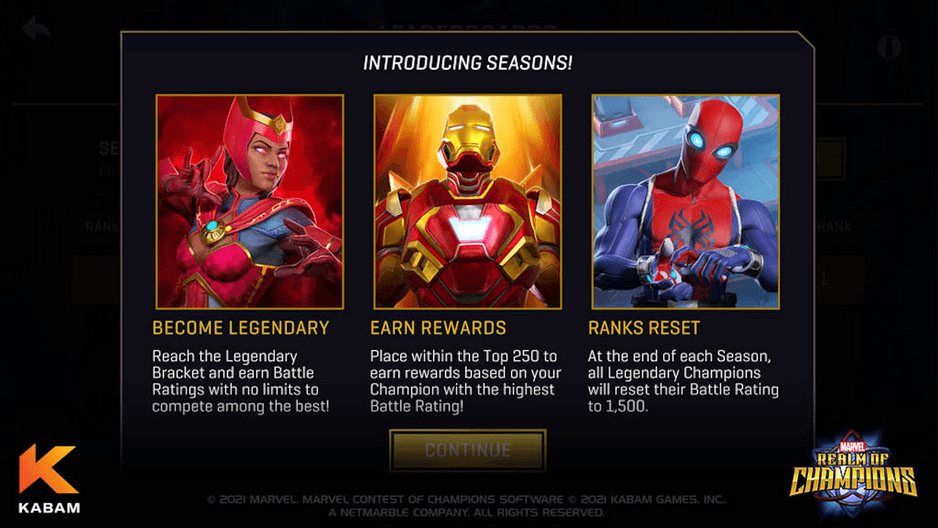 Later this month/early next month, Seasons will allow the competitive Summoners to flex their muscles and fight for supremacy! Increase your Champion's Battle Rating beyond the limit to compete for valuable rewards! At the end of the Season, your Legendary Rating resets before the next Season begins!
The Legendary Bracket begins once you have achieved the maximum possible Battle Rating. Starting with v3.0 that becomes the new Avenger bracket, which will span from 1250 – 1500 BR. Once you've hit the end of the highest bracket, you can transcend that number for your Seasonal Legendary rating. Legendary Rating is a new bracket within Arena Conquest's ranked progression that unlocks your Battle Rating cap, allowing you to earn Battle Rating past the max Battle Rating during the season. The more you win the higher your battle rating will go propelling you up the seasonal leaderboard. 
Seasons run for two weeks at a time. At the end of the Season, the top 250 Summoners on the ladder will earn valuable rewards before having their Battle Rating reset to their original Battle Rating in preparation for the next Season. 
Your Legendary Rating will be based on the Battle Rating of your highest rated Champion of the Season, so choose wisely who you want to take to the pinnacle of the leaderboard.
Seasons are ruthless competitive gauntlets and yield some of the best rewards in the game for the top Summoners on the Leaderboard. Realm of Champions inaugural season kicks off on May 24, so take this time to climb the ranks of the Avenger Bracket and prepare yourself for the challenge ahead. Good Luck and have fun grinding the new Battle Rating Tier on the road to Seasons glory!
NEW PVE GAME MODE: PINNACLE QUESTS
Stronghold is dead; long live Pinnacle Quests. 
The Asgardians have come to play! With the arrival of the WAR THOR and her Thors, she has seen fit to create a crucible for those who believe themselves worthy. Take on missions of increasing difficulty for each of your Champions, and face off against War Thor's chosen warriors to prove your strength and claim rare prizes from Odin's Vault! This new Game Mode will replace Stronghold.
SUMMONER'S JOURNEY
Summoner's Journey is a brand new form of solo progression. Play the game however you like; it all contributes to your Summoner's Journey level. Each step of this journey you complete unlocks new rewards and custom comics that reveal more about the history of Battleworld and the mystery of who killed Maestro. Learn more about Summoner's Journey here!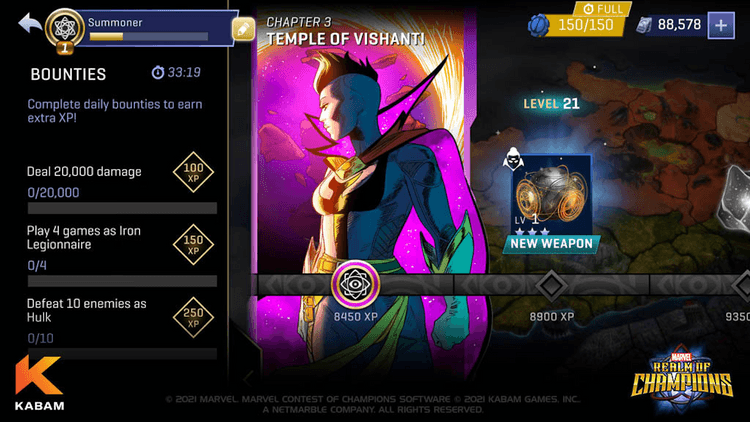 To learn more about the full v3.0 update including Updates and Quality of Life Changes, Balance Changes, Bug Fixes and Improvements, and more, head over here!
MARVEL Realm of Champions is now available as a free download (with in-app purchases) on the App Store and Google Play. For more information on MARVEL Realm of Champions, including updates on future patches, content, and in-game enhancements, please visit the official site or follow the official Facebook page and Twitter page.
The Hype Box
Can't-miss news and updates from across the Marvel Universe!