Games
Published October 3, 2019
'Marvel's Avengers' Character Outfit Spotlight: Thor
Plus, get a look at the alternate King Thor outfit!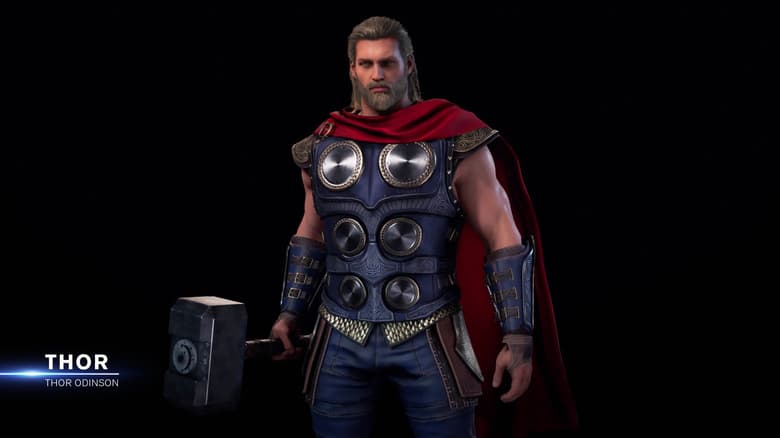 Thor, the Asgardian Mighty God of Thunder, made his first appearance in JOURNEY INTO MYSTERY #83, from Jack Kirby, Stan Lee, and Larry Lieber.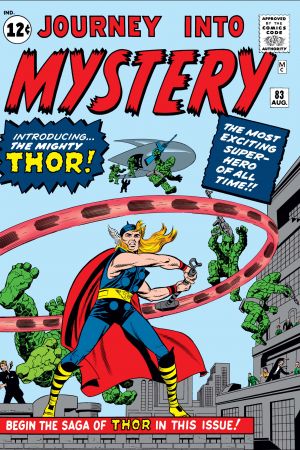 Thor's original look included a regal red cape, circular chest installation, and enchanted hammer, Mjolnir. Thor's appearance in Marvel's Avengers combines fresh and familiar elements from his original design, including Crystal Dynamic's take on the legendary hammer.
"Thor's outfit is crafted in Asgard, and is inspired by classic Marvel designs, but also has a lot of details referenced from Norse history," shared Tore Blystad, Crystal Dynamics' game director. "His chest piece incorporates a classic 'Thor's Hammer' iconography , and many of the patterns and engravings are Norse. His hammer, Mjolnir has Norse inscriptions on the top, and its pommel in inset with goat's fur, a nod to the mythology where Thor's chariot is pulled across the sky by two goats. His cape design wraps around his neck and body armor, fastened by a brooch designed after Odin's ravens."
In Marvel's Avengers, Thor is taught a similar lesson after the events of A-Day when he witnesses Captain America go down with the Chimera helicarrier. He leaves Mjolnir at Cap's statue due to feeling unworthy of it.
ALTERNATE OUTFIT: KING THOR
Bask in glory with one of Thor's unlockable outfits - Lord of Asgard, inspired by the comic of the same name published in 2011. In THOR: LORD OF ASGARD, the God of Thunder himself becomes lord and master of the Realm Eternal following Odin's heroic sacrifice.
Drawing from over 80 years of Marvel history, Marvel's Avengers will include a wide array of iconic outfits from Marvel lore, as well as all-new designs. Some outfits can be earned and unlocked in-game, and others will be purchasable in the marketplace. Outfits are purely cosmetic, and don't impact gameplay, meaning you can wear any outfit at any time.
From Marvel Games, Square Enix, and Crystal Dynamics, Marvel's Avengers is an original, story-driven, third-person action-adventure game, the definitive Avengers gaming experience will allow you to rebuild and reassemble Earth's Mightiest Heroes. It features a cinematic single-player campaign with Hero Missions and co-op Warzone missions. Assemble a roster of Avengers, customize them to harness their unique powers, and go online in four-player co-op Warzones to defend Earth from escalating threats. Marvel's Avengers will release simultaneously for the PlayStation®4 computer entertainment system, the Xbox One family of devices including Xbox One X, Stadia, and PC.
Reassemble and Embrace Your Powers on May 15, 2020! Play the Beta first on PS4. Pre-Order for Beta Access!
The Hype Box
Can't-miss news and updates from across the Marvel Universe!