Games
Published September 14, 2017
National Video Game Week Countdown: Day Three
A classic Spider-Man game offers four times the wall-crawling action!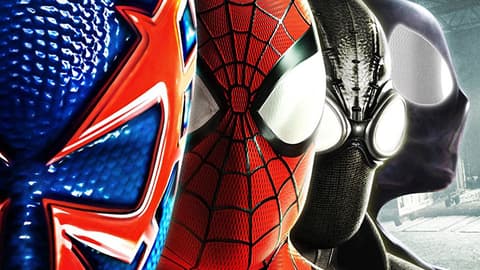 Welcome to National Video Game Week here at Marvel.com! To celebrate the occasion, we're taking a look at the gaming history of our very own friendly neighborhood Spider-Man. And who better to swing with us through the annals of Spidey-game history than the dev team at Insomniac Games? This stellar group—hard at work bringing the Wall-Crawler to life on PlayStation 4— have run the gamut of web-slinging video game action over the years, from arcade cabinets right up to the PlayStation 3.
Each day, we'll bring you the thoughts of someone new at Insomniac, so check back to hear more about all of these spectacular, amazing versions of Spider-Man!
From Insomniac HQ we bring Bryan Intihar – Creative Director of "Marvel's Spider-Man"! He takes us back to the long-forgotten days of 2010 and the release of "Spider-Man: Shattered Dimensions."
"Four different Spider-Man experiences for the price of one?" posits Intihar. "'Spider-Man: Shattered Dimensions' is definitely one of my favorite videogames featuring Marvel's famous wall-crawler. Each universe not only had its own distinct art style, but each also offered a great unique gameplay twist. Which one was my favorite? Well, while it's hard to beat Ultimate's powerful symbiote abilities, I'd have to say the stealthy gameplay of the Noir universe came out on top. Oh, one more thing about 'Shattered Dimensions': it's worth playing just for the anthropomorphic cameo during the end credits!"
Tomorrow it's back to the past for another classic Spidey gaming experience!
The Hype Box
Can't-miss news and updates from across the Marvel Universe!