Games
Published September 13, 2017
National Video Game Week Countdown: Day Two
Hit the arcade for another retro take on Spider-Man with Insomniac!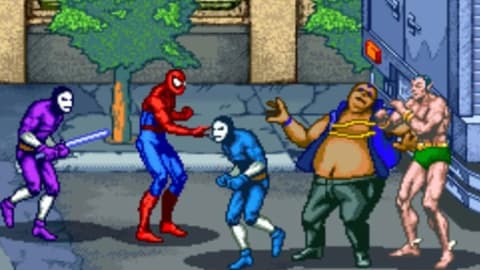 Welcome to National Video Game Week here at Marvel.com! To celebrate the occasion, we're taking a look at the gaming history of our very own friendly neighborhood Spider-Man. And who better to swing with us through the annals of Spidey-game history than the dev team at Insomniac Games? This stellar group—hard at work bringing the Wall-Crawler to life on PlayStation 4— have run the gamut of web-slinging video game action over the years, from arcade cabinets right up to the PlayStation 3.
Each day, we'll bring you the thoughts of someone new at Insomniac, so check back to hear more about all of these spectacular, amazing versions of Spider-Man!
Today we bring you Ryan Schneider—Chief Brand Officer at Insomniac Games! He recalls for us some fond memories of "Spider-Man: The Video Game," an arcade game he loved in his high school days.
"I'm going to go off the beaten path here for a bit: the arcade game from the early 1990s," says Schneider. "It became a small part of what had become an afternoon ritual for my friends and I in high school.
"A local convenience store near my house had the Spider-Man arcade game for what was probably a couple months. It was located across the street from the Chinese food buffet spot my buddies and I would loiter at and pump quarters into 'Shinobi' on many afternoons—probably my favorite arcade game of all-time. I was pretty decent at 'Shinobi' but my friends were absolute masters. I grew tired of watching them play all afternoon; plus I was getting sick of having to buy the beef with broccoli just so we didn't get kicked out of the restaurant again. I remember liking to play as both Spider-Man and Hawkeye—even with his garish attire—switching from game to game since I knew them best from the comics. Looking back, the lack of web traversal for Spidey was a bummer, but as a moody teen, punching and throwing things more than made up for that shortcoming and at least I had a web attack! The best part of the game was progressing to fight the classic villains. As most arcade games were back then, Spider-Man was hard as hell though. I never came close to beating it—damn you, Electro and Doc Ock!—but could make my way through a few boss battles. It was also cool to switch between platforming and combat in the game—maybe that's why I became so immediately drawn to 'Ratchet & Clank!'"
Tomorrow a Spider-Man game of more recent vintage makes the cut!
The Hype Box
Can't-miss news and updates from across the Marvel Universe!