Games
Published December 17, 2020
Piecing Together Marvel Puzzle Quest: Adam Warlock
Created as a perfect human, Adam Warlock took to the stars.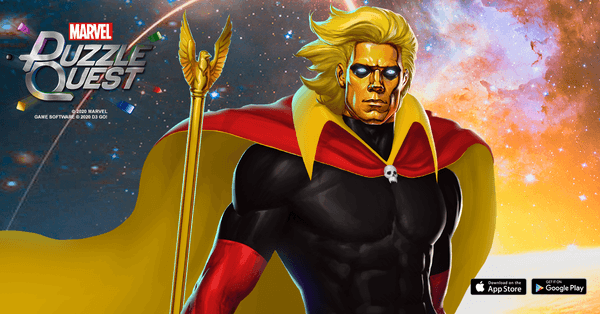 Originally created by Earth scientists as a perfect human, Adam Warlock quickly took to the stars to discover his destiny. Having saved the universe from more than one cosmic threat in the nick of time, he now looks to take a more proactive role in preserving life - and the new challenge of making friends. Now, he's the latest character to land in Marvel Puzzle Quest!
The 5-Star Rarity character, with affiliation Heroes, has a tool kit that includes Miracle of Science, Cosmic Skein, and and Body and Soul. 
Adam Warlock harnesses the superior science of his creation to maintain peak physical form with Miracle of Science, a mid-level yellow power. Restores 969 health to Adam Warlock. Restores an additional 1550 health if he is below 50% health. (Max Level 3894/6230 health) (PASSIVE) If Adam Warlock's health is above 50% of his total health, his base match damage is increased by 63%.
With Cosmic Skein, a mid-power power power, Adam Warlock sees the hidden threads of the universe that let him undermine his enemies' plans. Creates 3 Yellow trap tiles that deal 1817 damage when matched by an enemy and restore 1817 health to Adam Warlock when matched by your team.
Adam Warlock offers himself for the greater good with Body and Soul, a passive black power. If you have at least 6 Black AP at the start of your turn, removes 1 friendly Black AP and 15% of Adam Warlock's current health, then deals 55% of that damage to the enemy team.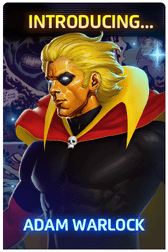 Adam Warlock's release events include Introducing... Adam Warlock running December 17 through 24;  Simulator running December 17 through  December 21; and Up And Adam running December 20 through 23.
Additionally, Adam Warlock's Special Limited Vault Adam Warlock runs December 24 through 28. 
Pick up Marvel Puzzle Quest here. Stay tuned to Marvel.com for Marvel Games news and interviews and follow Marvel Games on Twitter for more!
The Hype Box
Can't-miss news and updates from across the Marvel Universe!