Games
Published February 21, 2017
Piecing Together Marvel Puzzle Quest: Agent Coulson
The ace agent of S.H.I.E.L.D. stands side-by-side with super heroes!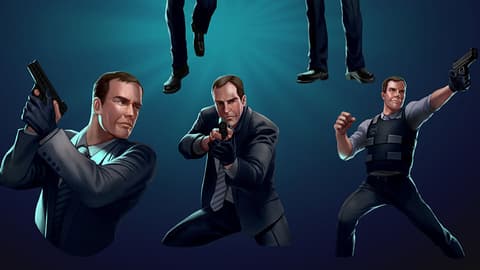 Want to work for the world's premiere spy agency, save the world on a weekly basis, and look great doing it? Sorry, but there's only room for one Phil Coulson in "Marvel Puzzle Quest," but good news—we can all play his wingman.
We talked to D3 Go! Publisher Josh Austin about Agent Coulson's abilities and everything he brings to the game.
Marvel.com: What's so cool about Coulson?
Josh Austin: Agent Coulson may be a human with a robotic hand, but he definitely fits in and can hold his own in a world of super heroes. Phil definitely adds a lot to "Marvel's Agents of S.H.I.E.L.D." with how he calmly leads his team, even in the [direst] situations, dishing out a healthy amount of sarcasm and giving fans an average joe role model that everyone can relate to.
Marvel.com: I think we can all agree that Phil's a swell guy and a great agent, but what makes him "Puzzle Quest" material?
Josh Austin: We took a strategic approach with his design. He is a four-star character and his abilities are mostly surveying the battlefield and calling in the right type of backup while helping his team shine with advanced tech to gain more AP and utilize Countdown Tiles. This makes him a great fit for "Marvel Puzzle Quest" as a utility character who can help strengthen a team of heroes that do not share the same colors.
Marvel.com: Let's talk about this abilities: what's Coulson got going on?
Josh Austin: Agent Coulson's first ability is called Call the Cavalry and costs 12 Yellow AP. With this ability Coulson surveys the situation and makes calls for backup. What this means for the player is at a low level he creates a one-turn Commander Countdown Tile that creates one Strength Tile. For higher levels he starts calling in more Countdown Tiles like a Sniper Tile that deals damage, a Spy Tile that deals damage to all enemies and at level five he creates two Commander Countdown Tiles. But wait, that's not all! This ability has a Passive that gives the player one AP when any friendly Countdown Tile reaches zero and two AP for the same reason at level four.
Phil's second power is Best-Laid Plans for eight Purple AP. This ability is designed around Agent Coulson's ability to stay calm even when surrounded and things look horrible. The player gets to choose two red and/or green Basic Tiles to become Charged Tiles and then swap them. Increasing this power will give the player more Basic Tile colors to choose from and reducing the Countdown timer by two for any friendly Countdown Tiles. This ability also has a Passive that triggers if you make a match while you have six or more team-up AP. It spends two team-up AP to reduce a random friendly Countdown timer by one.
His last power is Super Secret S.H.I.E.L.D. Tech for 11 Blue AP. Based on another Agent Coulson characteristic, Coulson unleashes an advanced piece of tech, raising an eyebrow in mild surprise at its effectiveness. This ability steals random AP for each friendly Countdown Tile on the board. This power has a Passive as well that triggers whenever an ally player activates a power, which creates a two-turn Countdown Tile that deals damage. Increasing this ability's level will give this ability more damage, reduce the two-turn Countdown for the passive to one-turn, and add more AP per friendly Countdown Tile.
Marvel.com: Coulson has a lot of interesting things going on in his kit. It seems like he's really focused on AP manipulation and playing with countdown timers. And he could give Kingpin a run for his money calling in backup!
Josh Austin: Definitely, there is a lot of Countdown Tile manipulation and all of his powers feed into each other in a fun interesting way.
Marvel.com: Who does he fight best alongside? Thor (Goddess of Thunder) seems an easy comrade, making use of Coulson's charged to power her Smite. Who else fits into Coulson's crew?
Josh Austin: Good suggestion! Agent Coulson is a good character to team up with anyone that doesn't have color overlap. Some characters that our side has found fun to play with are Ghost Rider (Johnny Blaze) with his Hellfire Power to crate the Countdown Tile that refreshes every 2 turns which in turn will trigger Call the Cavalry every 2 turns.
Also War Machine (James Rhodes)'s Gatling Gun which creates Countdown Tiles that deal damage and destroy tiles around them. Green Goblin (Norman Osborn)'s Goblin Glider creates a Countdown Tile and Trick or Treat creates three Countdown timers while passively fortifying Countdown Tiles so they survive.
Marvel.com: Anything else we need to know about the hard-hitting S.H.I.E.L.D. agent?
Josh Austin: Agent Coulson will be debuting in Deadpool vs. MPQ starting on Thursday, February 23. He will also be in the Vault for Venom Heroic, which starts on February 27 and there will be a Versus Tournament called Right Hand Man which will be happening on March 2.
Take Agent Coulson for a spin here and stay tuned to Marvel.com for more "Marvel Puzzle Quest" news and interviews!
The Hype Box
Can't-miss news and updates from across the Marvel Universe!