Games
Published December 12, 2017
Piecing Together Marvel Puzzle Quest: Angel & Archangel
Two mutant birds of prey swoop down to join the Marvel mobile action!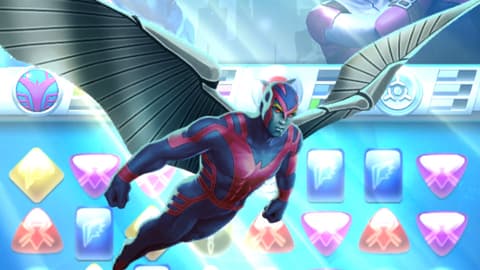 Take to the skies with the greatest of ease and fillet your enemies with razor sharp feathers and cosmic fire as both Archangel and Angel dive into "Marvel Puzzle Quest" this week. We talked to D3 Go! Senior Producer Josh Austin about Warren Worthington III, his alter egos, and everything they bring to the MPQ table, not to mention we got a sneak peek at all the holiday fun they have lined up for players. Read on to learn more!
Marvel.com: Are we sure Scarlet Witch didn't say "Lots more mutants"? I'm super excited to see the final member of the original X-Men lineup making it into the game. That's gotta feel good for the team.
Josh Austin: Not only for the team, but also the fans of "Marvel Puzzle Quest"! It's great to be able to finally bring so many sought after characters, and we aren't done yet.
Marvel.com: Warren's getting two different variants, a 3-Star Angel, and a 5-Star Archangel. Aside from appearance, what's different about the two characters?
Josh Austin: 3-Star Angel (All-New X-Men) and 5-Star Archangel (Classic) have similar powers that focus on controlling the battle by stunning, removing AP, and preventing players from gaining AP, but 5-Star Archangel being the more powerful version has the ability to damage and stun characters that are airborne as well.
Marvel.com: Ok, let's get into their abilities. What can Angel and Archangel do?
Josh Austin: Their first ability is called Angle of Attack and it costs 11 Blue AP. 5-Star Archangel deals damage and stuns the target for two turns. There is also a Passive that triggers at the start of the player's turn, dealing damage to any airborne character and stunning that airborne character. Angel 3-Star deals damage and stuns the target.
Angel and Archangel's second ability is called Enemy Down and it costs 10 Green AP. Archangel lets loose a flurry of razor sharp feathers that deal damage and [destroy] random AP in the enemy's AP pools. Angel unleashes a flurry of cosmic flame feathers that deal damage while also creating Green Attack tiles.
Angel and Archangel's last ability is called Aerial Superiority and it costs seven Black AP. Archangel soars overhead to control the battle by creating Countdown tiles of a chosen color which deals damage and blocks AP generation in that color for both teams at lower levels then only for the enemy team at higher levels. Angel soars overhead as well and creates Countdown tiles that deal damage and block AP gain from both teams.
Marvel.com: I really like that Archangel's Angle of Attack can hit airborne opponents. Was this made to address the growing number of airborne abilities, or just to add some emphasis to Archangel's mastery of the skies?
Josh Austin: That's correct, Archangel will be a great character for players that do not use Vulture, but want a way to stop his onslaught and AP gain. It just makes sense for Archangel to have air superiority over Vulture; we hope players will have a fun time countering airborne characters with Archangel!
Marvel.com: What teammates are we looking at for these two?
Josh Austin: Putting a team together with Rogue (Classic) and Peggy Carter (Captain America) the player could cause the enemy team AP generation to grind to a halt! Also, it wouldn't hurt to have someone to add to the battle in case the opponent does not have any airborne characters, like Nova or Riri that can send opponents airborne!
Marvel.com: And do you guys have any special plans for the holidays?
Josh Austin: Before I get into the specific events featuring Angel and Archangel, this year we have a couple things for the holidays, the first one an event called 12 Days of Marvel. For 12 Days of Marvel, you will need to join forces with the 12 featured Marvel families—in MPQ—in a special 12-day event. Check back each day for a new mission featuring a variety of Super Heroes and Super Villains. Play as many as you can to earn points and progression rewards including tokens that you can use on the Family Legends Store!
Also in the spirit of the holiday season, players can redeem a free gift by logging into the game between December 14 and December 26 for a Holiday Vault Token for use in the special Holiday Vault store! We plan to have a lot of fun in "Marvel Puzzle Quest" the entire holiday season, so check back frequently for fun events and news while you unwind from a busy 2017.
Marvel.com: Anything else we need to know?
Josh Austin: Yes, back to Angel and Archangel specific events and dates. They will be released December 14 and 5-Star Archangel (Classic) will be featured in the Angel of Death Legendary store. 3-Star Angel (All-New X-Men) can be found in the X-Men vs Apocalypse event that runs December 14 through December 17 and he's a reward in early rounds, the Top round reward is an Angel of Death Legendary Token for a chance at Archangel, and final progression rewards a token for Angel of Death Legendary cover store.
The 3-Star Angel Vault is called Worthington W. III and contains one Angel of Death Legendary Token along with one of each Angel (All-New X-Men) covers—three total. Angel can be found in Thick as Thieves that is due to run December 17 through December 22. The Versus Tournament for Angel (All-New X-Men) is called Avenging Angel; it starts December 17 and runs through December 20.
There you have it folks, take part in all the angelic holiday cheer here and stay tuned to Marvel.com and follow @MarvelGames on Twitter for more "Marvel Puzzle Quest" news and interviews.
The Hype Box
Can't-miss news and updates from across the Marvel Universe!