Games
Published February 11, 2021
Piecing Together Marvel's Puzzle Quest: Cyclops (Phoenix Five)
Plus, a new Valentine's Day event launches this weekend!
When the Phoenix Force returned to Earth, it didn't bond to Hope Summers, but instead to a group of five Mutants. Now Cyclops leads the Phoenix Five, working to rebuild the world into the one he envisioned Hope would create. But is it possible for him to reach that vision without giving in to the all-consuming power of the Phoenix? Now, he's the latest character to land in Marvel Puzzle Quest!
The 5-Star Rarity character with Affiliation Heroes, X-Men, and Mutants has a tool kit that includes Phoenix Blast, Savior of Mutantkind, Dark Phoenix Unleashed, and Disarming Gaze.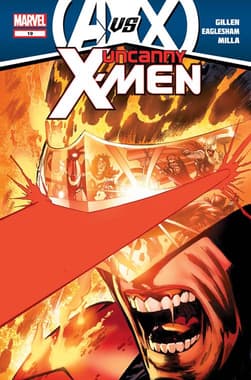 With Phoenix Blast, a high-cost red power, Cyclops's optic blast strikes his target directly, while the Phoenix's flames rush past and set the battlefield ablaze. Deals 2078 damage and creates 2 Red 3-turn Repeater tiles that destroy 1 Green basic tile.
Cyclops guides his team, inspiring them to be the best they can possibly be, with Savior of Mutantkind, a mid-cost yellow power. Increases all Cyclops's teammates' match damage by 60%. For every 3 Team-Up AP you have, swap a pair of basic tiles. (PASSIVE) If Cyclops has no active teammates, swap Cyclops's Yellow and Black match damage and this power becomes Dark Phoenix Unleashed.
And using Dark Phoenix Unleashed, a high-cost black power, Cyclops lets loose all the power of the Phoenix Force on his enemies. Drains all friendly Team-Up AP and deal 2745 damage to the enemy team plus 235 additional damage for each AP drained this way.
Cyclops bombards his enemies with concussive blasts, sundering their weaponry with Disarming Gaze, a high-cost green power. Stuns a random enemy for 2 turns and converts 4 tiles to Red basic tiles, targeting enemy Strike tiles first.
Pick up Cyclops during his release debut, Hearts of Darkness which starts February 11 and ends February 15; and Introducing… Cyclops which runs February 11 through February 18. 
Additionally, find Valentine's Day offerings in Puzzle Quest this weekend! PVP Matchmaking Tournament (starring Deadpool) with special coupled characters buffed begins on February 11 and ends on February 14 — a versus tournament hosted by Deadpool where the power couples of MPQ are mixed and matched just in time for Valentine's Day.  Make a team of sweethearts to join Deadpool and battle it out for top rewards. Plus, receive one free PVP Matchmaking Vault token for all players on February 11. 
Pick up Marvel Puzzle Quest here. Stay tuned to Marvel.com for Marvel Games news and interviews and follow Marvel Games on Twitter for more!
The Hype Box
Can't-miss news and updates from across the Marvel Universe!