Games
Published August 24, 2017
Piecing Together Marvel Puzzle Quest: Daredevil and Elektra
The Man Without Fear and the Hand's ultimate assassin return once more!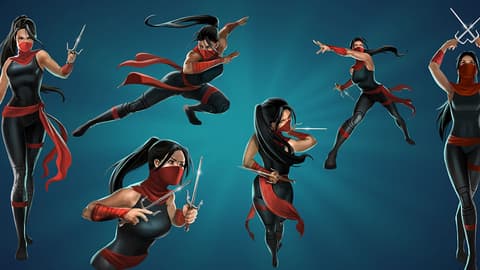 Have you checked out "Marvel's The Defenders" on Netflix yet? If not, what are you waiting for? If so, D3 Go! has more Defenders action for ya, with an all-new Daredevil and Elektra available in "Marvel Puzzle Quest." We talk about the Man Without Fear and the Hand's ultimate assassin and get the lowdown on just what they're capable of.
Marvel.com: I'm really excited to see a new Daredevil coming down the pipe, but why make him a 5-star as opposed to a 4? What kind of things does the team look for in making a new 5-Star character? Or in making a new 3-star, like Elektra (Assassin) for that matter?
Josh Austin: Daredevil is an amazing character and the powers that were designed for the Matt Murdock version are more in line with 5-Star characters. And with the release of "Marvel's The Defenders" on Netflix, we are excited to have our first 5-star Defender in the game. And the new 3-star Elektra is a great addition too.  We know many players are very interested in acquiring new 3-star characters so it seems like a good fit to have the combination of both these characters available at the same time.
Marvel.com: Daredevil (Man Without Fear) was one of my first PvE mainstays for his pure utility, getting rid of pesky enemy special tiles and with stuns for days. What's different about this Matt Murdock?
Josh Austin: The 5-star Daredevil uses his sonar and his ability to damage multiple foes, but he does so with a lot more precision and really wrecks his opponents damage-wise. He also has an ability to gain health back based on each friendly strike tile on the board.
Marvel.com: Can you break down his kit for us?
Josh Austin: His first ability is called Fighting Spirit and it's a passive yellow. When Daredevil gets below a certain health, he creates a strength 1,270 Yellow Strike tile that restores health for each friendly strike tile on the board (Max 5 tiles).
His second ability is called Hand-to-Hand and it costs 11 Green AP. This one can be devastating because it creates a countdown tile that deals damage each turn and if it's matched away the player's team gains 8 Green AP. However, if the tile is destroyed in any way other than being matched away, at level 5 it deals 15,525 damage and creates another Hand-To-Hand tile if one does not exist.
His last power is called Sonar Strike and it costs 9 Purple AP. Daredevil's sonar vision helps him avoid enemy attacks and strike back by converting random enemy Strike, Protect, or Attack tiles to friendly Strike tiles and then stun the target. There is a Passive that while the enemy is Stunned, any damage dealt to that stunned enemy Daredevil deals extra damage on top of it.
Marvel.com: It seems like you'd want to pair Daredevil up with a teammate who can stun opponents, to get that juicy Sonar Strike passive damage, and someone who can easily get rid of his Hand-to-Hand tile. Anybody you have in mind?
Josh Austin: Depends on the strategy the player would like to utilize. Having characters that stun opponents to dish out the extra damage, heroes like some of the variations of Spider-Man, Thanos (The Mad Titan), Doctor Strange, Iceman, etc. Also if the player wants to use a character that fortifies the tile, that insures that the 5-Turn countdown tile will continuously damage the enemy team.
The player could benefit from using characters that create Strike tiles if they are worried about Daredevil receiving too much damage like The Punisher (Max), Rocket & Groot (Awesome Mix Volume 2), Blade (Modern). I know I'd personally use Grey Suit Black Widow for the Green AP generation and her abilities to help destroy the Hand-to-Hand tile for that extra damage.
Marvel.com: And Elektra looks like she's keeping some of her old Unkillable tricks and learning a new one, Crippling Blow. What's changed in this 3-Star variation?
Josh Austin: Elektra has some of the same abilities as her 4-Star counterpoint with the exception of Crippling Blow, which focuses on damage first, then leaves a 4-Turn Countdown tile on the board that deals damage to the enemy each time it counts down.
Marvel.com: How does Elektra (Assassin) fit on a team? Finding someone who can help her fire Crippling Blow seems like it would be a legit strategy.
Josh Austin: Finding someone gives her Black AP or fortifies her Countdown tile definitely works well. She's also great with heroes that convert or destroy enemy tiles into friendly tiles like Loki, Bullseye (Classic), Daredevil (Man Without Fear) and She-Hulk (Modern).
Marvel.com: And when can we take these two ninja-trained fighters to the streets?
Josh Austin: They will debut in the Galactus Hungers event that starts today. Elektra is given out as round rewards while Daredevil can be earned in a special store called Hornhead with Legendary Tokens that can be purchased or earned as rewards given from the event. The Hornhead store runs from August 24 through August 28. There will also be a featured Elektra event called The Hunt that starts on August 27.
Be sure to check out all the Defender related Versus Tournaments including Assassin For Hire that is going on now, Cage Match that starts on August 24, and Blind Justice that starts on August 27. We are excited to share that those that earn 300+ points in these events will earn 10,000 Insider points at Marvel Insider. Visit Marvel Insider for all the opportunities to earn and redeem rewards for Marvel Puzzle Quest.
Pick up Daredevil (Man Without Fear) and Elektra (Assassin) here and stay tuned to Marvel.com for more "Marvel Puzzle Quest" news and interviews.
The Hype Box
Can't-miss news and updates from across the Marvel Universe!