Games
Published October 2, 2017
Piecing together Marvel Puzzle Quest: Gambit
The Ragin' Cajun arrives to the hit mobile game!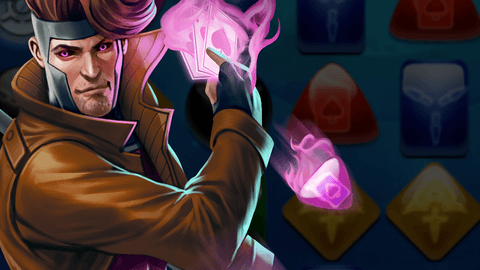 Gambit, the X-Men's resident exploding card shark, makes his "Marvel Puzzle Quest" debut this week—and we've been assured the kinetic energy-charging Cajun's ready to unleash the full deck on the bad guys.
We talked to D3 Go! Senior Producer Josh Austin about the cards up Remy's sleeves—and got some more details about all the anniversary action going down throughout October.
Marvel.com: Remy Lebeau has always been one of the coolest X-Men around—like his companion Rogue, was Gambit another popular player write-in?
Josh Austin: Yes, for "Marvel Puzzle Quest," the most requested characters have been Rogue, Gambit, and Nightcrawler. In our last player poll, Gambit ranked as the most requested, followed by Nightcrawler—but Gambit had nearly double the amount of votes! So this news should go over well with our players!
Marvel.com: There'll be both 3-Star and 5-Star versions of him hitting the game. Will there just be some number differences between the variations?
Josh Austin: That's right—he's the same power set, but with a large difference in power between the Gambit 3-Star Modern and the Gambit 5-Star Classic. The 3-Star version of a 5-Star presents a great opportunity for newer players to get an amazing fresh character if they haven't reached the 5-star realm yet.
Marvel.com: What does his kit look like?
Josh Austin: Gambit's first power, Ragin' Cajun, costs 11 Purple AP. Gambit unleashes a torrent of kinetically charged playing cards that target the opponent's weak points. This power creates Countdown tiles—replacing enemy Special tiles and dealing damage for each Countdown tile when they expire. The modern version at level 166 creates three 3-turn countdown tiles that deal 2,678 damage each. The Classic 5-Star Gambit creates four 2-turn Countdown tiles, replacing 4 enemy special tiles and they each deal 5,292 damage when the Countdown expires.
Gambit's second power, Aces & Eights, costs 7 Red AP. For Aces & Eights, Gambit charges up a killer hand of cards. This attack destroys random Charged or Basic tiles dealing extra damage for each Charged tile destroyed this way—then creates 2 Charged tiles. For Gambit Modern 3-Star at level 166, each Charged tile destroyed deals an extra 520 damage. The 5-Star Gambit Classic deals 7,580 damage at level 450 power level 5 for each Charged tile destroyed this way.
Gambit's last ability is Stacked Deck—a Black AP Passive ability. For this power, Gambit finds an advantage for himself at any cost, and this means Gambit generates AP every turn for his two other powers. However, the passive also prevents his allies from firing powers in the same color as Gambit's active powers (Purple and Red).
Marvel.com: Stacked Deck means allies can't fire Red or Purple powers? I guess we might want to avoid teaming him up with anyone who uses Red or Purple AP?
Josh Austin: Gambit gets a little selfish with Stacked Deck and will actually block an ally from using a red or purple power—this happens only if the player has a cover in either purple and/or red. So, you would not be able to use Rogue's Red power (Sugah, You're Goin' Down) until Gambit gets downed, stunned, or sent Airborne. Passive powers will still trigger—only powers the player can trigger can be affected.
Marvel.com: There's an anniversary coming up and I have no doubt the team has a ton planned. Can we get a quick recap?
Josh Austin: To start, we currently have a sale for players to take advantage of before all the anniversary madness begins. Players will get a 30% bonus in Iso-8 and Hero Points purchases. Sale ends October 4!
The anniversary festivities then begin on October 5 and every player will get a free anniversary token when they log-in that day. All events throughout the season will have double Iso-8 rewards, anniversary tokens, and more.
For events, we have the following:
Versus Tournaments
– Class of 2017 tournament starts October 5
– Let's Be Frank tournament starts on October 8
– Danger Room tournament starts on October 10
– RRRAAAWWWR! starts on October 12
Story Events
– We have a brand new event called The X-Men vs Apocalypse that starts October 5! Apocalypse, a real baddie with Horsemen of the Apocalypse abilities, brings out some nasty tiles to try and destroy the player's heroes. More will be announced as we get closer to the anniversary!
– Honor Among Thieves starts on October 8
– Sim Challenge (X-Men Edition) starts on October 12
Other Changes
Devil Dino is coming back to Deadpool's Daily Quest!
Marvel.com: Let's hear more about the Fan Favorites Legendary Token—basically, players get better odds for their favorite 4-Star characters?
Josh Austin: That's correct, a survey was run earlier in the game for players to vote on their favorite characters.  The 12 most popular 4-Star Characters and 8 player favorite 5-Stars will be featured in a special store with increased odds. There will be a new Legendary Cover store called Fan Favorites that features players' favorite 4-Stars and 5-Stars. Players can purchase a token to this store with Command Points or earn a token to this store from the Crash of the Titans mission in the Deadpool's Daily Quest that starts on October 10th.
Marvel.com: What else do we need to know about the crazy celebrations on the horizon?
Josh Austin: Gambit will be released October 5 during the debut of the X-Men vs Apocalypse event. His Legendary store starts on October 5 with increased odds at getting Old Man Logan and Phoenix along with Gambit (Classic) 5-Star.
Gambit (Modern) 3-Star will be available in the Honor Among Thieves event that starts October 8. Gambit (Modern) features in the event and will have multiple covers in the Vault. Gambit's PVP event is called Ragin' Cajun and it starts October 15 with Gambit (Modern) being the featured character.
We will also be at New York Comic at the D3 Go! Booth (#447) this week! Come by and say hello to me and members of the team.
Finally, everyone at D3 Go! and Demiurge wants to thank all of our players for such an awesome year. We appreciate all the feedback and support we get and we really hope we can bring out more features and characters that the community has requested in the upcoming year. Thank you!
Grab the Ragin' Cajun for yourself here and stay tuned to Marvel.com and @MarvelGames for more "Marvel Puzzle Quest" news and interviews!
The Hype Box
Can't-miss news and updates from across the Marvel Universe!