Games
Published March 7, 2017
Piecing Together Marvel Puzzle Quest: Hawkeye
Two new versions of the Avenging Archer make their mark!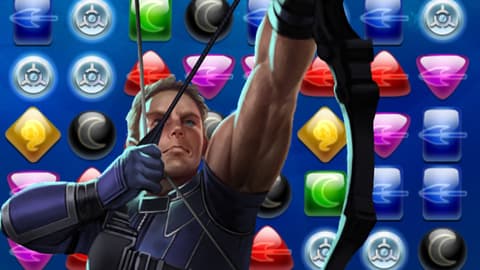 Need more Hawkeye in your life? What kind of question is that? Of course you do, and the team at D3 Go! has you covered with new Hawkeye variations ready to put the bullseye on bad guys in "Marvel Puzzle Quest."
We talked to Senior Producer Josh Austin about the couple of new Clints hitting the game this week and all their arrow-y awesomeness.
Marvel.com: Like Thanos and Dr. Strange before him, Clint Barton's getting a 3 and a 5-Star variation this week. What can you tell us about the all-new Hawkeye hitting "MPQ"?
Josh Austin: This was the first character I've worked on while managing "Marvel Puzzle Quest" that actually made me laugh! The 3-Star Hawkguy variation and his No Good News power, which we'll get to later, was an awkward thing to submit to Marvel. I'm glad they laughed when they saw it and I hope players do too. Overall the team has done a great job with both 5-Star Hawkeye (Clint Barton) and 3-Star Hawkeye (Hawkguy) to make him stand out from the ones already in the game.
Marvel.com: No doubt players are quivering at the chance to poke holes in their foes, but where in Marvel history did you pull this Hawkeye from?
Josh Austin: 5-Star Hawkeye (Clint Barton) is from the Marvel Cinematic Universe and we made sure to use his latest look as reference. For the 3-Star Hawkeye (Hawkguy) we used his [recent solo series] comic version as inspiration, but made sure to make him still very heroic. As mentioned above, we definitely squeezed in the very funny scene where he's caught in bed and has to dodge fire…
Marvel.com: I'd be willing to bet we can expect trick arrows galore from the ace archer. Would you mind telling us how we're going to be turning baddies into pincushions?

Josh Austin: This going to be a long one…
For 5-Star Hawkeye (Clint Barton), his first power is called Can't Seem to Miss and it's a Purple AP Passive, so it costs 0 AP. For this power, Hawkeye stays cool under pressure and hits his targets. Whenever a friendly Countdown tile reaches 0, gain Blue and Red AP and at the start of each turn fortify friendly Countdown tiles.
His second power is called Full Quiver and costs five Blue AP. This power has seven arrows that all do different things:
Bola Arrow: Hawkeye's arrow bursts in mid-air, deploying bolas which wrap around his target, incapacitating them. Creates a Blue Countdown tile that stuns target for a few turns.
Explosive Arrow: Hawkeye's arrow hits the target, letting out an ominous beeping before it explodes. Creates a Blue Countdown tile that deals damage to the target.
Electric Arrow: Hawkeye's arrow hits the battlefield and releases an immense electric charge. Creates a Blue Countdown tile that creates Charged tiles.
Sonic Arrow: Hawkeye's sonic arrow lets loose an ear-piercing scream as it flies towards its target, disorienting his enemies. Creates a Blue Countdown tile that creates Red Strike tiles.
Ant-Man Arrow: "Okay…I'm good! I'm good, Arrow Guy, let's go!" Creates a Blue Countdown tile that steals enemy AP of a random color.
Acid Arrow: Hawkeye lets loose an acid arrow, which breaks open at his target, melting metal and burning enemies. Creates a Blue Countdown tile that creates Purple attack tiles.
Smoke Bomb Arrow: Hawkeye's smoke arrow floods the battlefield with cover for him and his allies. Creates a Blue Countdown tile that grants Hawkeye and his teammates invisibility for two turns.
Shrapnel Arrow: Hawkeye fires his final arrow, which breaks apart in mid-air, firing explosive shrapnel which hits each of his targets. Creates a Blue Countdown tile that deals damage to the enemy team.
Finally, this power becomes Out of Arrows after firing his last arrow, now having used all of his ammo, Hawkeye has to improvise hand-to-hand. This deals damage to the target.
5-Star Hawkeye's last ability is called Deep Breath and it costs five Red AP. Hawkeye takes a deep breath and draws his bow, taking careful aim at his prey. Places a fortified blue Countdown tile. When it reaches 0, if you have enough Red AP, spend it and deal damage, otherwise deal a little more than a fifth of the damage. At level three for me, this was 5,657 damage if you have 10 Red AP, otherwise it deals 1,561 damage.
For 3-Star Hawkeye (Hawkguy), Hawkguy's first ability is called Because…Boomerangs and it costs 10 Purple AP. This power creates Red Strike tiles and a Purple Countdown tile that removes friendly Strike tiles and deals damage.
Full Quiver costs five Blue AP. For this power, the arrows are the same as I mentioned earlier but with a reduction of damage because he's a 3-Star!
No Good News is Hawkguy's final power and it costs 10 Black AP. For this power, Hawkeye is caught in bed and dodges an attack rather unexpectedly. This power heals Hawkeye and creates two random enemy protect, strike or attack tiles. It also has a Passive that whenever you match an enemy special tile, your team gains Blue and Purple AP.
Marvel.com: Ok so I really like the idea of Full Quiver, but what are the chances players will actually be able to fire off the Shrapnel Arrow? Maybe not in PvP but some of the longer PvE nodes?
Josh Austin: Both the 5 and 3-Star versions of Hawkeye have AP generating abilities that feed the Blue needed for Full Quiver, so if the player makes a Countdown tile generating team then they will be feeding the Blue needed. And since the power only costs five AP it's pretty easy to get enough to exhaust all seven arrows. It may still be hard to get through the full quiver of arrows with 5-Star Hawkeye because enemies in PVE were dying so quickly when I was testing him!
Marvel.com: And that actually leads me to another question: How much does the team think about character abilities as PvP viable as opposed to PvE? Is that something that factors into ability creation?
Josh Austin: A lot does go into the creation of a character; the designer has to weigh in other character abilities to both find synergy with the new character and what that new character is strong or weak at. Obviously with both Hawkeyes he's strong when used with characters that play off Countdown tiles and are Red/Blue AP users.
3-Star Hawkguy's Because…Boomerangs power is actually the same power as Kate Bishop since that is an established moment for them both in their comic together. And of course over time, we end up having to revisit characters from time to time based on player feedback and make appropriate tweaks to make everything fit together.
Marvel.com: Can I just say, with 5-Star Hawkeye's passive I can't wait to team him up with Kingpin or…Sentry? The AP gain would be insane! Who else would you suggest?
Josh Austin: Definitely anyone that creates Countdown tiles and manipulates them, like Agent Coulson (Agents of S.H.I.E.L.D.), Star-Lord, and Captain Marvel (Carol Danvers).
Marvel.com: Ok, When can we put Hawkeye and Hawkguy to work?
Josh Austin: Both Hawkeye and Hawkguy are available on March 9 during the Avengers vs. Ultron Event that goes live that day. In addition, Hawkguy will have a Versus Tournament called No Good News that will start on March 16.
Snatch up Hawkeye and Hawkguy here and stay tuned to Marvel.com for more "Marvel Puzzle Quest" news and interviews.
The Hype Box
Can't-miss news and updates from across the Marvel Universe!