Games
Published March 8, 2018
Piecing Together Marvel Puzzle Quest: Jessica Jones
The Power Woman brings her tough exterior to the hit mobile game!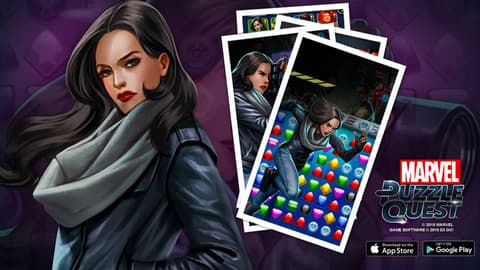 In celebration of the Season 2 release of "Marvel's Jessica Jones," now streaming exclusively on Netflix, a brand new 5-star Jessica Jones is on the case in "Marvel Puzzle Quest" starting today! D3 Go! Producer Josh Austin dropped by to give us the lowdown on Jessica Jones and her incredible strength.
Marvel.com: It's International Women's Day and Jessica returns for the second season of "Marvel's Jessica Jones" on Netflix. It's natural we'd see the Power Woman make her way to "Marvel Puzzle Quest."
Josh Austin: The entire team are big fans of the show on Netflix, so it's super cool to bring her to the game as the newest 5-star character in time for her Season 2 return! She's known for being tough and irritable on her Netflix show, but definitely someone you do not want to cross or mess with as she will quickly show you the error of your ways!
She will be featured in a limited Jessica Jones event that the player can earn tokens for between March 8 – 12 in the Avengers vs. Ultron event. Our friends at Marvel Insider have made things a little sweeter by offering 30,000 Insider Points for anyone that scores 500,000 or more points in the Avengers vs. Ultron event. Visit Marvel Insider for more details.
Marvel.com: What does a 5-star Jessica Jones bring to the table?
Josh Austin: Jessica Jones was designed like her show counterpart, she is a no-funny business character. Each of her powers deal damage or helps you deal even greater damage. She isn't someone who will try and help or make things cozy, instead she will slam her door hard even if it means replacing her window again-and-again or take pictures to find and exploit weaknesses, then body-check you. Don't try and make her smile, she hates that.
Marvel.com: Jessica isn't afraid to get her hands dirty and get up in your face. How does her abilities in "Puzzle Quest" reflect that?
Josh Austin: Her first ability is called Defenestrate and it costs 9 Red AP. This power deals 11,331 damage at level 450 and power level 5. This power also creates 5 random Green, Yellow or Purple Strike tiles of strength 373.
Her second ability is called Body Check and it costs 11 Black AP. For this ability at level 450 and power level 5 she deals 15,764 damage plus 2,626 damage for each color of each friendly special tile on the board.
Her last ability is called Damning Evidence and is a Passive Blue AP ability. At level 450 and power level 5, Jessica gets the dirt on enemies with her camera which means at the start of the players turn, create a Red, Black or Blue enemy trap tile if fewer than 4 exist. When you match one, gain 3 AP in strongest color and deal 10, 123 damage. At the start of your turn, if you have at least 6 Blue AP, Jessica gets a lead on her subject, briefly revealing enemy Trap tiles.
Marvel.com: While Jessica often prefers to work along, what teammates would she work best with in-game?
Josh Austin: Jessica is strong with allies that create special tiles across different colors like Agent Coulson, Blade (Modern), Carnage, Gamora (Awesome Mix Vol. 2), Rocket and Groot (Awesome Mix Vol. 2) and more. She is also strong against enemies that creates trap tiles.
Take out the bad guys with Jessica Jones by downloading "Marvel Puzzle Quest" here and stay tuned to Marvel.com for more "Marvel Puzzle Quest" news and interviews.
The Hype Box
Can't-miss news and updates from across the Marvel Universe!